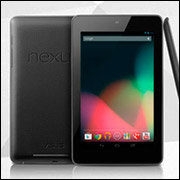 Google could be poised to roll out new Nexus tablet offerings at next Monday's press event in New York City. The search giant is also likely to introduce a new smartphone, the LG Nexus 4, powered by Android 4.2.
The timing of the event is certainly interesting, as it comes later on the same day that Microsoft is holding a Windows Phone 8 event in San Francisco. It will follow Microsoft's own NYC Windows 8 event this Thursday, featuring its Surface tablet, as well as Apple's much-anticipated announcement of an iPad mini, scheduled to take place on Tuesday.
"The playground is open," declare Google's invitations to the event, suggesting this could be the company's attempt to offer a real game changer with its Nexus devices.
Of course, even with the head-to-head timing, it could be that Google might still hold some news back.
"Google may lay low until the Windows 8 launch is over," said Roger Kay, principal analyst at Endpoint Technologies Associates. "No point in getting lost in Microsoft's barrage. Google can find a quiet spot before CES to update its positioning and branding."
Google did not respond to request for further details.
Take Two Tablets
It is rumored that Google will in fact introduce two new 32-GB models of the Nexus 7, one that will include HSPA+ (3G) support, making for a tablet that is ready to hit the road.
Google is also expected to release details of a 10-inch tablet from Samsung.
This "Codename Manta" device reportedly runs on Google's new Android 4.2 OS, and will offer 2,560×1,600 resolution. It is suspected that the Manta could be introduced as the Nexus 10.
How this device will stake up against the latest offerings from Apple, Microsoft and even Amazon has yet to be seen, but it is clear that lines are being drawn in the sand, if not carved in stone when it comes to what each tablet offers users.
"In a real way, tablet evolution is increasingly requiring users to decide which walled garden they want to be locked into, said Charles King, principal analyst at Pund-IT. "Apple continues to pursue a deeply proprietary approach which attempts to firmly control the content, apps and services users access."
"Amazon has always used the Kindle as a conduit for book sales, but the company is looking ahead to extend the Kindle channel to an increasing number of products and services," King told TechNewsWorld.
"With the Surface, Microsoft is attempting to create a Windows-centric user experience which is far narrower than conventional PCs," he noted.
Google's Move
Google appears to be looking at a different approach, but given that it has managed to dominate the smartphone market, in terms of the most popular OS, it could be looking to make a similar play in the tablet space.
"Google is offering the closest thing to an open tablet platform of any vendor," said King. "Some would argue against this, but I believe the company's leverage of a broad variety of Web-enabled apps and services — including its own Web-based offerings — is notably more flexible than anything Apple, Amazon and Microsoft are currently offering or have in mind for the future."
Those apps could give Google that edge.
"Google has done a good job lining up apps," said Rhoda Alexander, senior manager for monitors and tablets at IHS iSuppli. "Google has capital to make those kinds of investments to build up apps for the tablet market."
The search giant could also take a page from Amazon's playbook — and perhaps Apple's — in going after the educational market.
"Amazon's push into education is interesting, and it is a potentially large market," Alexander told TechNewsWorld. "The education market opens up new possibilities for vendors as it gives them the ability to resell year after year. The vendors are really lining up to bring out products for that market."