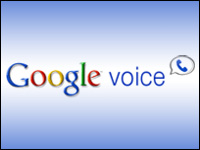 Less than three weeks after starting a limited public rollout of Google Voice, Google has put out a mobile version of the application.
Google Voice for Mobile is currently available only for BlackBerry and Android smartphones, and only by invitation.
A version for the iPhone will be released later.
Talking About Google Voice for Mobile
"Among the most requested features are tools to make placing outgoing calls from your Google Voice number easier," Google Voice Team members Vincent Paquet and Marcus Foster wrote in the official Google Voice Mobile app blog on Wednesday.
Users can call out or send SMS messages with Google Voice from their cellphones using the mobile app instead of having to dial their own Google Voice number first, as they had to before.
The app can be downloaded from the Google Voice mobile site or from the Android Market.
Users need a Google Voice account to use the mobile application, and they can only set up a Google Voice account by invitation.
Although a version for the iPhone is in the works, for now, Google Voice users with iPhones can access features through the Safari browser, Google spokesperson Sara Jew-Lim told TechNewsWorld.
Features of Google Voice for Mobile
The mobile app is fully integrated with the contacts list on the user's mobile phone.
Users can access voicemail; play back voicemail messages; read SMS messages sent to their Google Voice number even if their phones are not SMS-enabled; and access their call history.
Voicemail messages are automatically transcribed during playback, and users can read and listen to them at the same time.
Mobile app users can also place international calls through Google. Rates vary depending on the country called, and they are charged by the minute. The per-minute rate for Argentina is three U.S. cents, for example. It's two cents for calls to Austria or Hong Kong; and it's one cent for calls to Canada.
Users have to purchase credit through Google Checkout first. They have a maximum of $30 in credit at one time and can only purchase $10 worth of Google Voice credit with each Google Checkout order.
What You Can and Can't Do
Google Voice offers some convenient features, though it cannot replace the user's phone carrier. "You still need a phone service, such as a land line, a mobile carrier, or Gizmo to place calls using Google Voice," Google's Jew-Lim said.
Gizmo5, formerly known as "Gizmo Project," is a peer-to-peer voice over IP (VoIP) network run by the company SIPphone. It competes with Skype, but unlike Skype, it uses open standards for call management.
Second, you can't make cheap calls from overseas using the app. Google Voice places calls by first dialing a local U.S. number, then dialing the recipient and connecting the two calls. That means that if you try calling France from Sweden, for instance, you will be charged for a call to the U.S., Jew-Lim said.
"Our primary goal is to make it easier to use Google Voice from your mobile device," Jew-Lim said. "The ability to display your Google Voice number as the caller ID on outbound calls is something that many of our users have requested."
Impact on Wireless Carriers
Wireless carriers may not be so pleased with Google Voice for mobile.
"Inevitably, Google Voice will impact carriers' revenues," IDC research manager Godfrey Chua told TechNewsWorld. "The carriers have already spent all this money on infrastructure building and the infrastructure will be used by services like Google Voice for mobile, but the question is, will it be used in a manner that generates revenues?"
However, it's not all bad for wireless carriers. For one thing, Google Voice for mobile will improve customer stickiness. "What users pay for the carrier's service becomes more valuable to them because they're using Google Voice on top of it, and perhaps carriers can later start to charge more for their service," Chua explained.
However, carriers must remain on their toes. "Carriers need to be more innovative and creative in terms of defending themselves against the revenue threat from Google Voice," Chua said. "That's the tough balancing act mobile operators have to deal with."
Verizon Wireless did not respond to requests for comment by deadline, and AT&T spokesperson Mark Siegel declined comment.