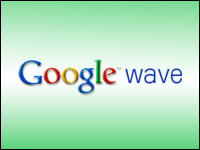 On Wednesday, Google announced that it will send out more than 100,000 invitations to preview Google Wave.
Several enterprises and individuals have already used Wave to build applications or in their work.
Wave enables this because it is, in essence, a real-time mashup tool.
Tapping the Wisdom of a Small Crowd
Google is sending out more than 100,000 invites to preview Google Wave. Recipients will be developers who participated in the developer preview the Internet search giant launched in June, as well as people who signed up at a Web site to use the product and volunteer their feedback, and select customers of Google Apps. Google will also ask some of the early users to nominate invitees.
"Our goal in asking businesses and schools to help us test this early version of Google Wave was to learn more about how Wave can help different groups of people collaborate together in a wide variety of contexts," said Google spokesperson Sara Jew-Lim. "We worked closely with the Google Apps team to identify Apps customers, many of whom volunteered to be testers on wave.google.com, and select a handful of organizations to represent a broad range of potential use cases."
Google plans to continue inviting people to preview Wave over the next few months after the 100,000 figure is reached, Jew-Lim told TechNewsWorld.
In announcing the preview, Google admitted that Wave is not yet ready for prime time. "Since first unveiling the project back in May, we've focused almost exclusively on scalability, stability, speed and usability," Lars Rasmussen and Stephanie Hannon wrote on the Google Blog. "Yet you will still experience the occasional downtime, a crash every now and then, part of the system being a bit sluggish and some of the user interface being, well, quirky."
Key features of Google Wave have yet to be fully implemented, Rasmussen and Hannon wrote. For example, users cannot remove a participant from a wave or define groups of users; draft mode is still missing; and users can't configure the permissions of users on a wave.
Google will roll out these and other features over the next few months.
Catching the Wave
Several enterprises have already developed applications using Google Wave.
SAP's research lab in Brisbane, Australia, is working on Gravity, a Google Wave extension that facilitates real-time, collaborative development of business processes. SAP built a demo that lets members of a team build a model collaboratively in real time and add a participant midway through the development. The latecomer catches up on what was missed through a playback feature. The demo app automatically checks and fixes semantic errors. Finally, a manager checks the team's work on her iPhone.
"Gravity is a prototype developed by SAP that provides real-time, cloud-based collaborative business process modeling within Google Wave," Kaj van de Loo, senior vice president for SAP's office of the CTO, told TechNewsWorld.
Ribbit, which offers Web developers a telephony application programming interface to be used in multiple ways, has come up with an extension that enables telephone conferencing over Google Wave. "We're taking the Wave platform and connecting it to the Ribbit platform," Kevin Marks, Ribbit's vice president of Web services, told TechNewsWorld. "It's like a mashup — it links the real-time textual communications Wave offers to our real-time voice communications."
Salesforce.com, which offers customer relationship management (CRM) software as a service, developed a demo app that lets a mobile phone user communicate with an automated support robot, which can escalate the issue to a live agent if it can't handle the situation. The agent can consult privately with colleagues before responding to the customer. All this is done in one wave (a unit of Wave communications).
Getting to Know Wave
Wave is a Web-based service, computing platform and communications protocol that merges e-mail, instant messaging, wikis and social networking. It focuses on collaboration and real-time use.
Wave is written in Java using OpenJDK. Its Web interface uses the Google Web Toolkit.
Unlike e-mail systems, which send message threads or store messages in users' inboxes, Waves uses objects called "waves." Each wave contains a complete thread of multimedia messages, or "blips." The "blips" are stored on a central server. Waves are shared, and collaborators can be added or removed at any point, rather like a Wiki.
The "waves" are hosted XML documents. Each wave contains its history, and collaborators can use a playback feature in Google Wave to go through that history and add or modify specific changes. The SAP app uses this playback feature.
Google Wave's multiple functionality is very similar to that of Lotus Notes. "Wave's very capable and imagines a future where people collaborate much more often than they do today," Rob Enderle, principal analyst at the Enderle Group, told TechNewsWorld. "But, like Lotus Notes was, it will be a really hard product to sell."
That could be because Waves replaces existing technology, Enderle said. "As a race, we don't like the whole 'replace' thing very well, which is why Microsoft's early strategy of embrace and extend worked so well," he explained. "Wave replaces, it doesn't embrace, and that makes it daunting for the existing base of tools in this class." That class includes instant messaging as well as Twitter and Facebook, Enderle said.
"I don't understand what problem Waves solves that I'm struggling with," Carl Howe, director of anywhere research at the Yankee Group, told TechNewsWorld. "It seems to be a solution in search of a problem."