Google on Friday announced the extension of the Fact Check feature it introduced last fall in partnership with Jigsaw. Publishers now can display a Fact Check tag in news stories everywhere that Google News is available.
The company also has introduced the Fact Check feature globally in Google Search, in all of the languages it supports.
"For the first time, when you conduct a search on Google that returns an authoritative result containing fact checks for one or more public claims, you will see that information clearly on the search results page," noted Jigsaw Product Manager Justin Kosslyn and Research Scientist Cong Yu in an online post.
"The snippet will display information on the claim, who made the claim, and the fact check of that particular claim," they said.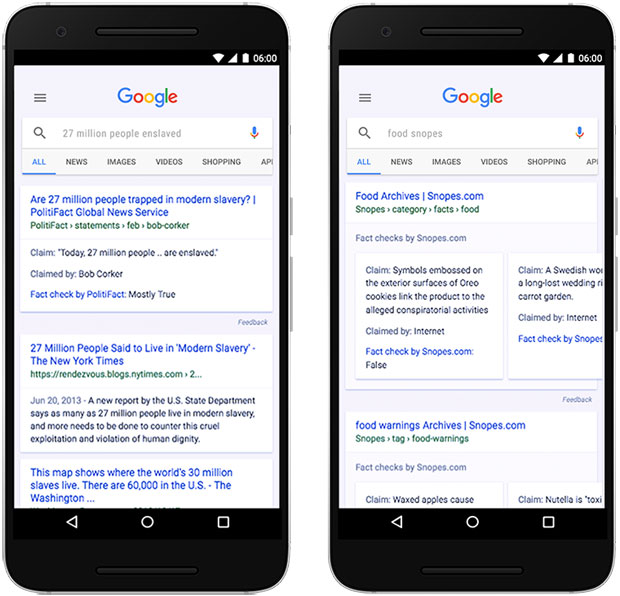 How the Process Works
Not all stories will be fact checked, and not all publishers will be eligible to use the Fact Check label. Those who want to have the option must use the Schema.org ClaimReview markup on the specific pages where they fact check public statements.
Or, they can use the Share the Facts widget developed by the Duke University Reporters' Lab and Jigsaw.
Only publishers algorithmically determined to be an authoritative source of information will qualify for inclusion. The content must adhere to the following:
At its discretion, Google may ignore a site's markup if it fails to adhere to these policies.
Alternative Facts?
Although Google is enabling a system for fact checking and vetting its participants, it is not conducting any fact checking itself or assessing the validity of any fact-checked conclusions.
"There may be search result pages where different publishers checked the same claim and reached different conclusions, Kosslyn and Yu acknowledged.
"These fact checks are not Google's and are presented so people can make more informed judgements," they said. "Even though differing conclusions may be presented, we think it's still helpful for people to understand the degree of consensus around a particular claim and have clear information on which sources agree."
By taking that approach, Google is avoiding responsibility for the quality, according to Rob Enderle, principal analyst at the Enderle Group.
"This appears to fall under the 'we want to look like we are doing something but really don't want to fully fund the effort' category," he told TechNewsWorld.
Google's Dilemma
"There is no revenue upside in fact checking, and doing this right would be very costly," Enderle maintained. "However, if they don't do anything, the solution might be both legislated and very expensive, so they're focused on looking busy but minimizing the cost and exposure."
Not addressing content quality might be expensive indeed. The German government is moving ahead with legislation that could result in fines of up to US$53 million imposed on social networks that don't offer users the option to complain about sites that publish hate speech and fake news, or those that refuse to remove illegal content.
Google "could be acting preemptively" ahead of the German legislation, said Michael Jude, a program manager at Stratecast/Frost & Sullivan.
"You're going to see a lot of this stuff being announced or implemented to some extent by most of the social sites," he told TechNewsWorld. "Many parts of the globe are starting to get really serious about public discourse on the Internet."
However, a really effective solution would prevent social sites from conducting business, Jude pointed out, "so they'll do these palliative things, whatever they can, to continue conducting business without incurring a lot of fines."