Google on Thursday kicked off its I/O developers conference with the introduction of a new app for better managing, organizing and storing photos, as well as an Android spinoff for the Internet of Things, and an offline feature for Maps.
The new Google Photo application allows shutterbugs to back up photos automatically from any device to a personal home site on the Net. There the images can be organized automatically by a number of criteria — faces, places and such.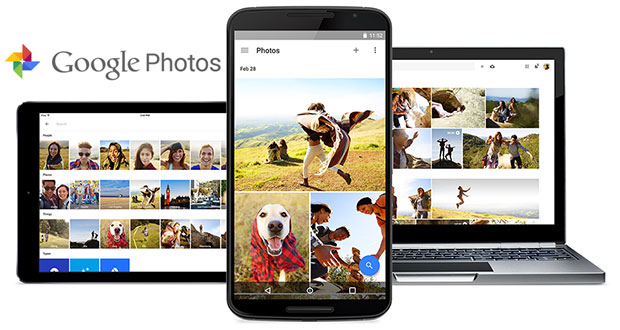 Users can perform text searches, but photos need not be tagged. You could type in "snow pictures from 2015," for instance, and all photos with snow in them during that time period would appear in the search results.
The program contains a virtual photo assistant that can be consulted about potential projects for your photos — such as movies, collages and animations.
The app reduces friction when sharing media. You can select a set of photos by dragging your finger over some thumbnails and then create a link to them. Anyone clicking on the link can directly view the photos without any additional logins or app-launching requirements.
App users get free, unlimited storage for images of up to 16 megapixels in size and video at 1080p.
Brillo: An OS for the IoT
Google also announced an Internet of Things initiative at I/O, featuring Brillo, a scaled-down version of Android capable of running on devices with low-memory capacity, and Weave, a communications layer that allows devices to communicate with each other.
Google likely wants to broaden its presence in the IoT universe after its purchase of Nest, a maker of Net-connected thermostats and smoke detectors, but with Brillo, it may be adding to the babble in the space.
"It's another set of standards — another platform. It's getting very, very messy when it comes to all this IoT stuff," said Bob O'Donnell, founder and chief analyst with Technalysis Research.
"Everybody is trying to stake out a claim because it's the early days. No one has a strong position yet, so Google feels it's in as good a place as anyone else to dominate the market," he told TechNewsWorld.
"It's going to be interesting to see how this plays out, but it's going to be extraordinarily confusing for consumers," O'Donnell maintained.
Untethered Maps
During the I/O keynote presentation, Google outlined its efforts to make applications more suitable for the developing world, where connections may be slow and intermittent at times. Allowing Google Maps to be viewed without a connection is among those initiatives.
Maps saved for offline viewing include more than the map itself. Searches for places on the map can be performed, and information about those locations will be displayed just as it is when a device is connected to the Net.
In addition, turn-by-turn voice directions will be available offline.
Google also revealed a reboot of Android Pay during the two-hour I/O presentation. The mobile payments service allows consumers to make contactless purchases wherever they see the Android Pay logo, at locations supporting NFC purchasing or from within apps that support the technology.
With the Android Pay refresh, no applications need be opened when making a purchase. In addition, as with Apple Pay, a virtual account number is created for a transaction so a credit card number never leaves the device.
Bad Bet?
Android Pay will be accepted at more than 700,000 contactless payment outlets, including Macy's, Subway and McDonalds, according to Dave Burke, vice president of engineering at Google.
"We believe that the same partnership model that fueled Android's growth from a single device seven years ago to now more than a billion users will enable Android Pay to be successful, too," he said at the I/O forum.
Burke's optimism isn't shared by everyone.
"I don't think Google can succeed in payments," said Trip Chowdhry, managing director for equity research at Global Equities Research.
"They have fundamantally put a bet on the wrong technology," he told TechNewsWorld. "I don't think they've gotten it right. Android payments will be a failure."