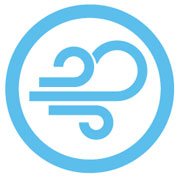 Google X Labs, the not-so-secret-but-secretive facility that works on cutting edge projects, has bought airborne wind turbine developer Makani Power, which announced the news on its website.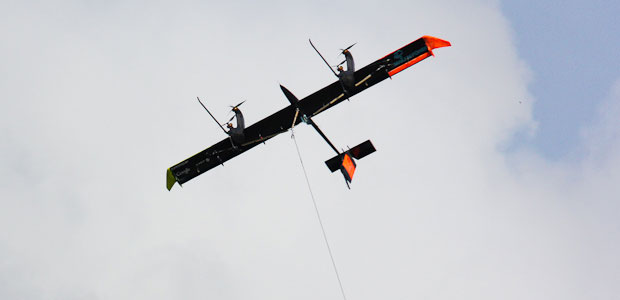 A Makani Power Airborne Wind Turbine
Makani uses tethered aircraft that fly in figure 8s to generate power.
The purchase formalizes a long and productive relationship between the two companies and will provide Makani the resources to accelerate its work in wind energy generation, the company said.
Makani last week completed the first autonomous all-modes flight with its Wing 7 prototype.
Makani has "built a breakthrough technology that tackles a big problem for the world — with their airborne wind turbines, they've replaced tons of steel with sensors and intelligent software and, as a result, we can ask new questions about what might be possible with wind energy," Google spokesperson Katelin Todhunter-Gerberg told TechNewsWorld.
Airborne wind turbines could be a mixed blessing because "they could produce more power vs. their size and cost if they can adapt to various wind patterns better, [but] there is also a cost and loss of efficiency related to getting the electricity from the generation source down to where it will be used," said Roberta Gamble, a partner at Frost & Sullivan.
More About Makani
Makani was founded in 2006 by Saul Griffith, Don Montague and Corwin Hardham. It received funding from the Google.org Foundation as part of the latter's Renewable Energy Cheaper than Coal initiative, which was launched in 2007 and retired in 2011.
The company also received funding from the U.S. Dept. Of Energy's Advanced Research Projects Agency — Energy (ARPA-E) Program, which supports energy research.
In 2010 the company received a grant from ARPA-E to design and test a prototype of the final utility-scale product that would generate 30 KW of electricity. This prototype, the Wing 7, made a flight in December 2011 during which it powered a panel of 1,000W lights.
In May 2012, Makani drafted the specs for a ground station from which its 30 KW airborne wind turbine could be deployed, and, last week, it completed the first fully autonomous flight of a kite power system. You can see videos of that flight here.
Makani's Technology
The Makani Airborne Wind Turbine (AWT) is a wing that's outfitted with turbines and tethered to the ground. It flies at between 250 and 600 meters above ground, where the wind is relatively strong and consistent. Air moving across the turbine blades forces them to rotate, driving a generator and producing electricity.
The tip of a conventional wind turbine blade accounts for most of the energy produced. Makani mounts pairs of small turbine generators on a wing that itself acts like the tip of a traditional turbine blade. The company has developed hybrid rotors with symmetrical, uncambered foils that let them either generate energy as a turbine, or apply thrust like a propeller. They are used as propellers to keep the wing aloft when the wind dies down briefly.
The wing flies across the wind in vertical circles and is fixed to the ground by a flexible tether. Its flight path is controlled by an onboard computer. The wing launches and lands by hovering like a helicopter.
The tether consists of a core of high-strength fibers surrounded by conductors and transmits the electricity to ground stations.
Origins of Air Wind Turbine Technology
The idea for this technology was first proposed by Miles Lloyd, an engineer at the Lawrence Livermore National Laboratory, during the oil crisis in the 1980s. He published a paper on the potential of crosswind kite power.
Students at the Worcester Polytechnic Institute in the UK designed a 1 KW kite power system in 2008 to help fulfill requirements for a B.Sc. in aerospace engineering.
Comments on AWTs
Makani plans to build production models that can generate 600 KW.
If airborne wind turbines can be made inexpensively and provide power with low fluctuations, their impact could be significant, Gamble told TechNewsWorld. "But that's a very big 'if' based on technical and cost limitations."