Google unveiled a new Samsung Chromebook on Thursday, available for pre-order at US$249. The new model is more streamlined and far cheaper than its predecessors.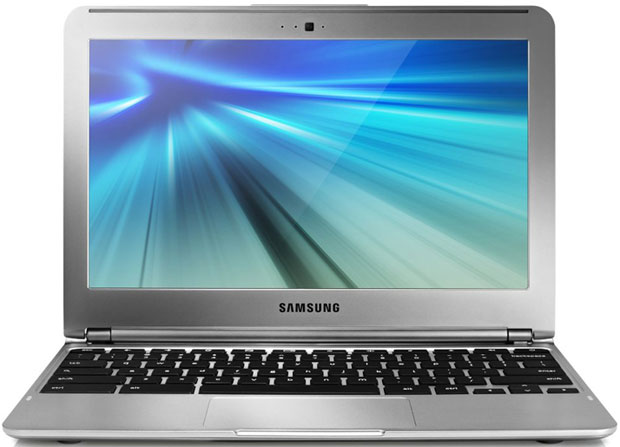 Samsung Chromebook
It costs $200 less than the Samsung Chrome 550, which was released earlier this year, and $100 less than the Series 5 model, which debuted last year.
The sleek new form factor is compelling, said Craig Stice, senior principal analyst for compute platforms at IHS iSuppli.
"To have a successful product in mobile, it has to be very thin, very light," he told TechNewsWorld. "That is enough to draw attention from other products that are out there."
Cloud Computer
This new machine does appear to be aimed at those wanting a sleek profile as it is just 0.8-inches thick, and weighs in at just 2.5 pounds. It features an 11.6-inch screen that supports a 1366×768 display. While not the highest-resolution screen out there, it reportedly does the job. It includes a webcam and microphone, enabling online video chatting.
It's light on connections with just one USB 3.0 port and one USB 2.0 port, plus an HDMI output and SIM card slot. However, it is primarily a cloud computing device, with Internet access via WiFi. A 3G model is available for preorder from Amazon for $330.
The Chromebook provides 16 GB of local SSD storage, as well as100 GB of cloud-based Google Drive storage, free for two years. The machine is thus clearly designed for life in the cloud.
"It is kind of in its own niche sort of thing," said Stice. "It is really just a Web device. It is an interesting type of product, a light computing device in a nice form factor."
Google did not respond to our request for further details.
Breaking Windows 8
The timing of the announcement is certainly interesting, and it isn't clear if the intent was to steal some thunder from Microsoft in advance of next week's long-anticipated release of Windows 8.
However, "Samsung and Google aren't stealing much thunder here," said Roger Kay, principal analyst of Endpoint Technologies Associates. "The purely Web device is still a thing of the future, and it hasn't made much headway in the marketplace so far. Its day will come when there's something approaching full connectivity."
The new device's reduced price could make that future closer.
"The Chromebooks have tended to lag far behind tablets in consumer interest and uptake [but] that may have been due, at least in part, to the $500-plus pricing of the original Chromebooks," said Charles King, principal analyst at Pund-IT.
"The lack of touch-enablement is another likely factor. The new Chromebook's $249 entry price — plus two years/100GB of Google Drive storage — should shatter the first barrier," he pointed out.
"More importantly, along with the recent addition of the Nexus 7, Google is the only vendor that has two distinct devices capable of leveraging its notable array of Web-centric applications and services," King told TechNewsWorld. "With the Surface, Microsoft seems to be aiming at delivering a best of both worlds — touch- and keyboard-enabled — solution that is clearly aimed at Apple's iPad."
The announcement's timing may mean nothing more than the onset of the annual shopping frenzy.
"We're entering the holiday season," said Stice. "So there are a host of platforms and products that are going to be launched. The fact that this was announced in advance of Windows may have been strategic on Google's part, but there are so many weeks in the fall."