Google canceled its New York press event Monday due to the impending arrival of Hurricane Sandy on the East Coast, but that didn't stop it from announcing its new Nexus 10 tablet, along with the Nexus 4 smartphone and Android 4.2, an update to Jelly Bean.
A step up in size from the Asus-made Nexus 7, released in July, the Samsung-made Nexus 10 will be available beginning Nov. 13 for US$399 for the 16-GB version and $499 for the 32-GB version.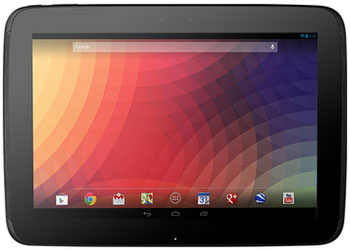 Google's Nexus 10 Tablet
This could certainly cause price-conscious consumers to look beyond the iPad.
"These days are the beginning of the hardware wars, and the competition is only going to get more fierce," said Josh Crandall, principal analyst at NetPop Research. "Google and Samsung's Nexus 10, Microsoft's Surface, Amazon's Fire are all chipping away at Apple's lead. Consumers will be the winners of all of this during the Christmas buying season."
Higher Resolution
The Nexus 10 features a 2,560 x 1,600, 300-ppi display that offers more than 4 million pixels for sharp and vivid video and photos. The AMOLED display is also available in the wide-screen format, which could appeal to movie buffs who opt to enjoy them on the tablet.
"Apple seems to think that resolution is a very big deal — to the point that the company has hyped it as a core differentiator in both the iPad and MacBook line," said Charles King, principal analyst at Pund-IT. "Now that Google owns the resolution crown, it'll be interesting to see if Apple changes its retinal display marketing strategy."
Price Is the Point
The lower price point of the Nexus 10 — which comes just as Google dropped the price of its Nexus 7 to $199 for the 16-GB version and $249 for the new 32-GB version — puts the Nexus line in a very competitive space against the iPad — but is this going to be enough to nip away at Apple's market share?
"The combination of price and design on the Nexus 10 will be a definite draw," said Rhoda Alexander, senior manager for monitors and tablets at IHS iSuppli.
"Key to moving from tablet competitor to serious competitor will be how Google works with their hardware partners, Asus and now Samsung, to get wider distribution of the Nexus products across international markets," she told TechNewsWorld.
Google certainly managed to undercut the competition and the fact that it followed the high-profile Microsoft Surface and Apple iPad mini announcements could work to its advantage.
"The Nexus 10's pricing comes a few days after both Apple and Microsoft introduced products whose base cost is higher than many expected," said King. "That could add luster to what already looks like a solid full-sized tablet offering from Google."
In fact, Apple and Microsoft likely are just two of the players looking at the price points — even Google's partners in the Android space could be watching how this unfolds.
"This does create a clear value for this tablet — now priced well below the competition — and I doubt the other Android licensees are finding this price all that wonderful either," said Rob Enderle, principal analyst at the Enderle Group.
"This is a good value, and values often sell well when folks are buying gifts for others. The Nexus 7 sold rather well, and that suggests this tablet could do well too," Enderle told TechNewsWorld. "However, given the weakness of the Google back end in this price range, the Amazon Kindle 10 [could be] the better choice."
Android Glitches
While the price point is just one part of the equation, there are other factors that could have some consumers consider the iPad — namely security considerations and the availability of apps.
Google's open source OS has been wide open to hacks and other cyberthreats.
"The Android products have been malware magnets," noted Enderle, "making them scary in companies, and for kids or retired adults who are most vulnerable to attack."
While Apple has done a very good job of reminding consumers that there is an app for just about everything, and it offers a large catalog specifically developed for the iPad. Android is still playing catch-up at this point. Most of the apps available for tablets are simply blown-up versions of smartphone apps.
The app situation could very much be a chicken-and-egg scenario, with developers waiting until there is a better market for tablet apps, while some users may hold off buying an Android tablet due to the lack of them. With so many new devices entering the field, however, the marketplace is evolving.
"It's a matter of developers deciding there's enough of a market opportunity to warrant the effort/expense of optimizing apps for larger displays," King told TechNewsWorld. "Until recently, the lack of success among Android-based tablets made that process a mostly losing proposition. The success of the Nexus 7 and the Kindle Fire may have fundamentally changed the app landscape. If the nexus 10 is similarly successful, expect to see more specialized app development."