What appears to be a service manual from LG was leaked on the Web over the weekend, replete with details about Google's upcoming Nexus 5 smartphone.
The document is listed as an internal service manual for the LG-D821, and it was first published by Android Police.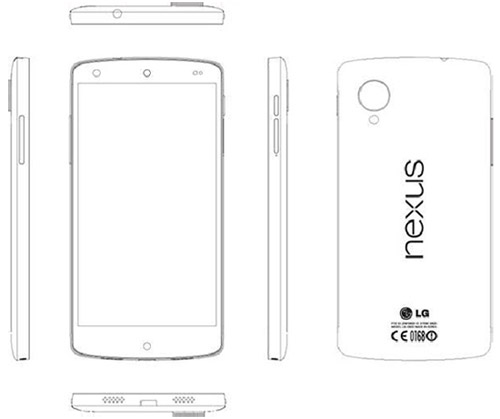 "This looks real," Rob Enderle, principal analyst at the Enderle Group, told TechNewsWorld. "I have a hard time believing anyone would go to this kind of trouble to play a hoax on LG."
However, there may be "some inaccuracies" in the document because it's likely an early draft, Enderle warned.
'The Wrong Road'
There is some speculation that LG might have leaked the manual as a marketing ploy the same way some other vendors' upcoming products have been "leaked" on the Web.
However, the Android Police blog has pulled the document and images from its site, reportedly at LG's request, and that has strengthened the belief that the manual is indeed for the Nexus 5.
"If this is real and not the final design, LG won't want people to go down the wrong road," said Michael Morgan, a senior analyst at ABI Research.
Neither LG nor Google responded to our request to comment for this story.
Tech Specs
The LG-D821 is listed as a smartphone that runs on WCDMA, HSDPA and LTE networks. It supports WLAN 802.11 a/b/g/n, Bluetooth, GPS and NFC.
The device will have a 4.9-inch 1080p IPS TFT display and a 2.3 GHz Qualcomm Snapdragon CPU. Also included will be an 8MP rear camera and a 1.3 MP front camera.
The typical sensors are listed — a gyroscope, an accelerometer, a compass, a proximity/ambient light sensor and a barometric pressure sensor — as are a microSIM slot, a notification light and wireless charging capability.
There is speculation that it will be available in 16 GB and 32 GB versions.
Gee, We've Seen This Before
Some observers have pointed out that the tech specs of the LG-D821 are similar to those of LG's flagship G2, launched in August, but that's not quite correct.
The G2 has a 5.2-inch full HD display; a 13 MP rear camera; a 2.26 GHz Qualcomm Snapdragon 800 CPU; and a 2.0 MP front camera.
Still, "it is not uncommon for the Nexus to use what OEMs are already working on and also not uncommon to see what they're working on show up in other devices," Morgan told TechNewsWorld.
"Nexus devices are top-tier devices from OEMs with some features, such as the camera, dumbed down a bit," Morgan continued. "LG is making this for Google and they have things on their agenda that they want to address so some of that could be lower-cost, so maybe they shaved the camera a bit."
'Super Slim'
If LG adheres to the specs listed in the leaked manual, the Nexus 5 will be "very similar visually and design-wise to the G2, with the button at the back within reach of the user's forefinger, for example," Enderle speculated.
It is likely to be "super slim," Enderle continued. "So you'll probably have a consistent design, but enhanced in several distinctive ways so buyers can see this is the newer product."
None of the specs as detailed in the leaked manual is a game changer, but "the device hasn't been launched yet, so we can't say anything's set in stone," Morgan pointed out.
'A Very Aggressively Priced Phone'
It's likely that the Nexus 5 will be launched later this month, about a year after the Nexus 4 was released, Morgan said.
"Looks like they're ready to go," Enderle agreed.
In fact, the launch might come as early as Oct. 14, as there is speculation that Google is planning to hold an event on that date.
The Nexus 5 will likely be value priced.
Nexus "is Google's value brand now, so I wouldn't expect this phone to lead on anything but price," Enderle said. "This will be a very aggressively priced phone."