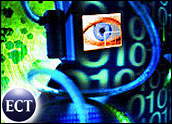 I've been using Picasa since before Google bought it, and have found the feisty program a gem for managing my growing library of digital photos, as well as a handy tool for quick tinkering with snapshots when launching a full-blown image editor would be overkill.
I always look forward to each iteration of the software because, unlike many programs, its developers don't seem to be wrapped up in newness as an end in itself. And that's true of the latest version of the application.
Building on the popularity of social photo sites like Flickr, Picasa's brain trust has added a Web album feature to the program.
By Invitation Only
Although the new feature is still in its trial phase, I didn't find too many rough edges to the service.
To use it, you need to download the new beta version of Picasa. That means you'll have to sign up for an "invitation" at picasaweb.google.com to try out the program, and if you don't have a Google mail account, you'll have to get one of those, too.
All this rigmarole isn't needed to simply view an album, so you don't have to worry about acting as a Google shill when inviting people to eyeball your photos online.
Reinstall Needed
If you already use Picasa, you'll have to install the new version to get the Web album feature.
Once the latest edition of Picasa is running on your system, creating a Web album is extremely easy.
First, let Picasa index all the photos on your system. The process doesn't alter the location of the images. It just allows the application to create a database of file locations so it can find them when it's running.
Next, you select the pictures you want in the album from thumbnails displayed in Picasa.
Then you click the "Web Album" button.
Breezy Setup
That triggers a pop-up form for filling in information about your album.
You can give the album a name, add a description for it and identify the location where its images were captured.
You can choose to create a new album or add to an existing one.
You can also determine the "visibility" of an album — whether it's public or unlisted.
Public albums are listed on your "My Photos" page at the Picasa Web site. That makes them easy for anyone to find, since the sites follow a standard pattern: www.picasaweb.google.com/GmailUsername.
Unlisted albums are more difficult to find because you need an exact Web address to see them, and that URL is less easily determined.
Finally, you choose how you want the photos sized when they're uploaded to the Web. There are three sizes: optimized (1600 pixels wide), medium (1024 pixels wide) and slowest (native resolution of photo).
250MB for Free
A running tally of how much space your albums are occupying online is also displayed on the upload form. Google will give you 250 megabytes of free storage. For an annual fee of US$25, you can get six gigabytes more.
After uploading an album to the Web, you can share it with friends and relatives.
Simply click "share album" and another pop-up form will appear. You fill in the e-mail addresses of the folks you want to see the album, add a comment or two, then send off the invitation.
Since the Web site uses Google mail to send out the invitations, if one of your invitees is in the GM address book, all you need do is type a few letters and their full address will pop into place on the form. Otherwise, you'll have to cut and paste addresses from the default e-mail program on your computer, which is an irritating aspect of an otherwise slick program.
With the addition of Web albums, Google has made Picasa an attractive, end-to-end solution for handling and managing digital photos from camera to cyberspace.
---

John Mello
is a freelance business and technology writer who can be reached at
[email protected]

.
---