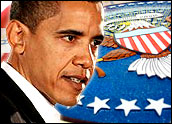 The National Security Agency has been collecting the phone records of millions of Verizon users in the United States under a secret court order, The Guardian reported on Wednesday.
Specifically, Verizon has been required to provide an ongoing account of all telephone calls on its systems, including those inside the U.S. and between the U.S. and other countries, reported The Guardian, which said it has obtained a copy of the order.
While the contents of the conversations included are not covered by the order, details that are covered reportedly include the numbers of both parties involved, location data, call duration, unique identifiers, and the time and duration of the call.
Granted by the secret Foreign Intelligence Surveillance Court to the FBI in late April, the order covers a three-month time period ending July 19 and expressly forbids Verizon to reveal its existence to the public.
Verizon did not respond to our request to comment for this story.
'A Seamless Transition'
The order makes clear that the Obama administration has collected records on millions of U.S. citizens on a scale not fully appreciated before.
"This involves one of the biggest telecom companies in the world," said Jeffrey Silva, senior policy director for telecommunications, media and technology atMedley Global Advisors.
"This fits into the bigger narrative Obama's administration records on national security in the aftermath of the Bush administration," he added.
"There has been a seamless transition in the efforts aimed at fighting terrorism, and this includes what could be called artistic license in giving power to the intelligence-gathering community," Silva told TechNewsWorld. "In fact, it may have increased in this administration."
Government Responds
Indeed, the Obama administration spoke out on Thursday to defend the NSA's data collection efforts.
"Information of the sort described in the Guardian article has been a critical tool in protecting the nation from terrorist threats to the United States, as it allows counterterrorism personnel to discover whether known or suspected terrorists have been in contact with other persons who may be engaged in terrorist activities, particularly people located inside the United States," said an unnamed senior administration official widely quoted in press reports.
"As we have publicly stated before, all three branches of government are involved in reviewing and authorizing intelligence collection under the Foreign Intelligence Surveillance Act," the official added. "Congress passed that act and is regularly and fully briefed on how it is used, and the Foreign Intelligence Surveillance Court authorizes such collection. There is a robust legal regime in place governing all activities conducted pursuant to the Foreign Intelligence Surveillance Act."
The administration did not comment specifically on the order giving the NSA authority to collect call data from Verizon, however.
The surveillance program has been going on for years, according to reports.
Beyond Verizon
While the document acquired by The Guardian names Verizon specifically, it isn't generally believed that it's the only carrier involved. More likely, similar requirements have been made of others as well.
"Given the breadth of this request — an entire phone network — it is extremely unlikely that it was limited to one phone company," said Alan Butler, appellate advocacy fellow at the Electronic Privacy Information Center.
Under the Foreign Intelligence Surveillance Act, a company receiving an order like this can challenge it before the FISC, Butler noted.
"Verizon does not have a good track record of standing up for its customers, but some service providers have in the past," Butler told TechNewsWorld.
That could mean that other carriers were contacted, but which of them refused and which complied isn't yet known.
"One has to assume that Verizon is not alone," agreed Silva. "I would be shocked if Verizon was the only telecom company that has been asked for data from the government. That just doesn't make sense."
In any case, "this certainly reinvigorates the debate of security and civil liberties," Silva added. "It is always a healthy debate for the nation to have."
Data Mining
The approach of screening vast numbers of records would seem akin to looking for a needle in a haystack or — worse — looking for a needle in a stack of needles.
However, looking at the entire network can be a way to draw attention to specific suspicious behavior.
"This data-mining technique is effective for identifying suspicious calling patterns only when you have a comprehensive view of the whole network — i.e., all calls by all Americans," said privacy researcher and consultant Ashkan Soltani.
That also argues for the likelihood that the NSA is obtaining call records from all the other carriers too, Soltani told TechNewsWorld. "Otherwise, it's much less useful."
There are some "great examples of other countries doing blanket surveillance of call patterns for all their citizens in order to identify shady activities, like drug dealers in Asia," he added. "The technique works."
It's difficult to know exactly what type of analysis the NSA or others in the intelligence community would conduct with such a huge data set, "especially given the clandestine nature of their activities," said EPIC's Butler.
"Based on our past briefings about their techniques, I imagine that they create a large relational network, where they group users based on their connection to known or suspected agents or enemies; six degrees from Al-Qaeda," he added.
Significant Legal Issues
In any case, while the issue of wiretapping has gotten widespread attention through movies and TV — notably, HBO's series The Wire — legal issues do remain.
"The legal issues involved here are significant," said Butler. "We have always argued that U.S. citizens have a Fourth Amendment interest in their private telephone records, but beyond that it appears that both the Department of Justice and the FISA Court are exceeding their authority in this case to collect business records unrelated to authorized intelligence investigations.
"The scope of this — and likely other — requests is much too broad to comply with the statutory limitations of the FISA," he added. "The relevant provision is 50 USC 1861."
Increasing Prevalence
Instances of this sort of surveillance have been on the rise.
"Since 9/11 these sorts of revelations have popped up, and this debate is going to continue over the protection of security and civil liberties," noted Silva.
"This is going to be a dynamic process," he said, "and constantly tweaked and rebalanced going forward."