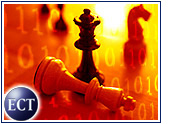 In a classic duel between wetware and software this afternoon, the world's number one chess player will battle a computer program in the last of a four-game set in virtual reality. After three contests, the opponents — Grandmaster Garry Kasparov, 40, and X3D Fritz — are deadlocked at one win each with one draw.
"It's really been fascinating," X3D Technologies consultant John Fernandez said of the first three tilts. "For us, we feel like we won before the first move was made because the huge challenge in this man-versus-machine match is not getting the strongest computer program possible, but creating this entire virtual reality environment."
Unlike previous man-against-machine bouts, there's no physical chessboard or pieces in this match. Kasparov plays the games, which are being held at the New York Athletic Club, sitting in front of a computer monitor wearing 3D glasses.
The chessboard and chess pieces on the display float in the front of the Azerbaijani Grandmaster. He announces his moves, and the computer complies with his wishes through a speech-recognition system.
New Wrinkle
Past man-versus-machine encounters consisted of feeding chess moves into a computer and having it spit out its moves. "Now it's really different," Fernandez told TechNewsWorld. "We have the virtual reality room, which we built into the software, and we have one of the strongest chess engines out there running on state-of-the-art technology."
According to Frederic Friedel, cofounder of ChessBase, a chess database program, the version of Fritz that Kasparov is facing is considerably stronger than any previous version of the software. In fact, X3D Fritz is optimized for play against human beings and specifically for the match against Garry Kasparov, he said in an interview published at x3dchess.com.
"The chess has been very fascinating," X3D's Fernandez said. "Kasparov has played fantastically. X3D Fritz has played well also."
Blows Material Advantage
Kasparov drew in his first head-to-head with Fritz last Tuesday after he was unable to convert a material advantage won in midgame — he swapped a rook for a bishop and a pawn — into a victory. After the contest, which lasted 3 hours and 20 minutes, the Grandmaster admitted he was having "some psychological problems" with the program's virtual reality component.
In the second game held last Thursday, a Kasparov blunder in the 32nd turn allowed Fritz to blitzkrieg into the Grandmaster's rear ranks and convert a pawn into a second queen. Kasparov, who had been playing black, retired after the 39th move after 3 hours and 40 minutes of play.
Incredible Preparation
On Sunday, flesh and blood won over silicon as Kasparov hemmed in his machine foe behind a wall of pawns, forcing it into a series of moves described by chess experts at the scene as "silly." Although the game was decidedly over after 16 moves, Fritz dragged the game out for more than 4 hours.
"Kasparov's preparation for game three was incredible," X3D's Fernandez noted. "He found a way to get the computer in a position where the fact that it can see about 4 million moves per second didn't help it."
Kasparov is no stranger to playing John Connor to chess terminators. In February, his match against Israeli-designed world computer chess champion Deep Junior ended in a draw. And in 1996 and 1997, he split a series surrounded by hoopla against IBM's Deep Blue, winning the first six-game set 6-2 and dropping the second 3.5-2.5.
Deep Blue Tougher
"Since '96, '97, when Deep Blue played, computers have improved and are almost 5 to 10 times faster now," observed Monty Newborn, a professor of computer science at McGill University School and author of Deep Blue: An Artificial Intelligence Milestone.
"These other programs that have played Kasparov and [World Champion Vladimir] Kramnik drew their matches, and it looks like there's a good chance this one will be drawn," Newborn told TechNewsWorld. "These programs are not quite as tough as Deep Blue at its best, I suspect."
If Kasparov wins his set-to with Fritz, he'll take home US$200,000 in prize money; $175,000 if the match ends in a draw.