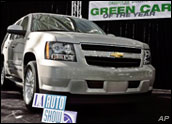 The Los Angeles Auto Show is painting the town green this week, with its emphasis on hybrid vehicles and the first showing by Honda and GM of hydrogen fuel cell cars.
A variety of fuel technologies are being showcased, including conventional high-mpg gas-powered vehicles; biofuels such as E85 ethanol; advanced gas-electric hybrids; fuel cells; and extended-range electric vehicles such as the Chevrolet Volt, powered by GM's E-Flex System.
GM will make its science fiction vehicle — the Chevrolet Equinox — available to specialized markets. Disneyland will get 10 of the 100 lined up for distribution to use as shuttles.
Honda will begin leasing the fuel cell FCX Clarity model to a limited number of drivers in the southern California area at US$600 a month.
Not to be left out, Ford is showing off its plug-in hybrid Escape. This is the car that just plugs into an ordinary electrical outlet to recharge. Ford is giving 20 to Southern California Edison.
Method to the Madness
There's a method to all this philanthropy madness. There's general agreement that the plug-ins and, especially, the fuel cell vehicles are a long way from ready for the road.
The introduction to drivers is a Beta test to gather information on performance, driver acceptance, reliability and general capability. There is much work to be done.
With all the hype, the question comes down to a simple one: Are consumers buying green vehicles?
Shades of Green
Consumers are interested in hybrids, Ruth Thompson, a co-owner of California Auto Consultants, told TechNewsWorld, "but it's not to save the planet — it's to save gas."
There is little interest in biofueled vehicles, however, she said.
Buyers like the fuel economy of hybrids, echoed Bob McLoughlin, Internet director for Atlanta Toyota.
"There is some interest in biodiesel conversions," he told TechNewsWorld, "but hybrids are the main interest."
In fact, the Green Car Journal gave GM's Chevrolet Tahoe Hybrid its 2008 Green Car of the Year award for outstanding gas mileage at the auto show.
"We've said time and time again that we intend to be part of the solution to society's energy issues for reasons that involve energy efficiency, energy security and environmental responsibility," said GM Vice Chairman Bob Lutz at the auto show.
Still, it seems that green in the pocketbook may be what's driving consumers.