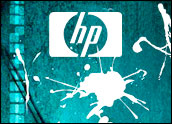 In the latest phase of an ongoing battle with computer makers over the allegedly eco-unfriendly nature of materials they use in manufacturing, environmental activist group Greenpeace on Tuesday hit HP's Palo Alto, Calif., global headquarters.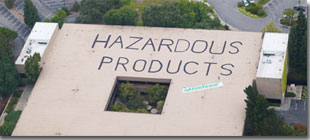 Its members painted the message "Hazardous Products" on the rooftop of HP's building and sent the company's employees automated phone calls from actor William Shatner — yes, Captain Kirk and Denny Crane — urging HP to phase out toxic chemicals in its products.
The actions followed HP's postponement of its commitment to phase out two toxic chemicals, after years of wrangling with Greenpeace.
Describing Greenpeace's actions at its headquarters as "unconstructive," HP spokesperson Pamela Bonney said they "did nothing to advance the goals that all who care about the environment share."
HP and Other Greenpeace Targets
Greenpeace has publicly been after HP, Dell, Lenovo and others to clean up their acts for months.
In March, it gave the three a penalty point in its updated e-waste guide for breaking their promises to phase out toxic chemicals in 2009.
"HP, Lenovo and Dell had promised to eliminate vinyl plastic (PVC) and brominated flame retardants (BFRs) from their products by the end of 2009," Greenpeace stated. "Now they've told us that they won't make it this year."
Vendors' Chemical Romance
Here's why nixing PVC and BFRs is a high priority for Greenpeace: Burning them gives off toxic fumes that are carcinogens. PVCs give off chlorodioxin, and BFRs give off bromodioxin.
People in underdeveloped countries like India and China are burning computer parts shipped to their countries for recycling, and the populations of entire towns are being poisoned.
The town of Guiyu in China's Guangdong Province, where residents have made an industry of recycling waste computer products with serious impact on their health, is one example.
"People in Guiyu are breaking down mounds of toxic electronics with crude instruments and burning the electronics in fire pits for the gold and copper wiring in the circuit boards," Greenpeace International campaigner Casey Harrell told TechNewsWorld.
"New studies show that the health impacts aren't just a combination of the impacts of chloro- and bromo-dioxin; it's exponentially higher than that," he said. "Among the few places in the world where you find mixed chloro- and bromo-dioxin is in places where you burn items with chlorine and bromine in them."
Greenpeace has photos on its site of a child playing in e-waste in China and the effects of e-waste on Guiyu.
Its Web site also has a report on health issues found among waste recycling workers.
HP's Efforts to Go Green
Health and the environment have always been among HP's concerns, the company's Bonney said. "For decades, HP has been a leader in environmental responsibility and has adopted practices in product development, operations and the supply chain that are transparent and help to reduce its environmental impact," she told TechNewsWorld.
HP has several Web pages dedicated to its green efforts. One site detailing its environmental goals and policies lists environmental goals for each year from 2009 to 2011.
By 2011, HP will improve the overall energy efficiency of HP printers by 40 percent relative to 2005; redesign its lower-end desktops and notebooks so they save 1 billion kilowatt-hours of electricity in all; slash the amount of packaging used, and of plastic used in packaging; and use at least 35 percent recycled paper in cardboard packaging for printers.
It will complete the phase-out of BFR and PVC in new personal computing products as technologically feasible alternatives become readily available that will not compromise product performance or quality and not adversely impact health or the environment, the company said.
The problem is that there simply aren't enough acceptable alternatives in the quantities HP needs, Bonney explained.
HP has introduced several new computing products this year that use less BFR and PVC than earlier models, Bonney said. In September, it will release a notebook that has no BFRs and PVCs.
"By fall 2010, all new commercial PC products released will be BFR/PVC free," Bonney said. "By the end of 2011, all new PC products released will be free of BFR/PVCs."
Why Greenpeace Has Its Mad On
However, Greenpeace's Harrell is not convinced that HP will keep its word.
"HP was one of the last companies that committed to a timeline to get rid of PVCs and BFRs when we talked to all the big manufacturers — Dell, Lenovo, Acer — back in 2006," he said. "And now they've moved their original commitment two years into the future."
While Harrell agrees that HP's size means it cannot implement major policy changes overnight, he contends the vendor is dragging its feet. "Unlike Dell and Lenovo, who made the commitment to phase out PVCs and BFRs in all their products, HP has only made the commitment for their PCs, not their servers," Harrell said.
Disorganization at HP could be another factor. "A senior VP at HP told us last month that he's taking on the greening project because there was nobody managing the process," Harrell said.
Greenpeace is resorting to physical tactics like Tuesday's painting of HP's roof and sending automated calls from Shatner because HP isn't responding fast enough, according to Harrell.
"Everything else we've tried is not lighting a fire under them and, as much as I'd like to believe that they're going to keep to their new deadline of 2011, what's to stop them from putting the timeline back again if we just go away?"