Weight loss and health products are often tied to unfounded hype.
Lumen, a high-tech solution to help manage your body's ability to control weight and nutritional awareness, puts the science backing its metabolism monitoring product up front and center.
In 2014 twin sisters Michal and Merav Mor, two Ironman winners, each with a doctorate in physiology, co-founded Metaflow Ltd., the company behind the Lumen device and app. They serve as head of science for product and head of research and science respectively.
The sisters worked with entrepreneurs to build a team of expert nutritionists, engineers, and designers with a passion for solving real-world health and fitness problems using the Lumen device. Their development team devised a system that for years has helped athletes achieve peak performance.
Combined with its iOS or Android app, the process measures metabolism through the breath and builds a daily personalized meal plan based on your metabolic data to help you lose weight and optimize your workouts.
Their vision is to revolutionize the way we approach weight management by focusing on metabolism as the starting point for balanced and personalized daily nutrition. The Lumen device measures metabolism to gauge a person's fuel usage.
This is not a new idea. For years athletes and medical facilities focused on using the ratio of carbon dioxide (CO2) to oxygen (O2) consumed. But until the Mor sisters perfected their Lumen approach, measuring that ratio required a person to stay in a metabolic cart or chamber for up to 60 minutes.
It took a trained practitioner to analyze those results. Lumen's patent-pending technology reduces the time it takes to measure metabolic fuel usage from 60-minutes down to a single breath.
Lumen is an impressive product with even more impressive results. Weight control may be its primary focus; however, anyone who wants to keep tabs on their overall health and mindfulness can gain tremendous personal insight from checking it out.
Lumen Highlights
Using Lumen is relatively easy. Though prepping the Lumen breathalyzer device and adjusting your mindset could be a bigger challenge. Like any other health and exercise regime, you must make a solid commitment to persevere.
Lumen is serious business. The breath analyzing device is not a toy. Nor is the app that goes with it child's play.
Start each morning breathing into Lumen to get a fresh measure of your body's carbon dioxide concentration to see what your body is using for fuel in real time. Then check the Lumen app for your daily metabolism measurements to assess your progress.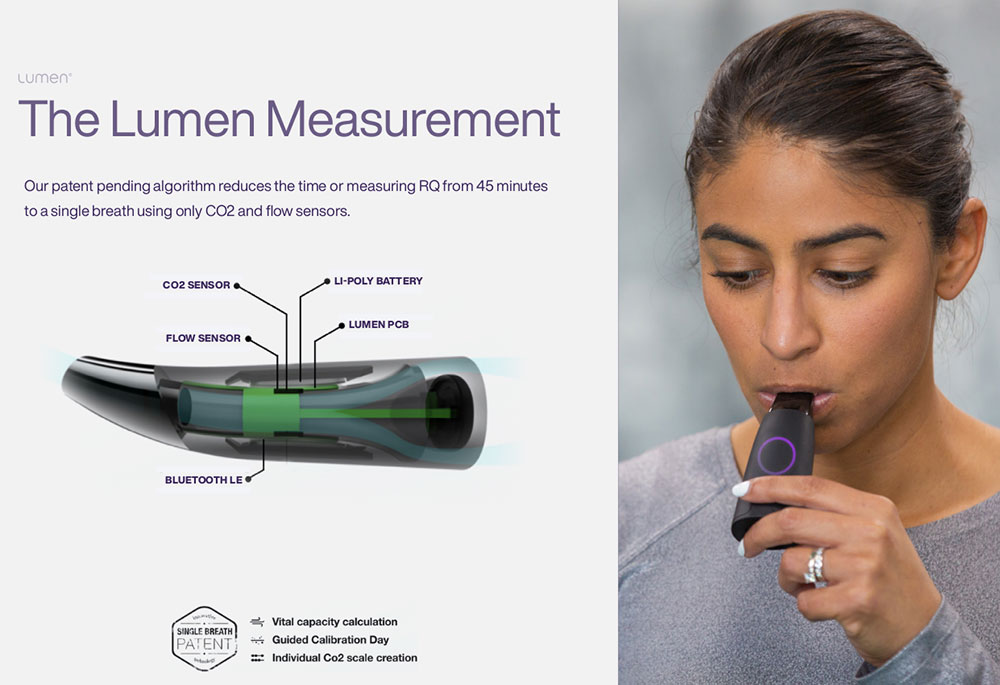 The initial app setup has you select your goals and focus areas. These choices help you choose your main track of concentration: weight loss, fitness performance, or metabolic health. You can switch your focus anytime.
Then comes the practice breathing rounds. This is the most critical part of the initial setup. For me, it was the most bothersome part. I could not get the breathing pattern right at first.
Learning To Use Breath Critical
Apparently, I am not the only new Lumen user with that problem. An entire practice session repeated over and over is built into the initialization process.
Animated training prompts hold you at that phase in the app. Until you get it right, you cannot proceed through the breath analyzing routine.
What makes it difficult? Learning how to inhale through the Lumen device. Next comes learning to hold your breath for 10 seconds.
That task must be done with precision that does not make sense until your brain figures out what you consciously do not realize. You must keep your breathing deliberate and controlled.
The third part of the setup is exhaling your held breath through the Lumen mouthpiece. The trick is keeping a displayed ball in the gray center of the progress bar on the app screen. How fast or slow you do it, plus the degree of breathing force you apply, is a key part of the solution.
App Coaching Required
It is difficult not to be overcome with frustration. The quick start booklet and the Lumen app warn you the three-part process takes practice to get perfect Lumen metabolism measurements.
"It might be a little tricky at first, but with a little practice, youll be a pro!" encourages the practice screen.
The easiest part of the startup process for me was pairing the Lumen mouthpiece device with the Lumen measurement app. Hey, I am a tech guy by nature.
Still, non-tech folks will not have an issue. To turn on the device, just push a button. The Lumen mouthpiece blinks to confirm the pairing. Way too simple!
Master the practice sessions to proceed beyond the initial metabolism measurements. That is the hard part.
Follow the Science
The purpose of all of this? Taking accurate metabolism measurements every morning is essential for your success. This Lumen level lets you know what your body is burning for fuel so the app can help you assemble a custom nutrition plan based on your own unique breath signature.
Everyone has a unique CO2 range, according to the Lumen developers. You can track your breath signatures progress to understand your metabolic CO2 range on the Today tab in the app. The higher your breath signature is, the more progress you will experience in your overall health and nutrition.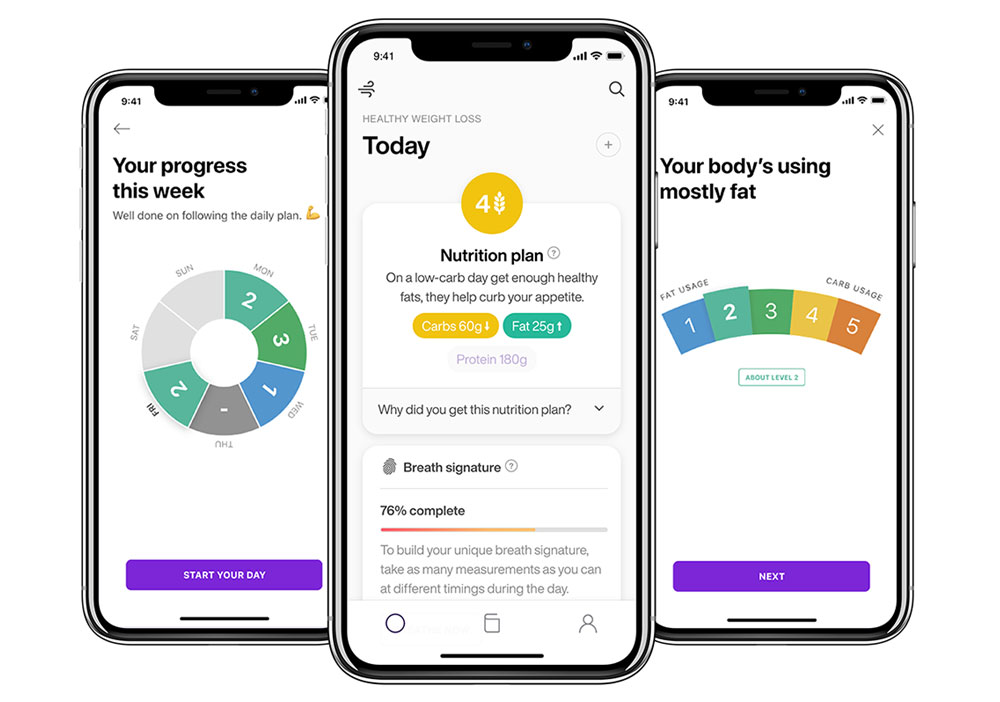 It takes time for the Lumen system to measure your progress. Lumen needs two weeks for the accumulated Lumen Flex traits to progress.
To get the best and most accurate results, spend some time entering your food and workout preferences. Other "getting to know you categories" include your sleep schedule and goal weight.
App Interface
In the settings portion of the Lumen app menu, you can authorize the Google Fit data to be integrated along with certain Garmin devices. Of course, you do not need these other devices to benefit from Lumen's metabolism training process.
You can set the app to send you reminders or notifications for your morning breath analysis, daily workout, and nutrition reminders.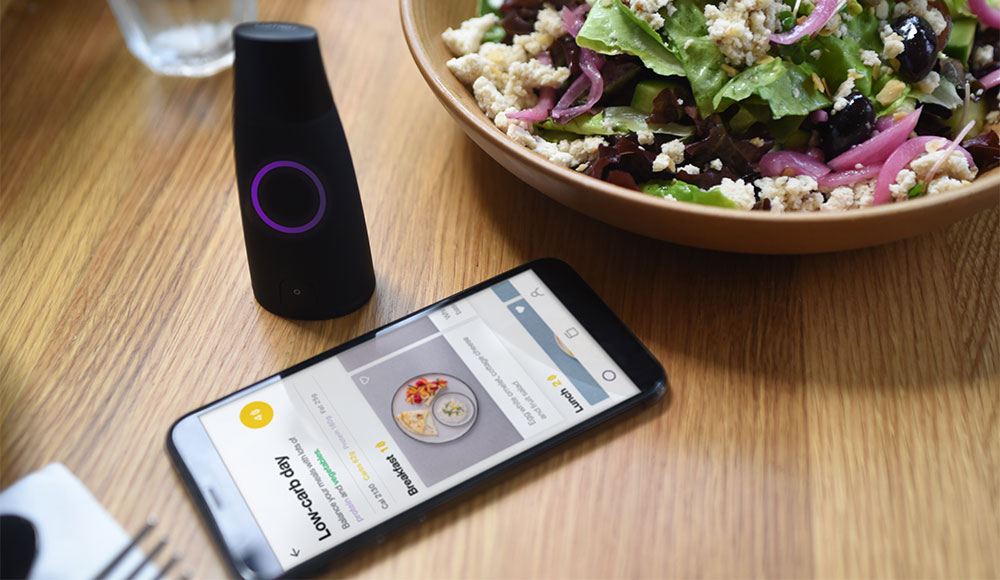 You also can set Boost day and Bedtime reminders. The app also can send lots of coaching suggestions your way based on the analysis trends reflected in your readings and results.
One of the key measurement cycles is the Lumen Flex. Your first flex score is generated after using the Lumen system for two weeks. The score indicates whether you have low, medium, or high metabolism flexibility based on a seven-point spread between 0 to 21.
Improving your flex score is key to upping your performance and weight control. This is an analysis of how your body proportionately handles carbs and fat intake. After the first two weeks, your flex score updates weekly.
The goal is to develop a flexible metabolism that allows your body to efficiently switch between using carbs and fat as a source for fuel according to your body's needs.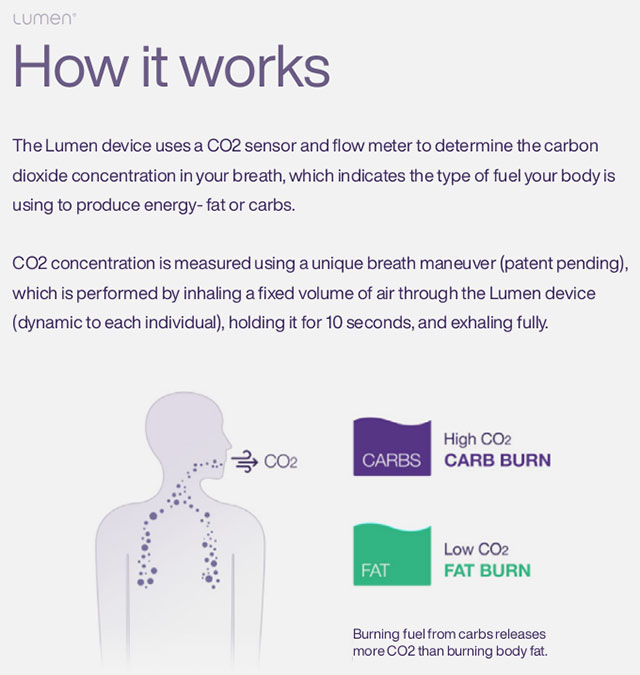 Final Thoughts
I noted earlier that all this science-based breath analysis takes commitment. Using Lumen casually will not provide peak results. That desire to take charge of your metabolism might be fed by the cost of this product.
Lumen is currently priced from US$249 to $349 and, as stated on its website, comes with a 30-day, no questions asked money-back guarantee. The device comes equipped with a travel case, charging dock, USB-C cable, and premium customer support.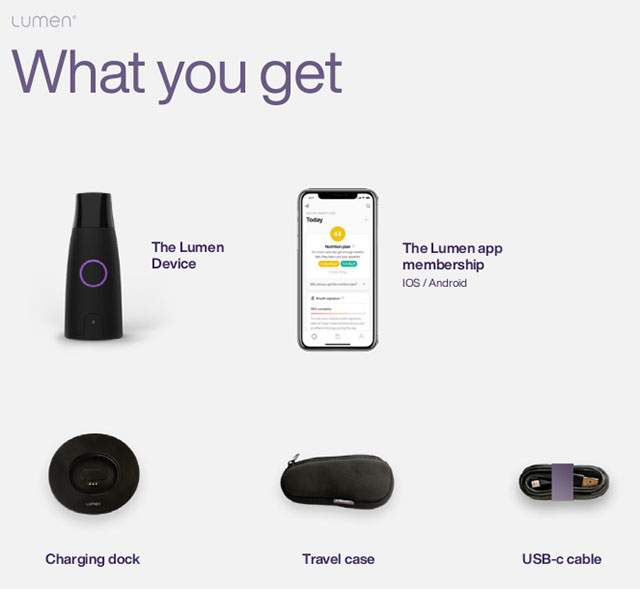 Users can download the app for free from Apple's App Store and Google Play.
The included documentation details the scientific studies that support the research and development of the Lumen device's metabolic measurement process.
Lumen claims that one million monthly metabolism measurements prove Lumen users can:
Lose an average of 1.5 pounds of weight per week on a consistent basis
Improve metabolic flexibility by 66 percent
Improve fasting windows to 12 hours daily
Increase daily movement by 1,000 steps