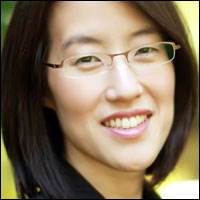 The haters have won at Reddit, forcing the ouster of interim CEO Ellen Pao and her replacement by cofounder and former CEO Steve Huffman.
Board member Sam Altman, who led a US$50 million investment round in the firm, on Saturday announced Pao's resignation and Huffman's appointment, lashing out at the campaign against Pao.
It was "sickening" to see some of the things Redditors wrote about Pao, he said.
Disagreements are fine — death threats are not, Altman continued, apparently referring to death threats some Redditors made against Pao.
Death threats are not covered under free speech, and those who utter them will be banned, Altman vowed.
Pao "brought focus to chaos, recruited a world-class team of executives and drove growth," Altman said. She will remain as an advisor to the board through the end of this year.
"The vicious targeting of women, women of color, and other oppressed groups who speak up online has reached crisis levels," said Jamia Wilson, executive director at Women, Action & The Media.
"Ellen Pao is one of at least 25 percent of women who have been targeted online," she told TechNewsWorld.
The Pao Haters
Pao's ouster followed a Change.org petition that drew more than 200,000 supporters.
The petition picked up steam after Pao dismissed Victoria Taylor, Reddit's former director of talent, who oversaw the site's popular "Ask Me Anything" online chats.
That action led angry moderators to shut down several subreddits, causing a series of Reddit blackouts.
The moderators, many of whom had worked with Taylor, were not informed about her dismissal, and that — coming after years of what they perceived as neglect — apparently sparked the revolt.
However, events immediately preceding Pao's resignation suggested some darker motives also were at play.
Redditors began lashing out at Pao after she banned five subreddits in June. Two were fat-shaming. One was racist, one was homophobic, and one targeted gamers.
One of the fat-shaming subreddits, r/fatpeoplehate, reportedly had more than 150,000 subscribers. The others apparently had fewer than 4,000 subscribers each.
The bans, in addition to other changes Pao made, led to the launch of the Change.org petition in June, on the grounds that she was engaging in censorship.
The War Against Women
"It's difficult to imagine that a male CEO who made similar decisions, controversial or otherwise, would end up targeted with toxic backlash at the same level Pao endured," WAM's Wilson said.
Women in the high-tech industry have been the subject of harassment, including threats of violence, rape and death, as the Gamergate controversy has shown.
Not all Redditors are comfortable with what happened to Pao.
"Like primitive tribesmen, convinced their sacrifices made the sun rise, our collective sh*tposting successfully removed an interim CEO," wrote "amoeba" in a comment on Altman's announcement about the leadership changes.
Challenges Reddit's Leadership Faces
Huffman, the new CEO, is in the hot seat.
Huffman's great challenge as CEO "will be continuing the work Ellen started," said board member Altman, to advance the goal of making Reddit a great community, balancing authenticity and compassion.
That sparked skepticism among some Redditors.
"If there's a new CEO, but nothing's different, then what? What changed?" wrote "RushPeople" in response to Altman's announcement.
"A line like that is meant for the press, not for us," wrote "Kalium."
Meanwhile, there's talk that in the aftermath of the controversy, Tumblr is gaining ground at Reddit's expense.
"It's a challenge many social networks are facing: Open the doors, and you have all kinds of crazy hatred. Close them, and you're a censor denying free speech," pointed out Alan Pelz-Sharpe, research director for social business applications, at the 451 Group.
Huffman "needs to move beyond the community a bit, and generate a truly loyal and identifiable demographic," he told TechNewsWorld.
"If it's men in their 20s, as it often is on Reddit, then embrace them," Pelz-Sharpe continued. "It can't be all things to all people."