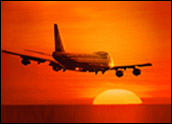 Have Apps, Will Travel – Part 1
No matter how many virtual meeting applications spring up and how popular they may be, travel is still a bit part of corporate life. Fortunately, mobile apps have made the task more tolerable, more efficient and considerably more pleasant. That is, of course, if you're using the best apps for the trip you're planning.
To speed you on your way, help you keep those receipts handy for reimbursement, find the best place to entertain your clients, and even help you find a parking place fast, here's a roundup of apps you may not know about yet but you'll absolutely love to use!
Concierge Apps
There you are stuck in a meeting that's running late and there's no time to use search engines to find a good place to take everyone to dinner. What do you do? Why, you skip the search engines and use a concierge app instead.
Alfred learns what each user likes and provides food and venue recommendations at home or on the go. Alfred takes information from the big data farms and makes connections among places, learns your preferences, and helps you make decisions about what new restaurants, bars, coffee shops and clubs you should try — without searching.
The idea is to predict what you want and serve it up, like a good concierge, rather than having you search through Yelp listings or sort through reviews.
myBantu is a smart digital assistant that provides Facebook, iPhone and Android mobile users with relevant dining, shopping and entertainment recommendations. Its developers aim to use its Active Relevance platform to permanently shelve traditional a la carte search engines like Yelp, OpenTable, Bing, etc. You don't need to use search terms or key words, just type in what you need like "Nearby movies" or "Two tickets to Harry Potter film" or "Closest good Chinese restaurant."
What to Wear Apps
Not sure what to pack for your trip? Take a quick peek at MyStylist, which can be found on WeareverTheWeather.com. Fill out a simple form on your computer or phone and My Stylist generates the matching weather forecast and corresponding clothing. You can also click the link "What Are They Wearing In" to see photos of what people in that area are wearing. Now you know what to pack — or what to shop for!
Just wondering whether to pack an umbrella or galoshes? Both the Weatherbug and the Weather Channel apps can keep you updated on weather conditions at home and at your destination.
Receipt Capture and Storage App
Insperity Expense Management has just announced its ExpensAble Mobile app for Droid, BlackBerry and iPhone that helps business travelers download their travel and entertainment expenses in real-time.
The app lets users capture receipt images, add expense details, calculate currency exchange rates, etc. — everything you need to file your receipts for company reimbursement either online or when you return. Did you know that this app can also help you contain travel and entertainment costs incurred by staffers? Real-time knowledge of expenses can be an important addition to your cost containment toolbox.
Broadband Booster App
If you've traveled outside of the U.S., you know carriers can really hit you on data charges — up to US$20 per megabyte actually. That's a tough hit considering the average Facebook page load is about 200 KB, which means you'd pay almost $4 every time you wanted to update your status.
That's where Opera Mini comes in handy. Its servers compress the page to about one tenth of the document's original size. This being the case, you should, at least theoretically, get almost 10 times the number of pages for your $20 Internet connection fee. Use it anytime you need to boost Internet speed — such as on a plane, when the crowded WiFi slows to a crawl, or over tenuous connectivity at a hotel. Opera Mini can make the most of whatever bandwidth you've got.
Did you know you can transfer data even faster on your laptop by bypassing Opera Mini in favor of the regular Opera browser and enabled Turbo? Servers still reduce the size of the page, but by 50-70 percent for Turbo. This can be a life saver when you absolutely need to get online. Like Opera Mini, Opera is also free, so there's no harm in having it on your system, even if you prefer another browser for day-to-day surfing.
Emergency Backup App
The TeamViewer app can remotely connect you to your own desktop to retrieve passport, credit card and other vital information if your wallet is lost or stolen during your travels. In a flash, you have all the account numbers and phone numbers to call to cancel your cards.
A backup passport on your desktop and retrieved in TeamViewer can help the U.S. Embassy process a replacement quickly so you can reenter the U.S. Did you know that the app will also allow you to store new files created on your phone or laptop onto your desktop? That way, if you must wipe a lost or stolen mobile device, your files are still backed up in a safe location.
Car and Parking Apps
How many times have you had to circle the block looking for a parking place while your colleagues or clients were impatiently waiting? Or, drive up and down aisles hoping to find a spot quick enough to still catch your flight? Now there are apps to help you find a spot, park and run!
Parkopedia allows drivers to find the closest parking to their destination, tells them how much it will cost, and whether the space is available now. The app provides detailed information on more than 18 million parking spaces in 25 countries, including parking lots, street parking and private driveways.
Airport Parking Reservations will find the cheapest and most convenient parking at 85 major U.S. and Canadian airports. Find a parking spot fast and avoid a $100-plus ransom fee to get your car out of expensive lots.
MyCar Locator is a free app that remembers where you parked your car or a rental. Push one button and you know instantly where you left the car. To store a parking spot just press the "P" or double-tap on the map. An arrow points you to the car's location when you return, and gives you turn-by-turn navigation back to your parked car. It also remembers how long you have parked if you need to calculate the parking fee.
Prefer to take a taxi instead of hunting a parking space? Taxi Magic is the top taxi booking application. Taxi Magic's GPS capabilities help you book cabs when you're visiting a city and don't have a clue as to your exact location. Plus, you can track the arrival of your taxi, pay the tab with your credit card and expense the trip with an e-receipt. All in all, it's a very helpful app.
Insider Apps
The ExpertFlyer mobile app is used by business travelers and frequent fliers to get inside info on seats that they can snag by using their frequent flier miles. Most of these seats are not visible or communicated to the average traveler when dealing with airline reservations. This app aids travelers in using their reward points to upgrade or fly for free at a time when it's becoming harder and harder to use miles effectively.
The FlightBoard app allows you to check arrival and departure boards at any airport you like while FlightTrack gives you a real-time status check on your flight (while it's in the air too!) so you know about weather delays — or your ride at the other end of your trip can see you'll be arriving early or late.
Or, you can check out social media activity at LAX before heading to the airport to see if security is a mess or planes are delayed — and if so, whether you can afford the time for a cup of coffee. By using Banjo, you can tap into social media activity in any given location in real-time.
Just type in your location or simply move the map with your finger tips and drop the pin to mark the location. Assign your location, and press save! Now you know exactly what people (strangers too) in the area are saying about conditions, be that at an airport or an event or on a highway. Think of it as location-pinned social media.
Now you're ready for anything on your trip!