The two mammoth events last week were the Apple developers conference keynote and ex-FBI chief James Comey's appearance at a Senate committee hearing. Now I'm sure a lot of folks didn't have the time to watch both events — and particularly for the Comey event, I'm sure the coverage has the right and the left believing very different realities.
Apple is becoming more and more like a typical tech firm — that is, long on technology and short on magic. In the past, the company might have emphasized how magical and amazing the Apple Watch was, but this year its initial big focus was on how fast the watch can launch apps.
What I thought was particularly interesting was how much more excited the audience seemed to be about Apple's diversity announcement at the start than the product announcements later on. Don't get me wrong — I like the fact that folks are excited about diversity. However, they should be equally excited about the products.
With Comey, it was fascinating to learn why he did what he did. Afterward, having Trump's attorney, who wasn't involved in any of the encounters, dispute his account was somewhat surreal. That was hardly the only thing of interest.
There are things about both events that I found particularly intriguing.
I'll close with my product of the week: Lenovo's Smart Assistant, a digital assistant that anticipated the Apple HomePod, but doesn't have the HomePod's critical weakness.
Worldwide Developers Conference
Let's start with WWDC. It was great that Apple highlighted diversity, and that it had a 9-year-old black female developer in the audience, and that it announced a massive US$50 billion commitment to developers. It would have been more interesting if it had addressed how little app developers have been making on Apple products.
You see, the average person in the U.S. has 32 apps but only paid for eight of them. Kind of makes you wonder who the $50B is going to, doesn't it?
At the start, Apple called out four platforms as important and then individually called out the Apple Watch, the Apple TV, the iPad and the iPhone. Apple even characterized the iPad as the future of the personal computer. My takeaway is that the company effectively announced that the Mac was dead, right before it announced a massive Mac refresh.
Some folks were less than excited about it and argued it was time to move to Windows. Way to hit it out of the park?
Speaking of missing a meeting, Apple has renamed its PC operating system "macOS," which is what it was called between 1996 and 2012, when is when Apple trimmed it from "Mac OS X" to "OS X."
The company also has new version code names, with the latest being "High Sierra." Remember when Apple used cool code names of big cats like "Tiger" and "Jaguar"? (Still, its best code name remains "BHA," or "Butt-Head Astronomer.")
You know which other company used locations for code names? Microsoft. Yes, Windows code names used to be the names of places, like "Whistler." I'm pretty sure Microsoft called and it wants its naming system back. No, seriously, the company would like it back…
Oh, and Siri is coming to the Mac, years after Microsoft launched Cortana on Windows. Given Siri is older, it still amazes me that Cortana got on the Mac first. Better late than never, I guess…
I go to a lot of vendor events, and one thing that Apple does best is to use video and huge active screens. They make their events far more interesting, and regardless of what ever other changes have been going on at Apple, this has remained a best practice.
Perhaps one of the best demos was Apple Pay using the iPhone as an authenticator to buy Fandango tickets. On this cross-platform integration, Apple is still setting the bar, largely because no other system covers PCs, tablets, smartphones and TVs. This is still one of the most impressive things about Apple's platforms.
At this year's WWDC, though, the excitement was on vacation. This was most noticeable when there was an attempt to get people to clap and sing along with the music, and you could almost hear the crickets. The presenters finally had to stop the attempt.
I remember when Apple events were like revival meetings. Now, watching them is more like watching political events with mixed audiences — only some of the folks are motivated to clap, and reservedly at that. The WWDC audience seemed to get most excited when a speaker left the stage… Granted, the keynote went on for hours.
One interesting observation is that Apple's advancements with emojis likely will make it nearly impossible for kids to communicate effectively with their grandparents ever again. The good news is that if we can't understand they are asking for money, we sure as heck don't have to send it.
While it took a long while to get there, Apple showcased that its big differentiator with Android was privacy — and it even got a professor whom no one had heard of to validate the company's position. (Apparently the guy is really private.)
The event ended with Apple pointing out that the four platforms really were the iOS, WatchOS, tvOS, and macOS, and that Apple's goal was to enrich people's lives. I couldn't help but think that given Apple's massive financial margins and new $5K PC, the people who were being "enriched" weren't exactly Apple customers.
It reminded me a lot of politics. Speaking of…
James Comey's Senate Appearance
Two things jumped out at me while I watched James Comey's testimony. One was that John McCain was clearly off his meds. I'm not even sure he knew where he was. Granted, most everyone else was trying to ask the same four or five questions in new and not particularly interesting ways.
Didn't you wonder why Comey decided he had to take detailed notes of his meetings with the president? I mean, here is a guy who ran an organization that has been monitoring our phone calls and coming up with backdoors to smartphones. It was part of an intelligence community that leaked tools that compromised our security, and is known to have miniaturized tools that allow informants to secretly film most anything.
However, when it came to Comey being concerned about the behavior of a U.S. president he didn't trust — one he thought might be connected to a Russian effort to compromise the U.S. government — he relied on his memory and handwritten notes. He used pretty much the same tools that would have been used 100 years ago.
Seriously, they digitally track pretty much everything we do, but when the director of the FBI wants to record a conversation he uses the memory in his head? Hey, FBI the 1700s called — they'd like their tech back…
Wrapping Up
With the exception of the way it presents its offerings, which still mostly leads the market, Apple is drifting closer and closer to where it was back in the 1990s. It offers advancements that largely follow those made by others years earlier, product proliferation, a preference for more over simple elegance, and waning excitement.
Where the excitement seemed to go last week was to the Comey testimony, which took over every major network for even longer than the WWDC keynote and actually remained more interesting — even though it seemed like the same questions were asked and answered over and over again.
We are living in a very strange world, in which testimony from an ex-government bureaucrat is not only better covered than an Apple launch, but also more interesting. I'm starting to really miss the old days — with the old days being last decade.

With the HomePod, Apple recreated the Amazon Echo without all of the apps (we mostly use it to listen to music anyway), better speakers — and hopefully, a better implementation of Siri. It's priced at 2x the price of an Echo when it isn't on sale, or 5x the Echo Dot's price when it isn't on sale (you can add your own speakers to the Dot).
At CES earlier this year, Lenovo announced the Lenovo Smart Assistant. It offers better speakers, all of the Amazon Echo apps and connectivity, and pricing with the better speakers right on top of the Amazon Echo, or about half the price of the HomePod. (Who comes up with these names, and why haven't we shot them?)
Yep, when the Lenovo product shows up in a few weeks — it is due in June — you should be able to buy two of them for the price of the Apple HomePod. Like the HomePod, the Smart Assistant has multiple microphones — in Lenovo's case, eight 360-degree far-field microphones with noise suppression and acoustic echo cancellation — that are designed to pick up users' voice commands from up to 16 feet (5 meters) away.
---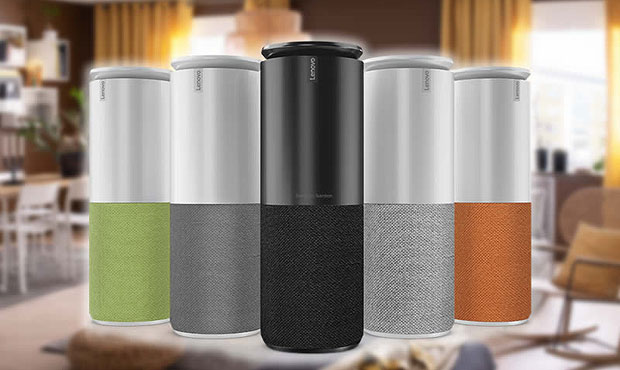 Lenovo'sSmart Assistant
---
I'll admit I'm a big Echo user. My favorite implementation is with the Dot and a set of studio monitors that I have set up in the kitchen. This also feeds my Sonos system, so the sound I get is likely far better than you'll get out of any small product.
The idea of better speakers appeals to me, but having to pay twice what an Echo costs and still not get true stereo seems nuts. So, the Lenovo product — which uses Harmon Kardon speakers and comes at a far more affordable cost than the HomePod — just seems like a better solution, and that's why it is my product of the week.