Tim Shriver likes to talk to his house.
"Turn the porch light on at 3 p.m.," he says through an intercom to the female voice that belongs to his house. She confirms that she will make sure the light comes on as instructed.
"Open my shopping list, and add apples, bananas and bread," he continues. She assures him she will update the shopping list, as well.
As CEO of Home Automated Living, Shriver has a completely automated house — meaning that his lighting, security system, thermostat, home theater and other household functions are all controllable by voice or text via a variety of interfaces, including intercoms, apps and computer software.
No longer science fiction, the automated smart home is becoming increasingly popular for busy, stressed-out or traveling homeowners who like to have a way to control what's happening on the home front without actually having to be there.
"There's a cool factor, a lifestyle factor, a security factor, and an energy savings factor," Shriver told TechNewsWorld. "There's so much technology that complicates our lives. Now you can just say what you want to have happen, and everything starts happening."
Raising a Home's IQ
Home automation systems sync a variety of home functions and tie them to one controller. Involving a combination of electrical engineering and computer programming, these systems are at once more complex and easier to use and install than ever.
Home automation systems can be configured around a universal powerline bus (UPB), which sends signals to the system's components through the home's electrical lines. They can also be wireless, using radio frequencies (RF) or infrared frequencies (IF) — or they can involve a combination of wired and wireless communications.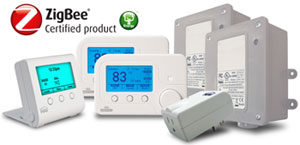 The automation system, which can be installed by a homeowner or purchased as part of a package through a utility, ties together many of a home's electrical components — lights, security system, thermostat, entertainment system, and Internet connection — so that the homeowner can control all of them from a single interface. In fact, once homeowners start with a simple system with lights and alarms, they discover other components they can draw into the grid.
"What we've found is that when people buy this, they go hook, line and sinker," said Shriver. "It snowballs — they start to realize all the things they can do."
Home Automation sells a variety of scalable and wireless products that can be used in everything from a 300-square-foot condo to an existing 30,000-square-foot estate.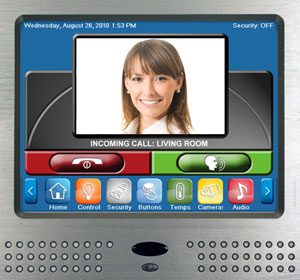 "The best way to view a complete HAI system is to imagine the main controller acting as the brain of the home," Greg Rhoades, associate director of marketing for HAI, told TechNewsWorld. "Every subsystem communicates with the brain to maximize energy savings, entertainment and safety."
By integrating all of a home's key components, a home automation system simplifies life for the homeowner. The smarter the house, in other words, the less work it takes to maintain it.
"HAI systems provide peace of mind via security products, money savings via energy products, and comfort via entertainment products," said Rhoades. "Integrating all of these means the homeowner can push one button at night to activate security, dim or turn off all lights, setback thermostats, and turn off every audio/video device in the home. Really, the HAI system provides convenience."
Smart = Green
Another primary benefit of automated homes is that they save energy. By controlling temperatures, turning off lights, and constantly monitoring every aspect of a home's environment, these systems can provide significant energy savings.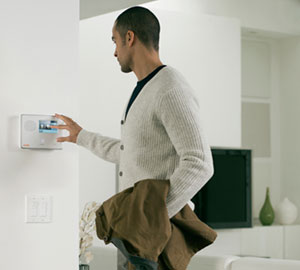 "The energy management dashboard shows what you're consuming and educates you on how to change your habits," explained Shriver. "We're all creatures of habit, and with this automation system we integrate it with the energy management system. We can really affect your energy footprint and lower your bill."
Built-in templates and manual controls make it easy for homeowners to save energy and money, said Craig Pyle, product manager with home automation company Vivint.
"Vivint customers can reduce the amount of energy they use in their homes from anywhere," Pyle told TechNewsWorld. "They can use EnergyStar templates to set usage levels, or manually control thermostat settings from any Internet-connected device. Vivint customers who utilize energy management features save an average of US$20 to $50 a month on their energy bills."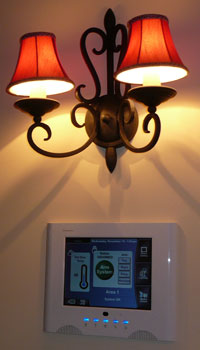 The Sky's the Limit
Every home automation system can be customized to meet a client's needs and desires, and the degree of automation is limited only by one's imagination.
For instance, one homeowner tied a water sensor to his system to make sure his home observatory closes when it rains, noted Richard Shook, the chief operating officer for Automated Homes of New England.
Another couple programmed the system to recognize when the wife opened the garage door, turning on her favorite music and bringing the hot tub to just the right temperature.
"[We provide] life enhancement through automation, lighting control, home theater, whole house audio, computer networks, phone systems, [and] anything electronic making your home or office work for you," Shook told TechNewsWorld.
"If you can imagine it" he said, "we can do it."