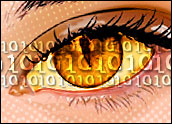 Every time Google mentions Android 3.0's holographic interface and 3D capabilities, one perhaps imageines Princess Leia's plea to Obi Wan Kenobi played back by R2D2 in "Star Wars."
Android 3.0, aka "Honeycomb," is claimed to have a redesigned holographic user interface and 3D.
But just what does Google mean by those terms? Will our mobile devices show holograms of two parties in a conversation? And will those holograms be in 3D?
Or, like Humpty Dumpty in "Alice in Wonderland," who said words mean what he choose them to mean, is Google redefining the term "3D?"
Holographic Communication on Mobile Devices
It's not going to be long before we'll be able to interact with true 3D holograms of our friends in real time.
IBM predicts that we'll be able to do so in the next five years because of improvements in 3D technology and holographic cameras and their miniaturization to fit into cell phones.
Scientists are working to turn video chat into holography chat, or 3D telepresence. The idea is to use light beams scattered from objects and reconstruct them into a picture of that object. This is similar to the way our eyes see things.
"A lot of this stuff already exists," Will Stofega, a program director at IDC, told TechNewsWorld. "Qualcomm and some partners are involved in an augmented reality project with the 'Rock 'Em Sock 'Em Robots.'"
Stofega was referring to a joint Qualcomm-Mattel project to revive the game "Rock 'Em Sock 'Em Robots." Here's a YouTube video demonstrating augmented reality. It shows a "Rock 'Em Sock 'Em" video game popping up on a smartphone held by one of two men.
The technology to provide 3D communications on cellphones already exists, Stofega suggested.
However, true holographic communications won't be available until several problems are solved.
"You need to work out how to draw very little power from your device, and you need to increase the amount of compute power in the device," Stofega pointed out. "Then you need to get a really small pico projector and figure out how to contain it in a hand-held device that works."
Some Available Technology
Texas Instruments has been "doing some really good work" on picro projectors, and Qualcomm has been working on augmented reality and 3D in a small compute flow factor, Stofega said.
Qualcomm has teamed up with the Georgia Institute of Technology to establish the Qualcomm Augmented Reality Game Studio. This is an R&D center aimed at pioneering new concepts in mobile gaming and interactive media. It's located at Georgia Tech's Atlanta campus.
Further, Qualcomm has announced its latest Adreno graphics processing units. These are embedded in its Snapdragon chipsets, and are claimed to deliver console-quality 3D graphics in smartphones and tablets.
What's Google Got?
So where does Google fit into this 3D, holographic spectrum?
Well, Honeycomb has a built-in graphics library that lets developers hardware-accelerate common 2D rendering operations in their apps easily. And it has a new 3D graphics engine called "Renderscript" that lets devs add rich 3D scenes.
Google showed off a newly designed Google Maps, Google Body 3D and some games with 3D scenes at a special event held Wednesday at the Googleplex to provide an in-depth look at Honeycomb.
Also, Honeycomb comes with a property-based animation framework that lets appdevs use new UI components, new themes, richer widgets and notifications and other features to create rich apps for devices with larger screens.
But do these features make for true 3D or true holography?
Google Maps 5 offers, at best, a quasi-3D rendition. It uses vectors instead of tiles as its predecessors did. "Where you may have had only top-down displays of roads and local features and landmarks, you can now see the elevations of buildings and wireframe drawings," Jeff Orr, a principal analyst at ABI Research, told TechNewsWorld.
Let's Wait for Tomorrow
At this point, it's difficult to confidently state whether or not Honeycomb offers a true 3D display, or whether its "richer environment" is truly holographic until more people get a chance to examine the OS closely.
"Everyone's still speculating about these capabilities of Android 3.0," Phil Pickering, director of client engagement at Amadeus Consulting, told TechNewsWorld.
"We haven't had a chance to review the SDK so we can't pass along our judgment on the reality of the claims of Android 3.0's holographic and 3D capabilities," Pickering added. "When we get our hands on it, we'll dig right in and begin testing."
Google did not respond to requests for comment by press time.