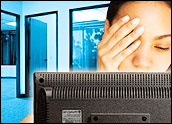 Having an interest in computers and the Internet is one thing, but can going overboard with it qualify you for a deviant behavior diagnosis from a clinical therapists? That may depend on how much time you sit at the keyboard and how much that impacts your job, your family and your other important interests.
Jennifer Hall Goodwin, president of business services firm Internet Girl Friday, has given it her own layman's term: "Screen Addiction." She sees it from time to time in her career, and it's even brought about the end of budding romance.
She stopped dating one guy after two months because he wouldn't or couldn't turn off the computer screen. He would wake up and then sit down at his computer to play some online game for 12 to 14 hours, she said. When he got up from that, he would turn on the TV. When he actually left his house, he would head straight to work and then to his favorite Las Vegas hangout to sit at the video poker screens.
"He rotated between these three screens. I kept pointing out that he was wasting his life away on screens. When he told me to 'hold that thought; I just found another treasure chest,' I dumped him," Goodwin told TechNewsWorld. "I have met more than one person that doesn't even realize they are addicted. I'm talking about smart, educated 30-somethings."
Addiction Symptoms
Beyond personal anecdotes, is it possible that people can really develop a clinical addiction to computer technology, and especially the Internet? It's a serious contention among psychologists and those who treat addiction professionally.
People can become overloaded by technology and suffer consequences in their relationships, according to John O'Neill, director of Addiction Services for The Menninger Clinic. Treatment includes developing normal/healthy use, cognitive behavioral therapy, appropriate screening and boundary development, he said.
"This topic is still very controversial. We are seeing more people having this type of addiction. It is not officially classified as a real problem. Internet addiction disorders have numerous similarities with more traditional addictions," O'Neill told TechNewsWorld.
For instance, the symptoms are very pronounced in people who have trouble limiting their time on the Internet. Their use of chatting, e-shopping and porn sites starts to impact on their work and family lives, he said.
Risk Takers
Those who spend excessive amounts of time glued to a computer share a trait common with those addicted to substance abuse. For instance, they start taking risks at work by being on the Internet instead of working, O'Neill explained.
They could lose their job and risk losing their families. People suffering from this affliction often feel they cannot stop doing it.
"When they are not online, they become irritable and frustrated. These people are not swayed by the threat of consequences. They still do it," said O'Neill. These are the same traits observed when researching people with chemical dependencies of some kind, he added.
Internet Addiction?
The March 2008 issue of the American Journal of Psychiatry carried an article by a psychiatrist who treats addictions, Jerald J. Block, M.D. He argued in his editorial, "Issues for DSM-V: Internet Addiction," that a disorder he called "Internet addiction" appears to be a common disorder that merits inclusion in the therapists' handbook.
The DSM, or The Diagnostic and Statistical Manual of Mental Disorders, is an American handbook for mental health professionals that lists different categories of mental disorders and the criteria for diagnosing them, according to the American Psychiatric Association.
"I'm starting to see some disturbing signs related to this disorder. Actually, I view this as more of a syndrome and not a true disease. In psychiatry there are categories of illness. The DSM lists all possible categories," Block told TechNewsWorld.
Internet addiction is a serious problem, according to Block. He believes the clinical profession needs to do a better job in dealing with it because the term "Internet addiction" is somewhat of a misnomer.
It is more accurately described as pathological computer use because the affliction does not always involve the Internet. It may manifest itself with excessive game playing as well. It can be a single-user game that consumers the player's time excessively, according to Block. Excessive cell phone use might also be included in the description.
Dissenting View
Not all clinicians share Block's view, however. Including a nomenclature for pathological computer use in the DSM is controversial, and therapists are split on the issue of inclusion, according to Linda R. Young, Ph.D., a counseling psychologist. However, she said, she is unaware of any statistics measuring what proportion of psychologists supports the inclusion in the DSM to be published in 2012.
"The DSM-IV-TR already includes 'compulsive gambling disorder' as a specific problem within the diagnosis of 'impulse control disorders', and some psychologists who work with Internet-based impulsive and compulsive use problems, including me, share the view that Internet use problems could also be listed there," Young told TechNewsWorld.
Just as the casino or poker Web site is not the problem per se, the Internet is not the problem, per se, she said. Rather, the Internet is the medium through which dysfunctional coping may be sought. Further, treatment may vary depending on whether shopping, gaming, gambling or sex is the activity that is sought.
"Anxiety, depression, obsessive-compulsive and relationship disorders already have their own diagnostic codes in the DSM-IV-TR. And in the vast majority of cases of compulsive Internet use, there are also underlying problems related to inability to regulate mood, feel competent or maintain healthy relationships. Therefore, 'Internet addiction' may not be the most appropriate term, but is certainly one that the public can most easily relate to," said Young.
Use or Abuse?
What may matter most in determining a computer user's diagnosis is the degree of the behavior. People have to develop healthier ways to use the Internet, according to O'Neill.
This is a growing problem in our cyber-centric world, he suggested. How do you set limits where everywhere you go there are hot spots?
"Sufing the Web doesn't make you an Internet addict any more than drinking wine makes you an alcoholic. I'm not saying that. You have to look at the person and what the Internet activity is doing to that person and his or her family," O'Neill explained.
The problem gets out of hand because the person's family or friends are not a part of that activity. To qualify as an addiction, the Internet use has to have a real significant impact, he noted. It happens when the person is not able to look at his or her involvement with the Internet activity and set limits.