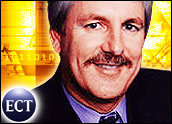 Last week I thought it would be interesting — given that both the Wall Street Journal and TechNewsWorld had covered my professional relationship with Dell regarding its new MP3 service — to chat about what it would take to beat Apple. But in my analysis I left out one important thing: Apple is tricky. Already there are rumors of a redesigned iPod nano that would position well against this new Dell offering, and the Apple-funded sites seem to be aggressively trying to disparage this as-yet unborn product. Someone seems scared to death of this as-yet unborn product. (Note: I have not used the words "iPod Killer" myself, but Apple folks tend to be a little paranoid).
Since we talked last week about how Dell might create a successful service, let's talk this week about the lengths Apple might go to in order to stop them. The question of course, now that it may be a monopoly in this space, is whether Apple will get in trouble for trying something similar with Dell to what it pulled on HP. As Microsoft discovered, the rules change a lot when you are a monopoly, and Dell is likely not going to go quietly into the night like HP did.
Before we start, though, check out these funny Olympics ads from Lenovo — the first provides a unique repair experience and the second makes an interesting statement about "light." I'm getting psyched about the Olympics. See, some folks know how to be funny without being mean.
We'll conclude with my product of the week: a new dual-mode router from Cisco's Linksys division that puts media on its own high-bandwidth wireless channel.
Apple's HP Trick
HP was actually in — thanks to Compaq — the MP3 space three years before Apple. Instead of launching its own HP-branded MP3 player, HP licensed the Apple iPod, and some may remember that I said at the time that it would beat Apple's own offering. What most don't know is the reason I said that is because Steve Jobs himself had promised that result when he approached Carly Fiorina, the then HP CEO.
I figured if Steve said he would make it happen, it would happen. While I'd told HP they were likely going to get screwed by Steve, they convinced me they had all avenues covered and that this promised outcome was guaranteed by Steve. They argued, if this wasn't so, why would Carly give up her own product for the iPod? Why indeed.
The history, as I understand it, was that Steve — who has one of the best intelligence gathering engines on the planet — got wind of the HP product and became convinced that this third-generation player would take significant market share and possibly even beat his iPod.
So he personally called Carly Fiorina and asked her why she would take a risk with her own offering when she could have assured success by licensing the best player on the market. He went on to say that Apple wasn't really interested in competing in this space — they were a PC company after all, and that HP was much better suited (due to its vastly larger retail presence) to taking this product to volumes that could easily exceed Apple's.
HP wanted to be able to transcode files on the device to WMA or be allowed to play secure AAC files on their Media Center offerings, and Steve indicated that would probably be no problem. It also wanted to provide a choice of colors and the first device it showed was blue. Steve indicated that was OK with him but, to make sure they didn't do anything crazy, he would have to approve all colors other than white.
After the contract — which locked HP out of the MP3 market until Apple dominated it — was signed, Steve would not allow transcoding or any unique connection between HP's Media Center and the proprietary iPod protected format. In addition, Steve vetoed every color HP proposed, including black and red, as inappropriate for iPods, even though subsequent iPods have come in a number of colors (including black and red).
Apple got away with this, but at the time it wasn't a monopoly. It arguably is now, so the rules have changed, because killing a competitor can have painful consequences if you do it wrong.
So What Does Apple Do?
I can say one thing Jobs won't do, and that is call Michael Dell and offer him the same deal he offered Carly Fiorina. That is because if he did, you'd hear the laughter from Texas all the way over in China at the Olympics, but Steve Jobs is an Olympic-class trickster. Recall last week I mentioned he tricked one of the top reporters into giving him a clean bill of health and possibly put the poor guy's reputation at risk.
So first he moves to sour the well. Apple has a set of top reporters that it feeds products to and who give it favorable reviews. Simply by spending time with them, Jobs can likely get them thinking negatively about Dell's new product and be primed to disparage it as soon as it actually launches (though I doubt some will wait that long). I'd be surprised if many aren't already primed to go negative on this product even though it isn't finished yet.
Then, much like what typically happens during an election, he takes the advantages of the product and spins them as negatives. Recall when he didn't have video, how stupid video was, or when he didn't have flash how stupid flash was. The aspects of the product that he can't match he positions as disadvantages. I think the McCain camp actually is working from his playbook this year, come to think of it, and Paris Hilton isn't pleased.
Finally using a roll-up of the reporters he has primed with the negative spin he has created on the product's advantages, he finally closes with the product's disadvantages, leaving the market wondering why anyone would build such a product, and calls it a day. This is kind of like what he does to Windows Vista with every Mac vs. Windows ad.
But that is my guess as to his playbook. What do you think?
Product of the Week: Linksys WRT610N True Dual Band Router
I like to move video around the house, and I'm not a huge fan of pulling category 5 wiring (though I've pulled a lot of it). The problem with 2.4 Ghz is it is easily interfered with, and the problem with 5 Ghz is not many products use it. The ideal case would be to use both bands; the lower band for data, which can stand the interference and where the hardware is the most common, and the higher band for video, where you can dedicate the channel and get a clean video stream. The Linksys True Dual-N Band Router (I'll be so happy when they start to use consumer product names) is attractive so you don't have to hide it, it is easy to set up, and it works.
Give me a tech device that does more than anything else, doesn't break the bank (lists for US$199 but Amazon was showing it for $149), and looks cool, and it's sure to be in line for my product of the week.
---
Rob Enderle
is a TechNewsWorld columnist and the principal analyst for the
Enderle Group
, a consultancy that focuses on personal technology products and trends.
---