E-commerce continues to grow at an unprecedented pace. Total retail sales, excluding the sale of items not normally bought online — like fuel, automobiles, and food at restaurants — hit US$3.628 trillion last year, up 3.9 percent year over year from $3.490 trillion, according to Internet Retailer data.
E-commerce accounted for a 14.3 percent share of that total, and 51.9 percent of all retail growth. That is substantial, and it has encouraged many people to take advantage of the booming opportunity in e-commerce.
In this continually crowded market, it can be difficult for SMB owners to compete without the right tools in place. How can SMBs move away from the stressful and manual one-by-one shipping processes and streamline as the big businesses do? It's easier than you may think. Automation and technology are the keys to success.
You're Busy – Really Busy
Chances are, SMBs don't have a shipping department. It's entirely possible that the entire business is the shipping department. It is difficult to grow a business when a single person or a couple of staff members are struggling to keep up with orders.
If you are a SMB, does this scenario sound familiar? You come into the office in the morning and begin processing orders. You pull up an order, print a label via pdf, print a packing slip via pdf, mark the order as processed or shipped, perhaps copy and paste the tracking information into a spreadsheet for safekeeping and to send to customers, and you then move on to the next order. Rinse and repeat.
That doesn't lead to successfully scaling a business. Larger companies are using automation to cut the time it takes to process orders, turning what would require hours into processes that take literally minutes. SMBs can follow their model if they properly automate.
Every Order Shouldn't Be a Decision
The term "automation" may conjure up images of large warehouses with well-oiled machines pumping out thousands of orders per day. When it comes to shipping automation, think more along the lines of IF/THEN statements.
There are numerous software options out there that allow the opportunity to build shipping rules. These are nothing more than logical statements that tell the software how to process orders without the need for human interaction.
Let's say that you sell small-to-medium sized items that often weigh less than 1 lb. You have a USPS account and a FedEx account. For packages under 1 lb. that don't have a strict one-to-two day delivery option, you simply cannot beat USPS First Class Priority Service. It is by and far the cheapest option. You shouldn't have to remind yourself of that every time a package weighs less than 1 lb. Instead, you create a shipping rule in your shipping platform:
IF package weight equals < 1 lb. THEN apply First Class Package Service (which allows you to use your own packaging). You can have this apply to every order that qualifies, and then move on to printing labels.
Another example uses USPS Regional Rate, which provides a single rate based on destination, for packages weighing up to 15 or 20 lbs., depending on which box you use. The real savings show up in closer shipping destinations. A shipping rule might look like this:
If package weight is greater than 1 lb. and less than 10 lbs. AND going to Zones 1-4, THEN apply Regional Rate Box B (depending on the size of your products, this could also be Box A).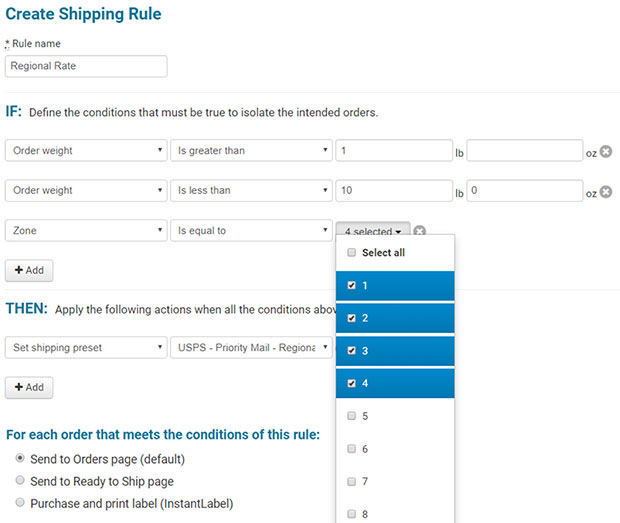 When you have multiple orders that are shipping with the same carrier and service, most shipping software solutions allow you to batch print. Rather than selecting orders one-by-one and printing each label individually, you select all of them and simply hit print on the batch.
This also can apply to packing slips, in the same order, so it's an easy match-up process for the person packaging the orders for delivery. Coupling automatic shipping presets with batch printing can reduce an operation that would drain hours from the day down to literally minutes.
Aside from automation, being able to compare rates quickly and efficiently is a major time-savings all SMBs need to adopt. We often hear from e-commerce merchants who are literally entering dimensions and weights into USPS.com, then FedEx.com, and UPS.com and changing each to compare and contrast. Is that something that sounds familiar?
The right solution will put all those comparisons in a single screen so all you have to do is select the carrier and service to see your shipping rate. This enables shipping that is not only efficient, but also smart.
Multichannel Selling Is Smart, but Not Easy
Many SMBs have been taking advantage of the fact that people shop all over the Web. Simply having a store set up on a website might not cut it, particularly if the business is trying to grow or gain exposure to new customers.
Selling on marketplaces like Amazon, eBay, Etsy, Walmart, Bonanza and others, while also running a Shopify, BigCommerce, Magento, Volusion or other store, has become the new norm for SMBs. This adds another level of time consumption when trying to process orders from each store, because these channels don't talk to each other.
It is imperative to have a single platform that pulls in orders automatically. This makes the task of processing orders easier, and it avoids the possibility of missing an order when switching between browser tabs. Particularly if working under the tight time constraints of selling Amazon Prime orders, improved efficiency could mean the difference between successful selling and losing the ability to sell.
Multichannel selling ties in with automation to exponentially streamline processes. By coupling it with batch processing, a SMB can process labels for orders from all selling channels at the same time, and package them in a way that simplifies how the day is managed.
SMBs Need to Do More
The most difficult thing for SMBs, when it comes to management of their shipping processes, is how much it takes away from other important aspects of the business. Elements like managing inventory and marketing for growth can get shortchanged when so much time is sunk into processing the day's orders.
As is the case with shipping, SMBs may not have entire teams dedicated to managing inventory, customer communications and marketing. These processes may very well be handled by a team of one. It's possible to have many of them automated through a platform. Order data is a powerful tool that can inform many other automated processes.
For example, customers want tracking information so they can follow their package to their door. Rather than manually copying and pasting tracking emails from the carrier, that information can be sent automatically to customers and the stores they purchased from, error-free.
Shipping data can inform email marketing campaigns such as welcome emails, "buy-it-again" reminders, and win-back campaigns. The need for up-to-date inventory based on sales is vastly important. This is especially true for anyone using a spreadsheet or shared document and had a mishap in updating information. The outcome of that situation is a nightmare for SMBs. They need to hold on to every customer they can to keep them from going to larger retailers.
Making the Transition
Adopting a new process may seem like a pain. In some instances, it can be, which is why a little research may be required.
Look for solutions that offer some onboarding assistance and have great customer service ratings. Even with do-it-yourself models, setting up and getting started may be easier than you think.
Often, connecting to a store is necessary, which usually is as easy as entering credentials. In some cases, it may require an API integration, but if SMBs use any of the major stores and marketplaces, it should be pretty straightforward.
If a solution provides better shipping rates, it may be necessary to get set up with a new USPS account. This often does not come with an added cost and should be an automatic part of the signup process. However, make sure you can import FedEx and UPS accounts yourself, if applicable, to access any rates that may have been negotiated with a rep.
Once the stores and marketplaces are added, orders will begin to pull into one place. Be sure to set up automation IF/THEN statements like the ones mentioned above. If the solution includes onboarding, a specialist should be able to assist in creating automation rules that make sense for the business and products. If not, search through any knowledge base or support documentation provided to find some helpful shipping rules. A little investment on the front end is what leads to hours of savings later.
The ability to ship like larger businesses isn't as inaccessible as many SMBs think it is. With the right technology stack and some time investment up front, SMBs can be well on the way to streamlining and building their business.