I've been considering the concept of digital views for a while now. With the issues surrounding weather change, living where some of the best views exist is not only expensive, but with rising sea levels and the potential for flooding, ocean views come with undesirable risks as well. I once dreamed of living where I could see and hear the surf. Now? Not so much.
But what is a view worth? All else being equal, a location with a view will cost significantly more than one without a view. But what if you could buy the view and place it in any home? That is LiquidView's proposition. Depending on how big a view you want, for between $25,000 and $100,000, you can buy a stunning digital view and place it in any home, regardless of location.
Let's talk about that this week, and we'll close with my Product of the Week, a new backpack from Dell's Alienware unit that may be the perfect solution for someone who travels with a gaming laptop.
The Promise of a Digital View
Growing up, one of my favorite books was "The Door into Summer" by Robert A. Heinlein. The title comes from the main character observing his cat during the winter as it tried every door out of the house. Upon discovering it is cold outside, the cat continues to look for the door that opens into summer, where going outside is not a threat to its existence.
One of the largest affordable apartments I lived in when I first moved away from home was great, but the views sucked. It had a place for a washer and dryer, a big kitchen, two large bedrooms, and a decent living room, but the view was into a tiny, fenced yard, and the back of the apartment was decidedly industrial and not at all attractive. Though, it was convenient to my workplace and inexpensive.
Later, I moved to a far smaller studio apartment with a decent view because, for me, the view was important to my state of mind. That latter apartment had two-story-high windows that looked out onto an almost exclusive small pool and a garden-like common area. It was one of my favorite places to live, even though it was pretty small.
The idea of being able to pipe a view into any home has long fascinated me, so a few years back, I invested in the Atmoph Window 2, a 27-inch display you'd hang from your wall and could feed in remote views — some streamed in real time, others taped. I still use this window which shows views from the International Space Station, views of famous landmarks, and even under-the-ocean scenes that would make James Bond's Dr. No proud for a lot less than a million bucks.
But 27 inches isn't very big for a window. You can buy and link up to three of these displays to create a larger view, but even then, each window is pretty small.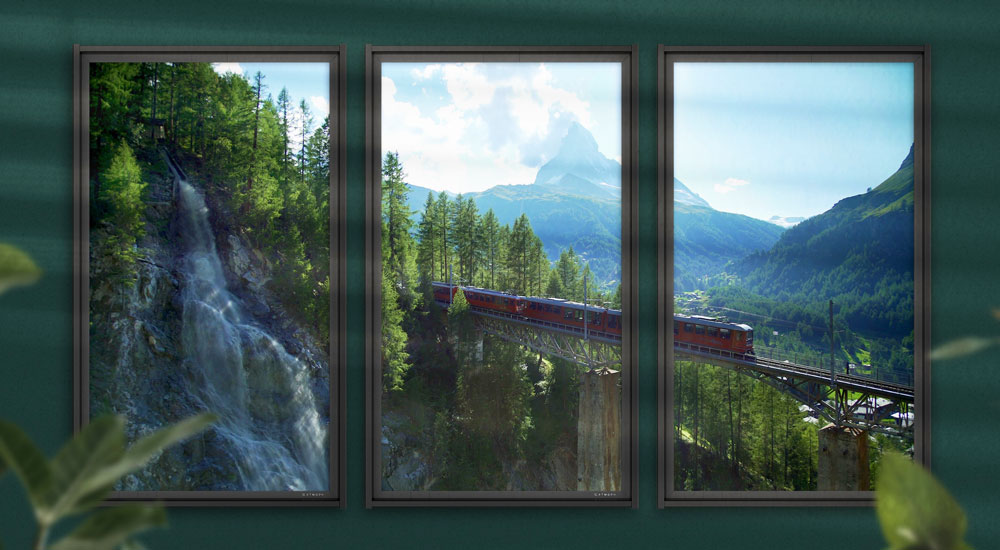 Atmoph Window 2 | Image Credit: Atmoph
---
Around $350 for one panel was affordable, but the result, while fascinating, really doesn't provide the virtual view experience I thought was possible. Oh, and you have to pay a nominal monthly fee to access the over 1,000 view choices. 
LiquidView
I recently heard about LiquidView, which has a much larger 75-inch and far more expensive Sony commercial-grade solution, but the result is also much closer to the virtual view concept I was looking for. What makes this solution more expensive is larger panels (again, up to three) with commercial-quality displays. The difference between consumer and industrial displays is that consumer displays aren't designed to run 24/7 because they'll wear out, whereas commercial displays can run all day if needed.
When framed into a wall, the larger displays present more like windows and better convey the illusion of a realistic view. Like the Atmoph product, they have a variety of view options. Once professionally installed (to hide the power cord to conceal the fact it is a display), you end up with something that looks like an actual window and is large enough to look more like what a real window would provide.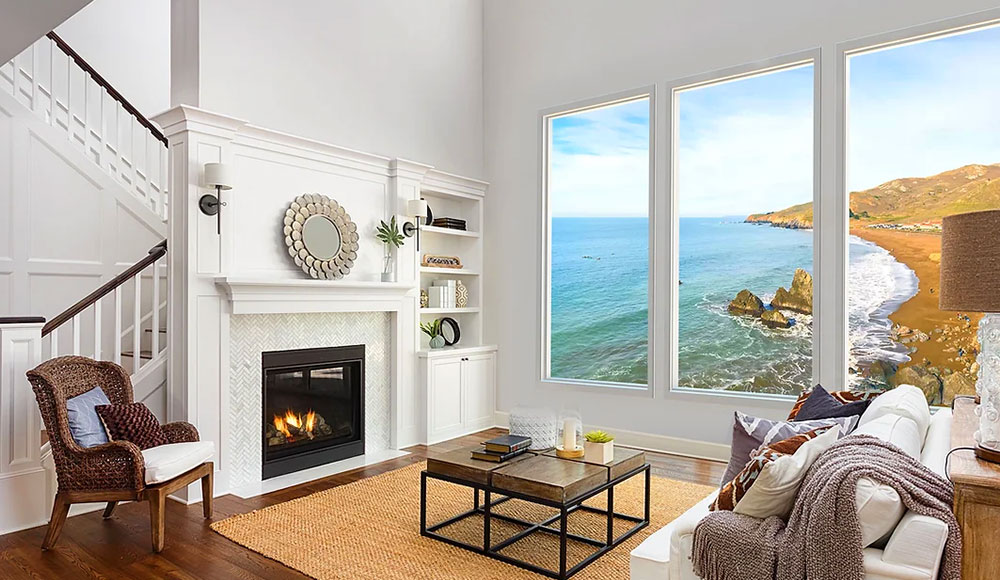 LiquidView Windows | Image Credit: LiquidView
---
With the advent of generative AI, there is future potential for these windows to display both real-world and computer-generated views. For instance, how about a view of or from Hogwarts? Or a view from a window in the Titanic looking at Atlantis, or of a fictional Steampunk Moon Colony?
Often when you walk into an office, the view establishes just how influential the person you are meeting with is. Views in offices are status symbols. I once gave up moving from a large cubical into an office because the view from the cubical was incredible (it was of an amusement park), while the view from the office was of the rest of the office (no outside windows).
To keep people from fighting over cubicles and offices with views when I was at IBM, they built a huge glass building with walls inside the glass, so no one got scenery except those walking in the walkways outside of that solid wall. The outside of the building was stunning; the inside was like a depressing tomb. It was a horrid place to work that could have been changed if staff away from windows could have been provided with their digital view of choice.
I can imagine a future where a real view is less valuable than a digital view, and some children who grew up with a digital view are upset they can't change the view on the window in their next home.
The cost isn't trivial, however. A single panel costs around $25,000, and a three-panel solution, which is where this technology really shines, costs around $100,000. In addition, retrofitting can be a problem if you can't find a blank wall that could use a window.
I expect this solution will be best where it is designed into the house, condo, or apartment instead of having to retrofit because $100,000 added to the cost of a home that otherwise wouldn't have a view should raise the value of the property to offset the cost. But taking out existing windows to install a digital window into a home not designed for it could be difficult.
Additional Benefits
Technology costs drop over time. Were the price of this view solution closer to the cost of a glass double- or triple-paned window and used broadly in homes, you'd get some secondary benefits.
One is that windows leak heat badly, so losing them should save a considerable amount of cooling and heating costs and reduce the load on your heater and air conditioner. In areas with extreme wind, hurricanes, tornados, etc., often what causes a house to explode is the failure of a window which causes the house to over-pressurize. If you have no windows, it is far more likely that your home will survive a high-wind event.
Finally, burglars use windows to case and break into a home if the front door is secure. Losing the windows would make the house more physically protected. Also, as we move more toward 3D-printed homes, not having to deal with the structural issues of installing windows would lower the build cost and increase the build speed substantially.
However, you would need to account for the reduced ability to exit the house in case of fire. That issue would need to be considered in the design of a home with a digital view.
Wrapping Up
The metaverse is talked about often — more this month, given that Microsoft just exited the segment. But what if you had digital windows and a view into this rendered world so you could create any scene you wanted, and your only limitation would be your imagination?
Imagine a plant manager working remotely with a view from their home of the digital twins representing the inside of the plant they manage. Or a port manager could remotely see the port they manage from their home office as if they were on site with a big window. Alternatively, they could have a view of their home, pets, or children while in the office for peace of mind.
Or, you could have a living room view automatically shift to security cameras around the home if movement is detected.
I have a large window in my home office, but the view of the river flowing behind my house is on the opposite side of the house from my office. With a digital window, I could move that view to see the river instead of my driveway, which I see now.
I expect virtual views to be our future, and companies like Atmoph and LiquidView are creating that future for us today.

Alienware Horizon Travel Backpack 18
Gaming while on the road is potentially awesome. With the increased bandwidth on airplanes and readily available Wi-Fi in airports and hotels, being able to kill time while gaming should be one of the ways we overcome boredom and homesickness and stay out of trouble while on the road.
However, there are a couple of issues. We still don't have much room on a plane for a gaming laptop and a mouse, and gaming laptops tend to be large and heavy, making them a problem to carry.
I once carried a large Gateway gaming laptop that was so heavy when I pulled the backpack out of the car and swung it over my shoulder, the zipper burst, and the computer went sailing across the parking lot (which didn't end well for that laptop). More recently, I traveled with the latest Alienware 17-inch laptop. After I packed it and its power supply, I lacked the room for much of anything else, so I had to shoehorn the laptop into the bag.
The Alienware Horizon Travel Backpack 18, which costs $149, is the closest to a perfect gaming backpack that I've found so far.
Alienware Horizon Travel Backpack 18| Image Credit: Dell
---
It has robust zippers that shouldn't burst, is big enough to carry the gaming laptop and power supply with room left over for clothing and travel essentials, and is attractively distinctive with the Alienware logo — but not so over-the-top that you'd be embarrassed if your boss or co-workers saw you with it.
This backpack also has an RFID-safe pocket where you can place your credit cards to protect them from being remotely scanned.
Image Credit: Dell
---
It is weather-resistant (water and laptops don't mix), shockproof, has excellent shoulder padding, is TSA-friendly, and has an anti-scratch interior which is great because large laptops can really mess up the inside of an otherwise nice backpack. TSA-friendly means you can open up the backpack without removing the laptop to pass TSA screening which is a ton less hassle when going through the TSA scanning process.
The Alienware Horizon Travel Backpack 18 is nicely designed and addresses the needs of the mobile gamer, and it is my Product of the Week.