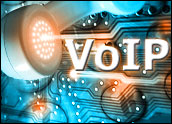 In today's world of converged communications, businesses are relying more than ever on VoIP-based technologies to fuel work group collaboration and drive advanced business processes that are expected to reduce costs and deliver significant ROI.
But successfully achieving these benefits means VoIP-based communications must deliver high availability and near flawless call quality to both internal and external users — a requirement not so easily accomplished.
Finding and solving the true cause of VoIP quality and service issues can be frustrating and elusive. Call servers are often targeted as the main culprit of VoIP quality problems, but frequently the true villain lies in the complex underlying network infrastructure, capacity and network traffic levels occurring at the time of quality degradation. All too often, support teams waste valuable time chasing "ghosts" of the wrong quality issue, leaving the true cause of the problem undiagnosed and unresolved.
Ultimately, when convergence results in poor voice quality, greater network latency or diminished service levels, businesses seriously jeopardize their probability of achieving the desired VoIP ROI and benefits.
So how do you efficiently and effectively address the frustrating VoIP quality issues plaguing your converged voice environment once and for all? Here are the key steps necessary to establish and execute successful VoIP QoS management in your converged environment:
1) Eliminate Barriers Between the Voice and Data Domains
When voice and data converge, the monolithic support approach of different voice and network teams using separate tools can be your worst enemy. Because VoIP is highly dependent on the underlying network it traverses, quality issues can be caused by a wide variety of network-related conditions — conditions for which the voice team frequently has no visibility or control.
Conversely, network teams often have minimal visibility over the impact their changes to routing and traffic priority will have on the real-time VoIP calls traversing their network-and how that can degrade VoIP quality and user experience.
These visibility barriers across the voice and data domains are a primary cause of the chronic poor VoIP quality and service levels that plague converged communications users.
To effectively deliver VoIP quality, the barriers must be eliminated and a holistic management scheme must be implemented to provide the necessary end to end visibility and control over both the voice and network domains that define VoIP.
Through this approach, VoIP operational support teams are able to determine:
The true cause of poorly performing calls during any specific time frame
The network issues that are impacting these VoIP quality and service conditions
The physical infrastructure issues that may be contributing to the VoIP quality degradation
2) Use Deep VoIP QoS Metrics to Find the Right Answers
Successfully managing VoIP QoS and VoIP user experience requires granular, real-time VoIP call-detail analysis (including calls in progress) across your entire converged voice environment.
While the tendency may be to trust Network Mean Opinion Scores (MOS) averaged over time as a method of managing QoS levels, these averages can actually hide the true VoIP quality problems in real-world deployments. For example, a 20-minute phone call might result in a decent or acceptable MOS score. However, that same call might have had a few bursts, which are times of excessive loss resulting in severe quality degradation that prevents the user from hearing the conversation. If that issue happened at a significant point in the conversation, the individual Quality of Experience (QoE) wouldn't align with the MOS score — and the voice support team would be at a significant disadvantage to diagnose the real cause of the issue.
At minimum, you need access to a set of 50 core quality-of-service statistics, including listening quality and jitter buffer overrun estimates. Both active and passive monitoring and analytics are necessary to provide this deep view, including low-level application and transport layer statistics on a per-call basis — all of which are important for troubleshooting and diagnosing call quality issues.
A sampling of some key quality analytics you'll need follows:
Mean opinion score — conversational quality (MOS-CQ), mean opinion score — listening quality (MOS-LQ)
Listening and Conversational R factors (R-LQ, R-CQ)
Packet discard percent, network loss percent, total loss percent
One-way delay
Jitter (packet delay variation — PDV, packet to packet delay variation — PPDV, mean absolute packet delay variation — MAPDV)
Codec
Burst count
R-factors for burst and gap conditions — R-Burst, R-Gap, average burst length, burst density
Gap count, average gap length, gap loss percentage
Call status
Duration
Origination port, origination end point
Destination port, destination end point
However, deep QoS analytics alone are not sufficient to quickly and effectively resolve VoIP issues. These analytics must be combined with network performance metrics so voice technicians can relate quality problems to other relevant network performance events, faults and issues occurring and contributing to the voice quality degradation.
Through this combination, you'll gain a broader view of all the variables pertaining to the quality problems users are experiencing, such as bad calls over a gateway during certain times of the day. By relating analytics and metrics from both the voice and network domains, you can accurately determine the true cause of this quality issue — network latency reaching extraordinarily high levels during this specific time. Armed with this deep visibility, the voice and network support teams can successfully ensure VoIP QoS is meeting the necessary SLAs for the business.
3) Be Proactive as VoIP Traffic Changes and Expands
The converged VoIP environment is constantly changing. Voice traffic levels increase, new applications are added, and network configurations change — all of which have an impact on overall VoIP quality. A proactive approach to dealing with these inevitable conditions is absolutely necessary if you are to move away from "fire fighting" and get in front of VoIP quality issues in the long run.
Use your wealth of collected VoIP QoS analytics and network performance metrics to perform comprehensive historical reporting. You'll gain valuable insight into capacity barriers that are looming and warrant network upgrades, as well as call patterns that show where changes must be implemented to deal with stubborn, recurring quality and performance issues.
Determine how your VoIP environment will react to higher call volumes, new business applications, or changes in infrastructure equipment by performing a "what if" assessment. This type of reporting will be invaluable as your VoIP environment evolves, and will help you move into a pro-active position that will ensure you can deliver the VoIP quality and overall converged network service levels your business demands now and in the future.
---
Amit Kapoor
is director of strategic technology advancement at
Tone Software
.