HP on Monday announced two tiny desktop PCs, the Pavilion Mini and the Stream Mini, to be demoed at theInternational CES being held Tuesday through Friday in Las Vegas.
Both will be available in the United States via HP's website on Jan. 14 and from select retailers on Feb. 8. A keyboard and mouse will be bundled with each of the devices.
Pricing for the Pavilion Mini starts at US$320 and for the Stream Mini at $180. Both run Windows 8.1.
Mini Specs
The HP Pavilion Mini is available with a number of options, priced accordingly. CPUs used are an Intel Pentium 3558U or an Intel Core i3-4025U.
It has up to 1 TB of storage and up to 8 GB of expandable memory.
The Pavilion Mini has DisplayPort and HDMI-compatible ports, as well as built-in WiFi and Bluetooth support and four USB ports.
It draws up to 45W of power, compared to 250W for a typical tower PC.
It comes in white.
The HP Stream Mini has a 32-GB solid state drive and a two-year subscription to 200 GB of storage on Microsoft OneDrive. It will come with a $25 gift card for the Windows Store.
The $180 base model has an Intel Celeron 2957U processor and 2 GB of RAM.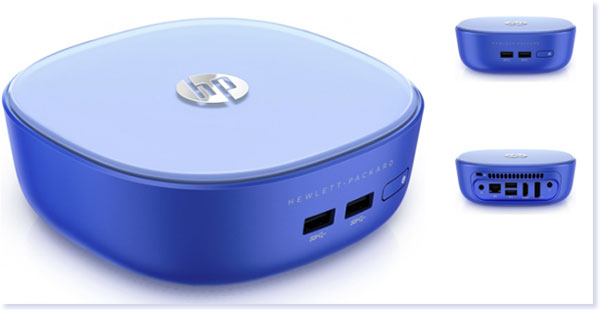 HP Stream Mini
It will be available in cobalt blue.
Who's Going Small?
A slew of mini PCs from other brands already are available. Chromeboxes and thin clients are sometimes lumped into this category. Most true mini desktops cost $600 or more, however, and they often target gamers.
Although "gamers tend to like big, powerful machines," noted Rob Enderle, principal analyst at the Enderle Group, "some who still go to LAN parties will trade off performance for size."
Most purchasers of mini-PCs "want a small second machine in the home or want to connect a PC to a TV for online content," he told TechNewsWorld. "Increasingly, this last use is shifting to smart TVs and appliances like the Amazon Fire TV or Roku products."
Where's HP Going With Its Minis?
HP might be targeting "low-end consumers similar to its successful Stream laptop offering," Enderle suggested.
"As the PC market has allowed, vendors are looking for new and inventive ways to draw a user in," Craig Stice, a senior principal analyst at IHS, told TechNewsWorld.
"Small form factors are the next generation of computing," he continued. However, "it's probably too early to know" whether they will be successful.