The laptop world is reeling under the threat of tablets, and vendors are attempting to shore it up with their various takes on the Ultrabook concept. On Tuesday, HP added a new item to the mix with the announcement of a new line of notebooks it refers to as "Sleekbooks."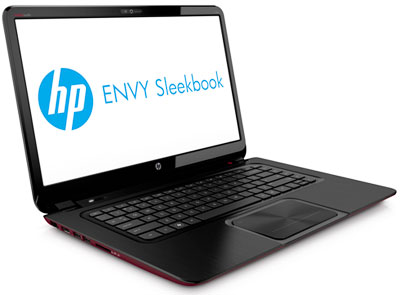 The HP Envy Sleekbook
Ultrabooks and its Sleekbooks are part of HP's "thin and light" portfolio, but the specs don't show too much of a difference between the two lines.
HP is "attempting to slipstream the Intel Ultrabook initiative with a product that doesn't comply with it," Rob Enderle, principal analyst at the Enderle Group, told TechNewsWorld. The move will "likely piss off Intel, but it is creative, and depending on how well [the Sleekbook] is marketed and [its] value, it could be very successful."
An HP spokesperson was not immediately available to provide further details.
What's a Sleekbook?
HP Envy Sleekbooks come in two sizes, with 14.6-inch and 15.6-inch screens.
The smaller model has an Intel core processor and up to eight hours of battery life, while the larger has an AMD Accelerated Processing Unit and up to nine hours of battery life.
HP offers optional discrete graphics on the Intel platform and discrete-class graphics from AMD on the AMD platform.
Sleekbooks include HP Beats Audio, dual speakers and a subwoofer. Both versions will come with Windows 7 Premium 64-bit and 4GB of RAM. They weigh four pounds, are about 20 mm thick, and have an HP TrueVision Webcam. Both incorporate HP Protect Smart technology.
The Sleekbooks also have HP Imagepad, 802.11 connectivity, and Gigabit Ethernet, USB and HDMI ports as well as an SD card slot.
The 15.6-inch Sleekbook will be available June 20 for about US$600, and the 14.6-inch version became available Wednesday for about $700.
Why a Sleekbook?
Sleekbook is "not any different from what Intel's doing with Ultrabooks except that you can use either Intel or AMD processors," Jeff Orr, a senior practice director at ABI Research, told TechNewsWorld. "The MacBook Air, the Ultrabooks and the Sleekbooks are all going for thin and light at this point."
Ultrabook "is a class defined by Intel, and HP is the most price-aggressive in this class," Enderle remarked. "Ultrabooks are the Corvettes and Sleekbooks the Camaros in this market. Most may lust for the Ultrabook but may only be able to afford the Sleekbook, and HP is very aggressive with pricing for each."
Sleekbooks "sound like a competitive response to Lenovo's Ultrabook, which was ultrathin and ultralight," Maribel Lopez, principal analyst at Lopez Research said. "HP's trying to create an emotional connection with sleekness." Mobile device makers are focusing on sleek and thin products.
The Cold Hard Realities of the Device Market
Intel may have to fight an uphill battle in pushing Ultrabooks to consumers. Sales of tablets, especially the iPad, have been slurping up PC demand. The iPad will continue to cut into PC sales, Barclays contends.
"The Ultrabooks are still not all they could be, and Intel hasn't seen resounding success with the first products because the price is too high," ABI's Orr said. That problem won't be resolved until the arrival of the next generation of Intel processors, which will also let manufacturers put in new features such as touchscreens.
"I'm not sure anyone knows how to differentiate product today," Lopez Research's Lopez said. "I had a large IT customer tell me recently that all of these devices were just fancy pieces of glass. Differentiation is hard to come by and lasts about six months in this hyper-competitive market."