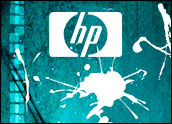 Sometime later this year, HP will release its Slate tablet PC device. What we know now is that it will run Windows 7 as well as Adobe Flash and Air, according to information revealed by an HP executive.
However, it appears that the company is attempting to be quite selective about how and when it doles out further details on the device.
The Slate's ability to work with two significant Adobe technologies widely used on desktops and laptops is demonstrated in a new video posted by Phil McKinney, HP's chief technology officer, on his blog. These are Adobe's Flash and Air applications — neither of which are supported by Apple's iPad.
In addition to the Adobe demo video, McKinney also posted what appears to be a television ad touting the device's abilities.
Early Home Movies
This isn't the first time the public has caught a glimpse of HP's Slate. The product will have pinch-and-zoom multitouch and, according to Microsoft CEO Steve Ballmer, who demonstrated it at CES 2010 in January, it's more powerful than a smartphone and almost as powerful as a full-fledged PC.
Further information is harder to verify. "We are not releasing details on the product," HP spokesperson Marlene Somsak told TechNewsWorld. "We plan to occasionally release information as we approach product availability."
That's making it difficult for anyone outside the project to get a handle on just what the Slate is and can do. "There's not a lot of details around the Slate," Richard Shim, a research manager at IDC, told TechNewsWorld. "It's difficult to answer any questions around it."
McKinney's post regarding the Slate suggests HP is aiming to carefully mete out information about the device, possibly to avoid being overshadowed by the excitement surrounding the release of Apple's iPad. "It takes management discipline (and support) to hold off," he wrote. "The constant mantra of 'not yet' can wear on even the most resilient of executives."
Getting the timing wrong, he added in what could be interpreted as a slap at the iPad, can mean being way ahead of the market "and the result is a quickly forgotten bump in the innovation landscape."
All in the Timing
Will the timing be right for the HP Slate? More importantly, since it's disclosing so little about the device presently, can HP actually launch it later this year?
It most probably can, Allen Nogee, a principal analyst at In-Stat, told TechNewsWorld.
"I don't see any technology in the Slate that would prevent this launch," Nogee pointed out. "It's an Atom device and within the scope of what HP already produces so yes, by October for sale during the Christmas season wouldn't be unreasonable."
Room for One More?
This year will see a slew of tablet computers hitting retail shelves. Vendors will include Microsoft, Acer, Apple and several Chinese manufacturers.
The bandwagon appears to be filling quickly. "My sense at CES 2010 was that everyone wanted to say they had one because this is the hot product category," IDC's Shim said. "That's the problem."
Whether or not the HP Slate and other Windows-based tablets take off will depend on the availability of applications, In-Stat's Nogee added.
"In the end, it comes down to usefulness and functionality," he explained. "Will the number and range of Windows tablet applications reach the level that Apple has achieved with the iPhone?"
However, IDC believes there's plenty of room in the market for both tablet PCs and the iPad. That's because the devices target different markets. "We see the iPad as a consumer play, as distinct from being a productivity play, which could be an enterprise play for PC manufacturers," Susan Kevorkian, a program director at IDC, told TechNewsWorld.
Look, but Don't Touch
One possible problem HP and other tablet PC manufacturers could face lies in Apple's patent lawsuit against HTC, part of which concerns touchscreen technology.
"It could be a problem because touch is viewed as one of the key features of this type of devices," IDC's Shim warned.
"Ever since the iPod, Apple has been very successful at putting out very compelling devices along with landmines in the form of patents that make it difficult for others to catch up," In-Stat's Nogee pointed out. "Others have always tried to copy Apple, but by the time they succeed, Apple's already moved on. It just goes to show how little most companies other than Apple rely on innovation and how much they rely on imitation."
'Me Too' Is Boring
The issue of innovation versus imitation could be key to the success of HP's Slate device.
"My fear is that HP's going to try to make the Slate another Windows alternative, and that's the wrong strategy," Maribel Lopez, principal analyst and founder of Lopez Research, pointed out. "A lot of people are looking at the iPad and saying, 'It doesn't do this, it doesn't do that,' so they're positioning their tablets as stripped-down Windows tablets. That's the wrong market opportunity."
So what's the right opportunity? Something radically new and different, Lopez told TechNewsWorld.
"The market with the tablet is not the market that runs productivity applications," she explained. "The concept of the iPad is fundamentally different, and that's why the iPad runs the iPhone operating system and not the Mac OS."