The brief appearance of a spec sheet on HP's online shopping website Monday seemed to indicate the company has joined the list of Microsoft partners offering Chromebooks.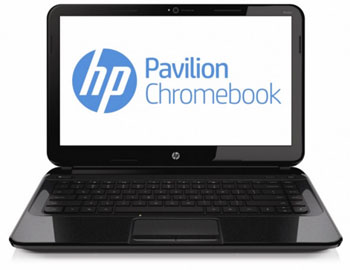 The sheet listed details of the HP Pavilion Chromebook 14-c010us PC and carried an advertisement embargo date of Feb. 17. It may have been placed on the Web by accident, but it's also possible it was a marketing ploy.
HP spokesperson Sheila Watson declined to comment for this story.
HP Chromebook Specs
Perhaps the most striking thing the spec sheet revealed about the HP Chromebook is its 14-inch display, a BrightView LED backlit screen with a resolution of 1366 x 768 pixels.
Like Chromebooks from many other vendors, HP's device runs on a dual-core 1.1 GHz Intel Celeron Processor 847. This is an Ultra Low Voltage processor that integrates the Intel HD Graphics card; it's based on the microprocessor company's Sandy Bridge architecture with some features deactivated to keep the cost down.
"The Celeron is your entry level processor, and if you want to offer a cost-effective or low-cost solution for cloud computing, it's OK," David Daoud, a director of research at IDC, told TechNewsWorld. "Going to a CPU with more oomph would've raised the price considerably for no considerable gain."
The HP Chromebook will have two memory slots; a 16 GB solid-state drive; an HP TrueVision HD Webcam with integrated digital microphone; a multi-format digital media card reader; dual Altec Lansing speakers; an Ethernet connector; a full-sized keyboard; a multitouch touchpad; three USB 2.0 ports; and one HDMI port.
It will weigh just under 4 lbs. Battery life is rated at slightly more than 4 hours.
"The battery life could be a real problem when you're offering something designed to be ultra-portable, and consumers compare their computing experience with iPads and tablets," Daoud said. Tablets typically have a battery life ranging from about 3 hours to 12 hours.
What HP Might Be Thinking
HP has "recognized for a long time that we're moving towards a world dominated by the multi-device-per-user environment — we're going to be carrying PCs, smartphones and tablets," Daoud said.
"HP is looking to play in that environment just like Lenovo and other players without having to depend on one basket like the PC basket. In fact, they're running a promotion offering a free Nook e-reader if you buy a PC starting at (US)$599," he added.
"HP is having trouble finding its niche," Andrew Eisner, director of community and content at Retrevo, told TechNewsWorld. "It's in the unfortunate position of having a lot of products in declining markets. Consumers are buying more and more tablets and smartphones and using them more than desktops and laptops, and HP's going to be in some difficulty trying to find out how to make a profit. "
Saved by a Chromebook?
HP may be thinking that what seems to be working for Acer can work for it as well. Chromebooks accounted for 5-10 percent of its shipments to the United States since their introduction in November, Acer reported.
"Chromebooks are still a work in progress, and where they'll go remains unclear, but … the fact that the OEM base has now expanded to include HP and Lenovo tells you Google's on the offensive for Chromebook," Daoud said.
It's likely that HP will target the multibillion-dollar education market with the Chromebook because "at the prices they're being offered at, they can be terrific offerings to that budget-sensitive market," he added.
Chromebooks might also play well in education because schools "want to have more control over security and have protection against harmful software, but they'll have to be priced competitively," Retrevo's Eisner noted.
Currently, Chromebooks are priced at between $200 and $300, but HP hasn't indicated what its device will cost.