HP on Thursday announced the first computer with integrated 3D motion-control technology from Leap Motion: the HP Envy 17 Leap Motion Special Edition.
Priced starting at US$1,050, the 17.3-inch device will be available for preorder in the United States starting Oct. 16.
It's "designed for people who are looking for a new notebook and interested in having the latest technology," Leap Motion CEO Michael Buckwald told TechNewsWorld. "Embedding into a notebook increases Leap Motion's portability."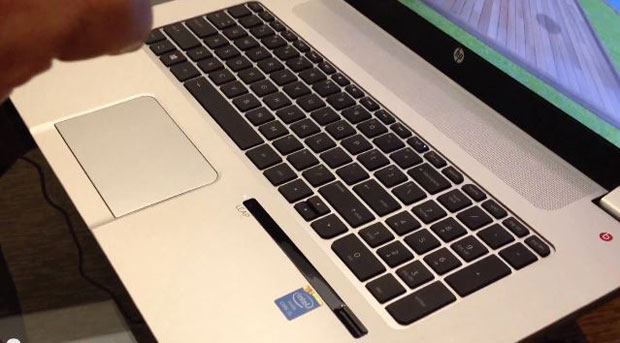 The HP Envy 17 includes integrated Leap Motion technology.
Over time, "as the PC market continues to evolve and mature, niche opportunities come up," noted Bob O'Donnell, a program vice president at IDC. "This is clearly one."
HP did not respond to our request for further details.
The Specs
The Envy 17's basic configuration includes an Intel Core i7 CPU, 8 GB of RAM and a 1 TB 5,400 rpm hard drive. Upgrading to at least a 7,200 rpm hard drive is recommended.
The Envy 17 LMSE apparently also has room for two drives.
A full HD display is optional for the device, and HP offers an Nvidia graphics card as an upgrade.
Leap Motion created a new microsensor 3.5 mm high — smaller than any 3D motion control technology on the market — for the Envy 17. The Leap Motion controller is a black strip to the right of the touchpad.
The Envy 17 LMSE will be delivered preloaded with Leap Motion's Airspace Home app store and a bundle of selected apps.
It's the Apps, Stupid
Gestures aside, it's possible that HP will face the same problem bedeviling mobile device vendors: the availability of apps.
"Gesture-based control is an interesting concept and there are interesting things you can do with it, but it has no value unless it has software," IDC's O'Donnell told TechNewsWorld. "The question is, are there enough apps that are compelling enough for people to say, 'this is what I want'"?
Leap Motion offers many apps designed for everyday use and more are being added every week, the company's Buckwald stated.
A quick check of Leap Motion's app store showed several categories including creative tools, education, music and entertainment, productivity and utilities, and news and weather. There are separate apps for Macs and Windows PCs.
Apps are free or for-pay, with at least one app — Geco MIDI — priced at $10.
About 10,000 developers are claimed to be working on creating apps that leverage Leap Motion's technology.
Separately, Highland Capital Partners has established a $25 million investment fund called the Leap Fund focusing on entrepreneurs who use Leap Motion technology to develop breakthrough experiences, ranging from apps to embedding the technology into other hardware or software to unique businesses.
None but The Brave
The HP Envy 17 LMSE "is never going to be a huge seller, but it's an interesting statement, and there are people who will be interested in it, IDC's O'Donnell said.
It's possible that HP launched the device to burnish its image.
"There are people within HP who are looking to be more aggressive, and the people driving this product thought it was an interesting opportunity," O'Donnell suggested. "HP has gotten a little old and fuddy-duddy, and this was an opportunity for these guys to make a statement."
'Later This Year'
With the launch of the Envy 17, HP has beaten out Asus, which signed up with Leap Motion in January — three months earlier than HP did.
Given that Asus is typically quick off the mark with new products, its tardiness in bringing out devices incorporating Leap Motion's technology is surprising.
"Our partnership with Asus is for bundling," Leap Motion's Buckwald pointed out. "They'll be bundling Leap Motion Controllers with high-end notebooks and premium All-in-One PCs later this year."