HP, battered by its previous forays into the tablet category, tried again Monday with its announcement of a new 7-inch Android tablet, the HP Slate 7, at the Mobile World Congress in Barcelona.
The device will be available in April for US$169.
The company's previous tries at tablet devices — and mobile operating systems — have landed with loud thuds in the marketplace. The Slate 7 is an attempt at erasing those memories by gaining a lot of momentum in a hurry.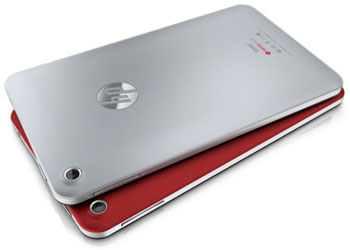 "They're chasing the low price point, so, if you want a 7-inch tablet, they'll have the cheapest in the market," Rob Enderle, principal analyst at the Enderle Group, told TechNewsWorld. "It's a way to get volume and maybe to get a seat at the table, because right now none of the PC makers is doing well with tablets."
HP did not respond to our request to comment for this story.
The Slate 7's Specs
The Slate 7 weighs 13 ounces and has a stainless steel frame. It runs Android 4.1 Jelly Bean on a 1.6 GHz ARM Dual Core Cortex-A9 processor.
It has a 1024-by-600 pixel LCD screen. It also has what HP calls a "high-aperture-ratio" field fringe switching panel, which offers wide angles for better viewing of content on the device, indoors or outside.
The tablet has a 3 MP camera on the back and a VGA camera on the front. The device has a micro USB port and a microSD card slot.
The Slate 7 comes pre-loaded with the HP ePrint wireless printing application. It also has a native printing capability that HP claims will let owners print directly from most applications.
It supports 802.11n 2.4 GHz WiFi and Bluetooth 2.1. It will run any app on Google Play, and comes preloaded with the standard Google services — Gmail, Google Search, Google Drive, YouTube — that are found on any Android device. The Slate 7 will also carry a suite of applications from HP that range from exclusive games to productivity tools.
HP has included Beats Audio in the Slate 7 in a bid to target music lovers, making it the first tablet ever to have this capability. Beats Audio is "spectacular on the HTC phones," Enderle said.
Pros and Cons
The device is competing with the Kindle HD and Nexus 7, he added. However, at that price point, "they may get revenues, but profits will be hard to get."
Another potential problem is its name; HP already offers Windows-based tablets called the Slate 2 and Slate 500, and "confusion is a possibility, so HP will need to be careful in branding exercises," Charles King, principal analyst at Pund-IT, told TechNewsWorld.
HP also offers a Windows 8 tablet for the enterprise called the HP ElitePad.
"I think HP's Slate and Chromebook simply demonstrate its recognition of the reality of the mobile market, where Microsoft's position is miniscule," King said. "If HP wants to play seriously here, Android, and to a lesser but still intriguing extent, Chrome, are the way to go."
Slate's Role in HP's Tablet Story
The Slate 7 "is just one piece of a larger strategy," King said. "It seems like a good first step but the road ahead is long."
If HP gets volume sales with the Slate 7 that "could give people the impression they're a player and with that belief they could get to create something else, so think of this as a process," Enderle said. "It could work."