HP on Friday launched the HP Slate 500, a tablet PC aimed at the enterprise.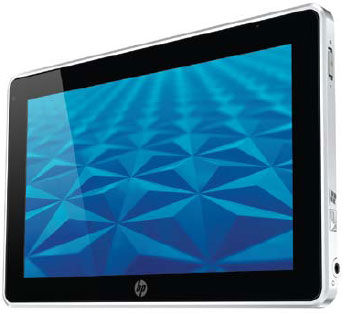 HP Slate 500 Tablet PC
Priced at US$799, the Slate has a 3MP still camera and a VGA webcam and can Windows 7 Professional 32.
The HP Slate 500 is based in a 1.8 GHz Intel Atom Processor and weighs 1.5 pounds in the basic configuration.
Tech Specs for the HP Slate 500
HP's new tablet has an Intel Atom Z540 processor with a 512 KB L2 cache and a 533 MHz front-side bus. It uses the Intel System Controller Hub US15W chipset.
Onboard memory maxes out at 2 GB of 800 MHz DDR2 SDRAM.
For storage, the HP Slate 500 uses a solid state flash drive of up to 64 GB. It can use select external CD/DVD R/RW drives that plug in through its single USB 2.0 port.
The HP Slate 500 has an 8.9-inch WSVGA wide-viewing angle multitouch screen that accepts pen and finger input. For graphics, the tablet uses an Intel Graphics Media Accelerator 500 and a Broadcom Crystal HD Enhanced Video Accelerator.
The tablet comes with one combo stereo headphone and mic jack, an integrated microphone, and a power connector. It features high-definition audio and integrated stereo speakers.
It can communicate over 802.11b/g/n networks as well as Bluetooth 3.0.
The base configuration comes with a two-cell battery that offers about five hours of battery life. It weighs 1.5 pounds. The tablet measures about 9.2 by 0.6 by 5.9 inches.
The HP Slate 500 comes with HP Slate Camera, Evernote, HP Support Assistant, Adobe Reader and Adobe PDF preinstalled.
HP did not respond to requests for comment by press time.
No Country for iPad Tablets
The HP Slate 500 tablet is targeted primarily at corporate users rather than the consumer.
"First of all, throw out any consumer comparison with the iPad. The HP Slate 500 was never intended to be a consumer product; it's for enterprise use," Bob O'Donnell, a program vice president at IDC, told TechNewsWorld.
"There's a lot of talk about the iPad being used for mainstream work, but that's a lot more hype than reality," O'Donnell said. "I can't run Microsoft Office on the iPad, and you can't convert Office files without losing a lot of data," he added.
"The HP Slate 500 will attract the interest of vertical industries such as construction, healthcare and engineering services that have used ruggedized tablets," Angela McIntyre, a research director at Gartner, told TechNewsWorld.
"Steve Jobs is right; it's all about the apps, but it's also about the apps on PCs, and there are some apps on PCs that you aren't going to get right now on the iPad," O'Donnell said. "Business applications for the iPad are limited."
Of Money and Marketing
Isn't the $800 price tag somewhat excessive for a basic tablet? After all, several other manufacturers have announced plans to bring out Windows 7 tablets soon.
"Acer, Asus and a bunch of other people have demonstrated Windows 7 tablets that could be cheaper, but no one has shipped one yet," O'Donnell explained. "HP's doing it because it sells to a lot of big accounts who might buy, say, 10,000 notebooks, 2,000 desktops and maybe 400 Slates. If you're working with a big corporate client, you want to have all the pieces in place."
Even so, shouldn't HP offer discounts to attract more orders?
"There's no special promotion for the enterprise, so for $799 you're just getting a bare-bones product here," Laura DiDio, principal analyst at ITIC, pointed out. "You could say it's an enterprise tablet so there's no need to provide incentives, but look at what HP and IBM are doing to lure Sun customers away from Oracle — they're doing deals," she told TechNewsWorld.
Perhaps there's no need to offer special terms because, at about $800, the HP Slate 500 might be the best deal in town.
"You need to compare the HP Slate to the $2,000 Fujitsu ruggedized tablet," IDC's O'Donnell suggested. "Last year, about 400,000 to 500,000 Windows-based tablet slate PCs were sold worldwide, and the market's dominated by Fujitsu and a few others. Most of the products in this market cost $1,500 for the basic configuration, so the HP tablet is cheap compared to the others."