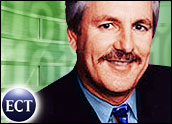 One of the big problems for complex companies is the ability, or inability, to use expertise developed in one area in another. This is one of the reasons complex companies like Sony often fail; they have all of the disadvantages of that complexity and don't really get the anticipated synergies or economies of scale that were generally used to justify the creation of their complex structures.
Sony was the company that many expected to own the emerging converged consumer electronics space but their dysfunctional nature has prevented the success that many of us felt was a given.
Today, Hewlett-Packard is showcasing what can be done if you can get a complex company to work together by using their market leading printing expertise to not only launch the most advanced printing system currently in the consumer segment, but to showcase cameras and TVs that use technology from the same division to gain competitive advantage in the market place. Sony's executive change may have simply come too late and, as we'll conclude, this may have put their entire CE product set at risk, including their game console.
Redefining Innovating in Printing
The best ink jet printers on the market today produce photographic level prints that equal silver halide. The problem is that the ink can get rather expensive if you do a lot of prints. Part of the problem is you are constantly replacing the print head with the ink cartridge and part of the problem is you are wasting a lot of ink keeping that head from clogging.
Personally I'm a big fan of saving money, but what HP has done is actually kind of cool (yes I know cool and printing is generally an oxymoron). What the printer does is circulate the ink through the head to keep it from clogging and to avoid having to waste ink by constantly clearing the head. The print head is permanent, lowering the cost (and price) of the ink cartridges, and the result is not only a lower-cost product but a faster one as well. Granted this only makes sense if you do a lot of prints; if you are only doing a few a month, the old way will still be more cost effective, but still for us power users this is a rather impressive change.
Using a pump technology that looks really similar to the most recent designs being used for water cooled PCs will make the Photosmart 8250, the first to use this technology, the most technically advanced printer on the market.
The device uses one cartridge for each color so you no longer have to toss out a cartridge with ink in it because one of the ink colors has run out. This clearly further reduces cost. Price for the printer is US$199 and the technology being shown will eventually migrate to a wide variety of consumer and commercial products as HP aggressively moves to block inroads by Dell and make it vastly more difficult for Kodak to enter this space. How often is it you can buy the leading technology for anything for $200?
Few could argue that printing isn't a critical part of photography today and Sony doesn't really have much of anything here at all.
Printing Technology Applied to TVs
Good HD TVs are expensive, arguably the best in the market is the Sony Qualia, which still costs around $10,000 and uses the engine from Sony's $36,000 projector. Quality didn't come cheap.
To make a similar level of performance affordable, HP looked at the problem and approached it much as they did a printing problem. Using an electronic dithering technology developed right out of printing, they have come up with a way to make HD television look better for less.
One additional modification that I still think is simply brilliant and, in hind site, incredibly obvious, was to move the cable connections to the front of the set behind an easily opened panel. These older TVs are a real pain to set up (I have an older large screen myself and it is a nightmare to hook up or make changes). Moving some sockets to the front or top to make them more convenient is something the PC industry did for most consumer and many commercial products some time ago because it makes the related devices so much easier to hook up.
Still with one revolutionary set and a limited line, HP is not yet a major TV player, and here Sony is clearly more solidly threatened by firms like Samsung, but HP is coming and just fired a solid shot at Sony's flagship product.
Camera/PC/Printer Integration = More Accurate Pictures
One of the promises we have always had with vendors who make all three parts of a modern day photographic solution is ensuring print accuracy. HP also showcased its new camera line, and for a company that was a joke in this area a few short years ago, the new line is impressive and very competitive with Sony's line. Like Sony, the cameras fit comfortably into your hand now, feel high quality, and have good optics.
However, what sets them apart is the tight tie in with the printers that promise higher color accuracy in the related print. Obviously the best experience will be had by using one of the new printers with one of the new cameras, and there is one other feature I should point out — you can actually correct the picture in camera with most of the models. Best example of this is the new R817, which is arguably HP's best camera to date.
While HP's line still lacks both semi-pro and pro models, it is otherwise very complete, and for a company that is still relatively new to cameras, it is a powerful statement. The Sony line is still richer, but it is also tied to the less popular Memory Stick technology, and it doesn't have the strong printer or PC ties. In short, it lacks the critical synergy that was always hoped to be the critical Sony advantage.
PCs: More Appealing, More Integrated, and More AMD
HP has configured its Media Center line of PCs to tie back into both their printers and cameras. Media Center designs feature a vastly improved and much less busy industrial design (they are starting to evolve into a much cleaner Apple/Sony type of styling). The printer/camera integration consists of similar industrial designs so the products, for once, actually appear to come from the same company and there are software preloads (including drivers) that make the overall photography process much easier to both set up and operate. This will undoubtedly once again showcase what we always expected from Sony but never really got.
Laptop lines have a variety of AMD configurations, which is unique this year and designed to target performance weaknesses in competitors (read Dell) who are still blocked from using AMD. These products often provide a higher performance at a lower price and the most interesting remains the Livestrong laptop which is tied to an automatic donation for cancer research. With broad use of fingerprint recognition across a variety of lines, HP is doing a nice job of differentiating itself on security and specifically targeting the small business market, which should like both the price and performance of many of these products.
Sony should be dominant in the Media Center category of PCs, but HP, with a continued focus on appearance, is starting to reach Sony levels of design excellence. While Dell generally is more of the target here, for consumer products, this is a segment Sony (or Apple) was expected to own and HP still, for the most part, owns it.
Launch Wrap Up and Look Ahead
This is the first major launch since HP's new CEO took the helm and it reflects solid work on connecting the different product groups together into solutions for the consumer and small business segments. Sony has also made a recent executive change, but it was in vastly worse shape and its dysfunctional organizational structure continues to define its vulnerabilities.
Looking ahead, Microsoft is rumored to be about to license out the Xbox technology. There is no more likely licensee then HP. Under that scenario, Sony has every reason to be terrified because if HP can tie the Xbox more tightly into their family they will have achieved the synergy that could actually remove Sony's remaining revenue engine. Recall that HP also licensed the iPod. For consumers, the future is looking brighter all of the time and HP is increasingly sharing that bright future. For Sony's new executive team, there remain some hard decisions to make if they actually want to be in that future.
---
Rob Enderle
, a TechNewsWorld columnist, is the Principal Analyst for the
Enderle Group
, a consultancy that focuses on personal technology products and trends.
---
---

Read More Reviews…
---