In a market where bigger is increasingly considered better, HTC on Thursday bucked the trend and announced the HTC One Mini, a compact version of its HTC One smartphone.
With a 4.3-inch 720p display, the new device is actually not that much smaller than the flagship HTC One, which sports a 4.7-inch display. The HTC One Mini runs on Android 4.2, also known as "Jelly Bean," but it does slow things down a bit under the hood.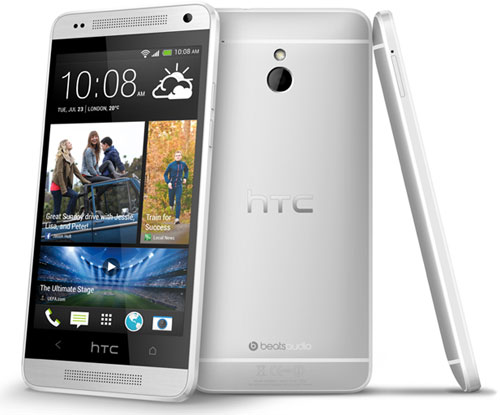 The HTC One Mini is powered by a dialed-down 1.4 GHz dual-core Snapdragon 400 CPU — as opposed to the HTC One's 1.7 GHz quad-core Snapdragon 600 processor — while the onboard RAM has been cut from 2 GB to 1 GB.
Likewise, while the new device's screen size might not seem that much smaller, the HTC One offers its 4.7-inch screen with a 1080p resolution and 468ppi pixel density compared to the HTC One Mini's 720p resolution with only 341ppi.
Neither pricing nor carrier details have yet been announced, but the HTC One Mini will be available in select markets beginning in August, with a global rollout planned for September.
HTC declined to provide further details.
A Matter of Size
"Smaller will not help in a world where phones are going to bigger screens," Roger Entner, principal analyst at Recon Analytics, told TechNewsWorld.
Indeed, numerous new devices rolled out in recent months have fallen more into the "phablet" category, with screens 5 inches or larger.
Still, the device's sleek size could appeal to some users, and it is clearly designed for those looking to stay connected. The HTC One Mini delivers social media updates, news updates and photos via its HTC BlinkFeed feature, which can include content from more than 10,000 feeds each day.
Available in silver or black, the HTC One Mini offers the same dual front stereo speakers as its larger sibling. A 4MP UltraPixel rear-facing camera features 1080p video capture.
'Pretty Ordinary'
"The HTC One Mini is a nice addition to HTC's product range," said telecommunications analyst Stephen Blum, president of Tellus Ventures Associates. "It gives their primary customers — mobile carriers — one more good reason for going with HTC. Some consumers will like the size and feel of it."
The impact on HTC's market position, however, will be minimal, Blum told TechNewsWorld.
"The HTC One Mini doesn't offer anything new that might otherwise make it significant," he said. "Trading a smaller form factor for lower performance specs and price is pretty ordinary."
'Looking for the Halo Effect'
In fact, because the two devices look so similar, consumers may not realize the smaller version has lower specs, mobile phone analyst Ian Fogg of IHS iSuppli suggested.
"It has the same camera as its larger brother, but a slower processor," Fogg explained. "To the customer it looks the same and has a cheaper price point.
"It also is using the same branding as the flagship model," he told TechNewsWorld. "This is a brand extension to this model that is looking for the halo effect."
The HTC One Mini also lacks the near field communication capabilities of the HTC One.
'It's Landing in the Generic Space'
As for HTC's long-term prospects, it's not clear the HTC One Mini will make any significant difference.
"The mobile handset market is dividing into genuine consumer brands — Apple and Samsung — in the lead, and generics," said Blum. "HTC's problem is that it's landing in the generic space."
Older brands Nokia and Blackberry are still well-recognized, but they're fading into the "legacy realm," Blum added. "HTC never climbed to that height, and its current marketing efforts are swamped by Samsung's media saturation campaign and Apple's reality distortion field."