HTC on Monday announced the HTC One Max, a supersized version of its flagship HTC One Android device.
It sports a 5.9-inch full HD 1080p touchscreen, a fingerprint-scan feature, and an upgrade to HTC's Sense skin — Sense 5.5 — among other things.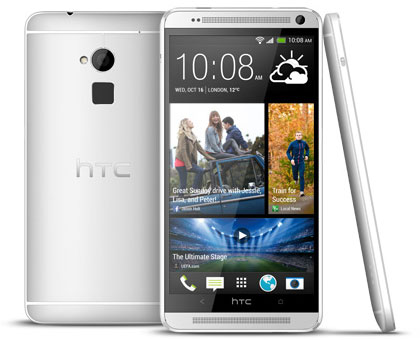 HTC One Max
"At this size, it appears they're breaking into the phablet market," Rob Enderle, principal analyst at the Enderle Group, told TechNewsWorld. "They need to do something — their sales have been really soft."
HTC recently posted its first-ever quarterly financial loss.
Old Wine in a Supersized Bottle
The HTC One Max has the same quad-core 1.7 GHz Qualcomm Snapdragon 600 processor as the HTC One.
It will be available in 16-GB or 32-GB versions. Storage can be increased to 64 GB through a microSD card, and purchasers will get an additional 50 GB of cloud storage free on Google Drive.
The device has a 3,300 mAh battery and there's an optional Power Flip Case, which has a 1,200 mAh battery, for extra juice.
A fingerprint scanner on the back of the phone lets users lock or unlock the screen. It can accommodate prints of three fingers, each to launch one app.
The new HTC Sense 5.5 upgraded skin comes with a beefier BlinkFeed, which aggregates news and social media content.
The new version includes customizable topic categories and integration with a number of premium services, including Instagram and Google+. Users will be able to download up to 120 articles into BlinkFeed for offline viewing.
HTC One Max owners will be able to simultaneously shoot photos with the front and rear cameras. A Video Highlights feature combines photos and videos to let users create a mini-movie complete with a visual theme and a soundtrack.
The HTC One Max will be available globally from mid-October, in a color dubbed "Glacial Silver."
Belt-Tightening at HTC
"Like Motorola, HTC seems to be trying for value play [with the HTC One Max,]" Enderle opined. "You get a lot of screen for not a lot of money."
The scanner's positioning could perhaps have been better thought out.
"It's an annoying implementation, but they are clearly making tradeoffs to hit an aggressive price point," Enderle said.
Although Microsoft reportedly has approached HTC to load Windows Phone 8.1 onto its devices, the HTC One Max is an Android-only device.
"With Nokia becoming a division of Microsoft, HTC may be unwilling to go that route," Enderle surmised. "Also, since they're using a lower-performing processor for this phone, they may have issues with Microsoft's new [Windows Phone 8.1] specs, which call for the Snapdragon 800."
Even if HTC did pick up Windows Phone 8.1, "I don't think that's going to save it," Michael Morgan, senior analyst at ABI Research, told TechNewsWorld.
"It's next to impossible to stand just on the hardware business out there, you've got to have a lot more," he pointed out. "If all you're doing is hardware, that's focusing on the loss-leader part of the business, and that's a tough spot to be in."
Phablet Market Growth's Just Fab
Offering a phablet might give HTC a chance at hanging on for a while longer, though.
The phablet market is growing "very strongly," ABI's Morgan said.
In fact, Microsoft's latest upgrade to Windows Phone 8.1, also announced Monday, is aimed at phablets.
IDC has revised its sales figures for tablets downward because of competition from phablets and wearable devices.
HTC has not commented on pricing for the One Max, but "they should slide under LG's and Samsung's prices," Enderle suggested.
That might help the device make a dent in the Asia-Pacific market, where demand is strong.