HTC's latest handset has emerged from the proverbial cocoon, but it's no tiny newborn. Rather, the Android-powered Butterfly S has "phablet" proportions, meaning it's larger than the traditional smartphone but smaller than a tablet.
Packed with a quad-core 1.9GHz Snapdragon 600 processor, a 3,200mAh battery, 2GB of RAM and 16GB of built-in storage, the nascent device sports the 5-inch HD screen common to the emerging phablet class of devices.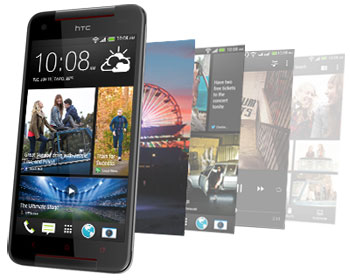 Announced on Wednesday in Taipei, the device — which is actually an updated version of the original HTC Butterfly launched last fall — will be available in select Asia Pacific markets starting in July.
HTC did not respond to our request for further details.
The Specs
It addition to its oversized 1080p display, the Butterfly S features front-facing Boom Sound stereo speakers and runs Android 4.2.2 "Jelly Bean." Also included are a quad-band HSPA/WCDMA radio and an HTC UltraPixel Camera with HTC Zoe and Video Highlights, which provides 300 percent more light than traditional smartphone camera sensors while also offering advanced editing capabilities directly from the device, HTC says.
The handset also offers a 2.1-megapixel wide-angle camera on the front. Its battery is apparently the highest capacity battery in any HTC smartphone.
Pricing is expected to be about US$766.
'Bigger is Better'
Coming hard on the heels of reports that Apple may be considering launching a line of phablets as well, HTC's latest addition suggests continuing momentum for the category.
"Like with so many things, bigger is better, and that is particularly true with screen size," Roger Entner, principal analyst at Recon Analytics, told TechNewsWorld. "You are trying to go as big as possible while still fitting into pockets."
The target market for such devices is primarily video enthusiasts, Entner added: "Bigger screens are particularly valuable for video viewing," he explained.
Spawning Accessories
The appeal for other consumers, however, is less certain.
"The average consumer isn't going to use this, and it isn't a mass stream device," Wayne Lam, senior analyst at IHS iSuppli, told TechNewsWorld. "These devices barely fit in the pocket, and it has gotten so big that these are spawning accessories."
Included among those accessories, for instance, is "a smaller handset that pairs with Bluetooth," Lam added. "It is very much like the joke that it has its own moons and planets."
'There Is a Market for It'
Still, the phablet could find a place where users can't necessarily go with both a tablet and a handset, whether for reasons of cost or space. In this way it could solve a problem, especially for those on a budget.
"There is a market for it now, especially in parts of Asia," said Lam. "That was a natural extension of that form factor, especially in areas such as the developing markets where people can't always afford a tablet and a phone.
"It is an area that is growing and evolving, but we are cautiously optimistic," he added. "This type of device is still squeezed between two established nodes — the tablet and the handset."The phablet's size, however, is "breaking the one-handed usability," Lam concluded. "Where you have a screen this size, it stretches beyond the one-handed use and it becomes a different category."