Smartphone maker HTC on Tuesday announced its newest device, the Droid DNA, a 5-inch smartphone running Android Jelly Bean.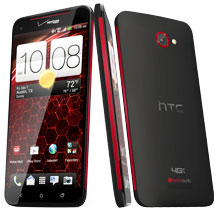 The Droid DNA, introduced Tuesday by HTC and Verizon
The device will be offered exclusively through Verizon Wireless, which began taking preorders on Tuesday. It will be available at retail stores nationwide on Nov. 21 for US$199.99 with a two-year contract.
"The HTC Droid DNA is the first device with a 5-inch full HD 1920 x 1080 pixel screen so, from a resolution standpoint, it leads the way compared to the Samsung Galaxy S III, Galaxy Note II or the iPhone 5," said Julien Blin, directing analyst for consumer electronics and mobile broadband at Infonetics Research.
"You don't see too many people going into the 5-inch screen area," Ramon Llamas, research manager for mobile phones at IDC commented. "The DNA doesn't have a stylus, and I'm wondering what are the features on it that will help promote and align with the larger screen experience."
The Droid DNA's Specs
The Droid DNA offers 440 pixels per inch on its Gorilla Glass 2 screen. It runs on a Qualcomm Snapdragon S4 Pro quad-core, 1.5 GHz system on a chip, which incorporates the Adreno graphics processing unit.
"HTC found a nice balance between power with the quad-core processor, and solid battery life," Blin told TechNewsWorld. "This is important as we are moving toward thinner and more powerful devices with large displays that can impact the battery life."
The device has 2 GB of RAM and runs on Verizon's LTE network.
On the back, the Droid DNA has an 8 MP f/2.0 28 mm wide-angle lens with five-level automatic flash, backside illuminated sensor, and superfast autofocus. It incorporates HTC VideoPic, which lets users capture video and still images simultaneously. The camera takes up to four frames a second.
The Droid DNA also has a 2.1 MP f/2.0, 88-degree ultra-wide angle front-facing camera. It incorporates Auto Portrait, with automatic face detection and a countdown timer. This camera can capture 1080p HD video.
The device has a 2.55 volt built-in headset amplifier and dedicated amp for the external rear speaker, and the sound system incorporates Beats by Dre technology.
It has a 2,020 mAh battery and comes with power saving software. A wireless charging capability is embedded, and the Droid DNA is equipped with near field communication.
Deconstructing the Droid DNA
Players such as HTC "have to go for the niches where Apple doesn't really have a presence," such as the 5-inch screen device, Llamas told TechNewsWorld.
While Llamas considers the Droid DNA a smartphone, Infonetics' Blin casts it as a phablet because of the size of its screen.
The processor and camera specs put the Droid DNA "essentially on par with the Samsung Galaxy Note II and Galaxy S III," Blin stated.
The Droid DNA will likely appeal to video and music-centric customers, "people who love watching mobile video services like Netflix, or listening to their favorite tracks on their mobile device," Blin suggested.
Possible Issues
The battery could be an issue, Blin said. "From a battery standpoint, it's slightly behind the Galaxy S III, whose battery puts out 2100 mAh, and the Galaxy Note II, whose battery puts out 3100 mAh."
However, "the battery is going to be adequate," Llamas countered.
"It's a specs war these days," Blin pointed out. "HTC needs to send a strong signal to the tech community and competing OEMs that you can count on them to lead the way in the smartphone market."