Smartphone maker HTC on Wednesday announced two new devices running Windows Phone 8 — the Windows Phone 8X and 8S.
The devices, which feature Beats Audio and bright colors, were strongly praised by Microsoft executives, immediately sparking speculation that HTC is replacing Nokia as the provider of flagship WinPho 8 smartphones.
"I think people are reading too much into this," Ramon Llamas, a senior research analyst at IDC, told TechNewsWorld. "This is classic [Microsoft CEO Steve] Ballmer, he's going to give each vendor a due amount of mention and support but the key for him is to get as many devices out the door and into people's hands as possible."
Loading the Bases
Microsoft may be working with HTC to bring to market another Windows 8 phone "to convince consumers that Nokia isn't its only horse in the smartphone race," Carl Howe, a research vice president at the Yankee Group, suggested.
"By having multiple vendors on its books as licensing Windows Phone 8, Microsoft can point to [them] as proof of Windows Phone 8's success, even though those licensing revenues are being paid for with Microsoft dollars [by Redmond's subsidizing the manufacturers' R&D efforts]," Howe told TechNewsWorld.
A Microsoft spokesperson was not immediately available to provide further details.
The 411 on the HTCs
The 8X will come in blue, black or neon red, while the lower-end 8S will be offered in blue, black, gray or red. Colors will vary by market.
Some observers have noted that the 8X looks like the Nokia Lumia 900 and the 8S like the Sony Experia.
"The colors and physical design of our new models have been inspired by Windows Phone Live Tiles," HTC spokesperson Jennifer Cooper told TechNewsWorld. "When you pick up the Windows Phone 8X and 8S you will feel and see the difference from other devices."
Both smartphones are built around a Qualcomm S4 1.5 GHz dual-core processor, and have screens made from Gorilla Glass 2.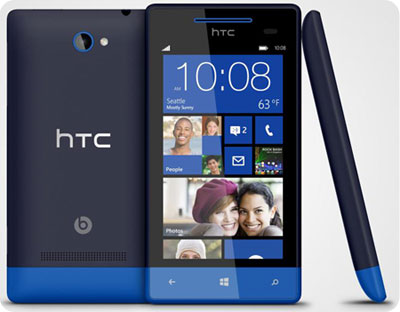 HTC Windows Phone 8S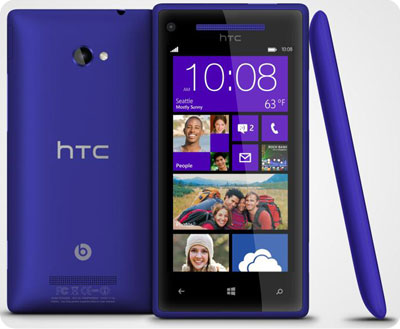 HTC Windows Phone 8X
The 8X has a 4.3-inch super LCD 2 HD touchscreen with 720 p resolution while the 8S has a 4-inch super LCD touchscreen offering WVGA resolution.
Both devices have the standard sensors — accelerometers, proximity and ambient light sensors — plus they come preloaded with Beats Audio. The 8X has a dedicated amp built into the phone.
The 8X has an 8 MP rear camera with autofocus, LED flash and a BSI sensor for low-light photography. The camera has an F2.0 aperture and a 28 mm lens. It can record HD video at 1080p. The 2.1 MP front camera also has an F 2.0 aperture and records HD video at 1080p. It has an 88-degree capture area.
The 80S has a 5 MP camera with autofocus LED flash, an F2.8 aperture and a 35 mm lens. It records HD video at 720p.
"Our aim is to deliver the best overall experience, from color to design to our audio and camera capabilities, to the Windows Phone 8 software," HTC's Cooper said.
"I've seen great cameras from Samsung, Nokia and Apple," IDC's Llamas commented.
Who's Gonna Take You Home Tonight?
Apart from the bright colors, there seems to be little to really distinguish the HTC WinPho 8 smartphones from everything else in the market.
"I think we've reached that point in industrial design where we're going to see resemblances among devices," IDC's Llamas remarked. "When you get down to the hardware specs, virtually everybody has similar hardware and similar software."
HTC "have a really good reputation for design," and the 8X and 8S are "very solid, thin and light, and that suits the current consumer taste."
However, "Windows Phone devices have struggled to find consumers who are willing to vote with their wallets for the platform," the Yankee Group's Howe told TechNewsWorld.
Consumers "buy products they consider safe choices [and] at the moment, Windows Phone 8 is anything but a safe choice."
AT&T will carry only the 8X, the carrier's spokesperson, Steven Schwadron, told TechNewsWorld. It will be available "in the coming months."