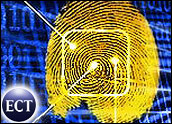 In October, IBM released its first ThinkPad with a built-in thumb print reader that tied a scanner device to a security chip for added security. Company officials heralded the new product amid high hopes that this first of its kind biometrics security subsystem will set a new standard for computer makers to follow.
The response has been so strong, officials told TechNewsWorld, that a second product line using the same biometrics hardware is now available.
IBM announced today the ThinkPad T43. The new laptop line raises the bar on secure business computing. The T43 is IBM's fastest performing thin-and-light notebook computer to date.
The fingerprint reader is combined with an Embedded Security Subsystem to provide a layer of security that is built in, not bolted on. The T43 comes with a new layered approached to virus-protection. It is bundled with an enhanced Rescue and Recovery 2.0 with Antidote Delivery Manager.
Targets Enterprise
The ThinkPad T43 is designed for enterprise users, according to William Iori, IBM product manager.
"Eventually the biometrics support will find its way into all our product lines," Iori said.
Primary response to the initial biometrics model, the ThinkPad T42, has been from enterprise users.
"They have responded very well to the biometrics solution. It provides both convenience and security," he said.
The built-in thumb print reader lets users configure the model for authentication for access to the laptop's files as a stand-alone log on security. But users can also activate the embedded software to achieve full-blown network access.
The added convenience comes from not having to carry around dongles or PC cards to clamp on security. A user must swipe his or her finger across a small, horizontal sensor to log on to the computer, software applications, Web sites or databases.
Beefed Up Protection
IBM has strengthened the Rescue and Recovery software. The R & R package helps users perform system back up to restore infected or deleted files.
A second software component, the Antidote Delivery Manager, helps IT departments protect ThinkPad notebooks against viruses and worms by enabling companies to deploy updates efficiently throughout their enterprise.
The networking features in the software allow IT departments to set policies so that the notebooks retrieve and install updates quickly or quickly remove them from the network until a threat is analyzed and neutralized.
Rescue and Recovery also includes a pre-boot environment that can be used to deploy updates and help IT management perform required and timely maintenance tasks. This feature continues to be available even if the main operating system already has been corrupted by a worm or virus.
"This software protection is a one-touch approach that works in the pre-boot environment as well as at the baseline Windows level," Iori said.
Works on All Thinkpads
The Rescue and Recovery solution can be applied to all ThinkPad models, Iori said. ThinkPad users can download the software from IBM's Web site.
Rescue and Recovery 2.0 with Antidote Delivery Manager is also preloaded on all ThinkPad notebooks and ThinkCentre desktops.
The two software products are designed to work together for a complete security and recovery solution.
New Version of Technology
Because power management issues play a pivotal role in wireless environments, the ThinkPad T43 is equipped with the ThinkPad Power Manager feature. This utility gives users control over the thermal management of their notebook PC.
Power Manager provides direct access to two devices that significantly impact battery life. It lets the user manipulate the processor speed and the speed of the fan that cools the processor.
The Power Manager also includes additional power management features that let users create battery schemes tailored for their specific computing needs.
Additionally, the Power Manager includes a Battery Information tab that serves as a control center for the battery, providing charge capacity and time remaining, as well as information about the battery specification that users might need to know for support reasons.
Other Configuration
The ThinkPad T43 is equipped with new Intel Pentium M Processors with 533 MHz front side bus. Plus, the T43 supports up to 2 GB DDR2 533 MHz system memory, up to 80 GB hard drive capacity and has one Express card slot and one PC card slot.
The ThinkPad T43 also features the new PCI Express architecture that supports forthcoming ExpressCard options.
The T43 combines high-speed performance with robust graphics capability. It is available with Intel Graphics Media Accelerator 900, making it the first model of the T series to include an integrated graphics solution.
For increased levels of graphics performance, users can choose models with the ATI RADEON X300 or ATI Mobility FireGL V3200 graphics adapters.
Suited for Mobile Workers
At approximately one-inch thin and with a travel weight of 4.5 pounds, the T43 is both thin and light, making it a solid notebook choice for business executives on the move.
The T43 features high-performance wireless networking with integrated wireless, including Intel 802.11b/g and 802.11a/b/g wireless adapters on select models.
Select models of the ThinkPad T43 notebook will be available February 25 through www.ibm.com and select business partners. The ThinkPad T43p will be available in April. Prices for ThinkPad T43 models start at US$1,469.