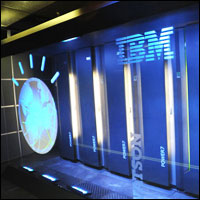 IBM on Tuesday announced that it will offer Watson — its artificial intelligence software package that won the Jeopardy game show — as a customer service solution called "Watson Engagement Advisor," a cognitive computing assistant that rapidly learns, adapts and understands a company's data.
Watson's data-crunching capabilities will be offered as part of IBM's Smarter Commerce initiative for automating a business's marketing, sales, procurement, supply chain, and service functions.
It will also be delivered as a cloud service to consumers' mobile devices for self-service.
"We use automated calling solutions today," said Jim McGregor, principal analyst at Tirias Research. "Using Watson technology just takes it one step closer to an artificial intelligence model."
IBM representatives Alicia DiGennaro and Alison Meyerstein pointed TechNewsWorld to a livestreamof the company's announcements and to IBM's blog post on the topic.
What's a Watson?
Watson is an artificial intelligence software package that can answer questions posed in natural language, meaning the way people speak. It was developed to answer questions on Jeopardy.
Watson was programmed in Java and C++. It includes Apache Hadoop and Apache UIMA (Unstructured Information Management Architecture), and ran on 90 IBM Power 750 servers using the SUSE Linux Enterprise Server 11 operating system.
Watson implements IBM's DeepQA architecture, which is a massively parallel probabilistic evidence-based architecture. It relies on many experts, pervasive confidence estimation, and integration of shallow and deep knowledge.
Pervasive confidence estimation means that every component produces an answer or part of it from a different interpretation of a question and the content of the answer. An underlying confidence layer stacks and combines the scores for the best answer. Shallow and deep knowledge are integrated by balancing the use of strict and shallow semantics and leveraging loosely formed ontologies.
Watson used more than 100 different techniques for analyzing natural language, identifying sources, finding, generating, merging and ranking hypotheses, and finding and ranking evidence, to participate in Jeopardy.
It's About the Content
Content acquisition is key to using DeepQA, and for the Jeopardy challenge, sources of information ranged from encyclopedias, dictionaries , thesauri and newswire articles to literary works, databases, taxonomies and structured data sources such as dbPedia and Yago. More than 200 million structured and unstructured documents were fed into Watson for its participation in the game show.
The variety of content led to trouble when the contents of the Urban Dictionary site were fed into Watson. The site has profanity and sexual innuendo, and Watson began using those words in its responses until IBM researchers created a filter that cleaned up its responses.
DeepQA solves questions by applying its end-to-end QA subsystem on each subclue and synthesizing the final answers using a customizable answer combination.
The DeepQA architecture is applicable to other tasks.
Using Watson in Customer Service
The Watson Engagement Advisor will be delivered through the cloud and as online chat sessions.
"Watson can provide a set of solutions much more quickly than other systems, and a relatively low level of training would be needed for the [customer service representative] answering a call," Rob Enderle, principal analyst at the Enderle Group, told TechNewsWorld. "If this were done on-line, Watson could also make suggestions about how to reword the query better and, through interaction, get the answer through iteration. This might be far more satisfying than the non-answer you might otherwise get."
"Because of its size, Watson is more of a cloud solution," Tirias Research's McGregor said.
A Threat to Siri and Google Now?
IBM is opening up Watson to developers so they can create an ecosystem of apps around the AI.
This is aimed at monetizing the technology, and "if you could integrate it with other applications like Siri, Google Now, and the plethora of other voice user interfaces and applications that will be emerging, it could be useful for mobile solutions," Tirias Research's McGregor told TechNewsWorld.
"Note that you can already ask many of these applications questions and get answers," McGregor said. "So, is Watson a competitor to these solutions or a complement?"