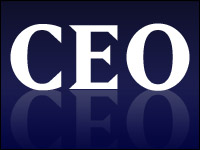 Last decade, Steve Jobs was the clear leader, and he ended the decade as the top CEO. We are early in this decade, but already Sam Palmisano has jumped out to an early lead. Like Jobs, it isn't because he is lobbying for this title — it is because he is already being recognized by peers as being the best there is.
Interestingly, this came through at an IBM Leadership event last week when heads of state and heads of the many of the largest companies in the world sang his and IBM's praises. They defined great leadership largely by saying "look at Sam." Given the trauma at companies like Google, Microsoft, Oracle, and Yahoo this year (and particularly, last week) I think it would be interesting to explore what makes a great CEO.
I'll close with my product of the week: a book by Thomas L. Friedman and Michael Mandelbaum that addresses how the U.S. could be great again but is on track to be an ex-superpower. I think we, and the next U.S. president, should read it.
What Makes a Great Leader
It was a pretty amazing week, starting with talks from some of the great brains looking at leadership, like Thomas Friedman; some of the top politicians and businessmen in emerging markets from Costa Rica to India; and some of the most powerful CEOs in the world from firms like Boeing and Dow Chemical. There was even a king — the extremely progressive and very well spoken King Abdullah of Jordan.
To distill what they collectively said to a few paragraphs, a great leader can be defined by four vectors.
Vision
The first is the power of their visions — and I'm not talking psychic visions either. This is their ability to set aspirational goals — goals that may often seem impossible, but that the leader sees as achievable. Reaching these goals will improve the company and its status in the world in areas like market leadership, profitability and customer loyalty. And these aren't multiple choice questions — they are pretty much all required. I think the last truly aspirational goal the U.S. had was to go to the moon, and the current administration just pretty much shut down NASA.
Leadership
Second is their ability to lead. Polly LaBarre argued that meetings should be voluntary because then you could see who the leaders weren't. They'd be the ones in the room by themselves.
Leaders have to be able to create followers and engender loyalty, and that is what allows them to achieve their visions. I've seen many failed CEOs — from Carly Fiorina to Jimmy Carter — who were shot from inside their own companies or parties because they didn't, at the time, understand the importance of assuring loyalty and making sure they were followed.
I think this is the problem at Sony; its leader just isn't being followed (Howard Stringer was at the event and clearly didn't seem to think he'd be CEO of Sony much longer).
Intelligence
Third, they have to have intelligence — and I don't mean a high IQ. I think this is one of the core problems at companies like Microsoft and HP; the top executive doesn't have good internal, competitive, or environmental fact-based intelligence and thus makes decisions on bad information, which results in unwanted outcomes.
I studied IBM's near failure in the '80s in depth, and one of the core problems was that back then, the office of the CEO was isolated and fed inaccurate positive information, so the CEO couldn't make timely decisions. The result was that John Akers was the only IBM CEO to be fired.
He wasn't a stupid man, but he lost his job due to a lack of good internal and external intelligence. Google's mistakes suggest it also has this issue.
Passion
Fourth is passion for the company. Steve Jobs and many company founders have this in spades, and this is what separates IBM's Sam Palmisano from so many others. Trained inside IBM to run the company, his overriding goal isn't to have the biggest salary or boat, most expensive house or car, or a hot mistress — it is to leave IBM better than he found it.
If Carly Fiorina or Mark Hurd had similar goals they'd likely have left HP as winners, and Carly would likely be a good candidate for U.S. president today. Ironically, it was her goal to be president that distracted her from making HP successful, and that's what kept her from even winning a Senate seat (the HP employees effectively worked to block her bid).
As firms look for new CEOs, folks to avoid are those too focused on record salaries and compensation (which tends to drive bad behavior and distract from the tasks at hand), those who can't build teams, those who are their own biggest fans, and those who can't articulate visions that make sense for the companies they want to lead. Or perhaps simply prefer those willing to sacrifice most of the personal rewards in order to leave a company better than they found it.
Wrapping Up
At the end of the event, IBM put on a once-in-a-lifetime performance with Morgan Friedman, Steve Martin (and his Blue Grass band), and a number of Grammy Winning Singers. However, one singer stood out: Charity Tillemann-Dick, who recently received a double lung transplant, performed one of the most amazing operatic performances I'd ever heard.
I later found out that her heart had stopped several times during the operation and that her body was rejecting the transplant and she had to be on oxygen most of the time. But you'd never know that from her performance, which was crystal clear and just short of amazing. Her proud mother sat next to me, often in tears as much from pride as from concern for her daughter.
People who are willing to do what it takes to get the job done despite overwhelming odds, who can focus through the pain to create magic, who care deeply about their art — whether it's singing or being a CEO — are the leaders who should define our race. Too often, we favor folks who say what we want to hear in order to enrich themselves and sell us out.
We choose the people we want to work for, vote for and admire. I hope we, and I include myself, can see the amazing individuals for what they are and do a better job of ignoring the frauds. The next CEO of the decade, like the last one, should be one of those amazing people. Last week, Sam Palmisano clearly put himself in the running — not by singing his own praises, but by creating a forum where others clearly did.
Book of the Week: That Used to Be Us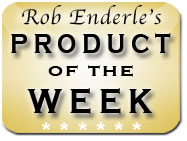 That Used to Be Us is a fascinating book that was showcased at IBM's event. It makes a comparison between the U.S. and emerging economies like China and suggests that we need to get back to what made our country great or we will become a third world country ourselves shortly.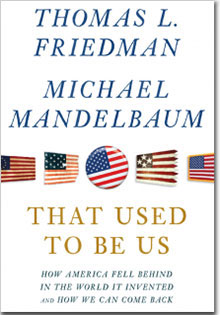 It points out details like the fact that in five years, China basically went from where the U.S. was in the 1930s nearly to where we are today — and in some cases, is now more advanced in transportation and manufacturing than we now are.
It argues that this is the case because we have become complacent, accepting the degrading of our infrastructure, the fact that our capital is falling apart and has become an international joke, and our leaders often seem to be more interested in making speeches than in getting things done.
At the end, it proposes a fix that largely has to do with taking a hard look at how the world has changed and stepping up like our ancestors did and once again fighting to win before we become another ex-superpower.
While it preaches hope, it suggests we need a good kick in the backside, and it is my book of the week because I think every one of our politicians and our leaders should read it — and for once, decide to leave their organizations better than they found them.