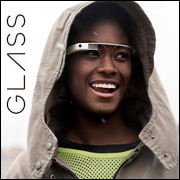 A man who wore Google Glass to a movie last weekend was hauled out of the theater and questioned for several hours by federal authorities over piracy concerns.
The officials took no action against the man after they determined the wearable tech device functioned as his prescription glasses, and that he did not have the Google Glass recording feature activated, according to reports.
On ICE
The man, who was not identified by authorities, was watching Jack Ryan: Shadow Recruit in Columbus, Ohio. Around an hour into the movie, a federal agent reportedly snatched his Google Glass from his face and escorted him from the theater.
Between five and 10 officers and agents from Immigration and Customs Enforcement Homeland Security Investigations, which examines claims of piracy and counterfeiting, were awaiting the man outside. They allegedly interrogated him for more than three hours until he was quivering in fear, while repeatedly insinuating he had recorded the movie.
Investigators eventually accessed the data on his Glass and were persuaded of his innocence. They handed back his device and released him. The man was compensated with four free movie tickets.
Backup Glasses
Having had his Google Glass fitted with prescription lenses, the man wears the device all the time, according to reports. While he has a backup pair of glasses, he apparently had left them in his car. He previously had no issues while wearing Google Glass at the same theater, even though the cinema location apparently had issues with piracy in the past.
AMC, which had contacted authorities after determining he was wearing a recording device, has since stated that Google Glass is "not appropriate" for use in theaters.
Having learned from his experience, should a similar situation arise in future, the man plans to say nothing to investigators without first speaking to a lawyer. He is attempting to find out the names of the officers involved and plans to file a complaint with their supervisors if he is successful.
Driving Issues
This is not the first time a Google Glass wearer has had a brush with the law. Last week, a woman who had received a ticket for driving while wearing Glass had the citation dismissed in court.
Cecilia Abadie, a technology entrepreneur, was stopped for speeding in October and handed a second citation by an officer who claimed she violated California law by using a visual "monitor" while driving. However, a judge dismissed the citation after ruling there was a lack of proof her device was turned on at the time.
Both situations raise many questions about government and institutional attitudes toward Google Glass and similar devices, and how law enforcement should deal with their use.
"The recent incidents aren't so much about a specific product (Google Glass, in these cases) so much as they are about increasingly powerful portable technologies," Charles King, principal analyst at Pund-IT, told TechNewsWorld.
"There have been many past events that bear at least some resemblance — from U.S. military services barring the use of iPods and other data storage-enabled devices from top secret facilities, to increasing restrictions on drivers using cellphones," he noted.
Privacy Questions
"What these all cast light on is that the law seems laggardly and out of touch when it attempts to create guidelines for evolving technologies but tends to overreach when it tries to be proactive," King continued.
"I expect we'll continue to see similar events related to Google Glass, including rules against their use in restricted government and business facilities, and forcibly removing users from private parties and political events. While many stories will focus on the abuse of personal rights, I hope some will explore the meaning or limits of privacy in a world technology is making increasingly transparent," he said.
"You could easily justify that Google Glass is no more than a simplified smartphone," Jim McGregor, principal analyst at Tirias Research, told TechNewsWorld.
"So, if people can look, call, or text on their smartphone — and yes, I know some states are passing laws against this — why can't I use Google Glass? And, how is this any different than previous generations of technology used in the car or for personal use, such as radio, video players, etc? All of these things can be distracting," he pointed out.
"Unfortunately, just like the NSA issues, there is no clear line in the sand," McGregor added. "These will have to be addressed over time, and they are likely to change over time. In many ways, I think fear of technology is driving some of these issues. People have long feared change and technology. Ultimately, the issue is not with the technology — it is with how people use it."
Technology Outpacing Policy
"We've hit an intersection where technology is outpacing policy," Alan Webber, principal analyst at Asymmetric Insights, told TechNewsWorld.
As regulators get around to addressing potential issues with Google Glass, it will "probably take five years before policy catches up, and it will likely happen at the local level first," Webber said. New technology may negate policies that explicitly relate to Google Glass.
There are some similarities with the issue of texting in cars, Webber noted. While consumers have been using SMS for at least 12 years, many regulators are only just getting around to regulating the issue.
However, with driverless cars on the horizon, such regulations could be rendered moot. Those traveling by car may not even have to look at the road as they're commuting.