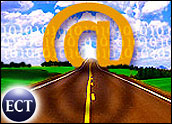 After more than 70 months without a significant drop in its share of the U.S. Web browser market, Microsoft Internet Explorer (IE) saw its hold on the mouse clicks of Web surfers slip by one percent over the last month.
On the basis of a daily survey of some 30 million browsers, WebSideStory, a San Diego-based Web metrics company, reported that IE's wedge of the browser pie declined to 94.16 percent on July 9th from 95.73 percent on June 4th.
"This is the first time that IE has lost any notable market share in the last six years," WebSideStory Analyst Geoff Johnston told TechNewsWorld.
Boost for Alternatives
While one percent might not appear like much of a loss when you still have 94 percent of the market, it was a major boost for the small players who saw their ranks swell by the migration, which was chiefly driven by security concerns about IE.
The primary beneficiary of the defections was Mozilla and Netscape. Their market share jumped more than 29 percent to 4.59 percent from 3.54 percent.
Market share held by the remaining alternative browsers, a share dominated by Apple's Safari and Norway's Opera, also rose. It went to 1.24 percent from 0.97 percent, an increase of more than 27 percent.
Hope for Open Source
What may be more important than those gains for the alternative browsers is the ray of optimism the numbers are shedding on the software makers future prospects.
"For people interested in this whole open source movement, this certainly provides some hope," Johnston observed. "They're being told that if the products are OK and the right circumstances come together, some really large numbers of people are really willing to switch."
"It's great to see that more and more people are discovering there are alternatives out there," added Opera Director Marketing Communications P.A. Hvistendahl.
Security Woes
"Most agree that the Internet is a wonderful invention, but unfortunately too many have yet to discover its full potential in terms of what a productive, pleasurable and fun environment it can become," he told TechNewsWorld via e-mail.
Johnston cited two reasons for IE's recent loss of market share. "The launch of some new browsers that have been getting great reviews and the security concerns over IE have pushed a lot of people who were on the verge of moving for a long time to make the switch," he said.
Signs of the growing dissatisfaction of Net denizens with IE can be traced to last fall, according to Chris Hofmann, director of engineering for the Mozilla Foundation in Mountain View, California.
CERT Fires Exodus
"Starting last September we noticed a larger number of people that appeared to be frustrated with their Internet experience using Internet Explorer and were starting to look at alternative browsers to try and were coming to our site in larger numbers," he told TechNewsWorld.
But the real spurt in interest in Mozilla occurred at the end of June when the U.S. Computer Emergency Readiness Team (US-CERT), which is part of the Homeland Security Department, recommended that users desert IE to avoid being victimized by security vulnerabilities in the program.
"We've gotten a lot of traffic and a lot of people trying Mozilla and FireFox as a result of that recommendation," Hofmann said.
MS Working On It
In a statement obtained by TechNewsWorld via e-mail, Microsoft said that it is working to improve the security of Internet Explorer for its customers and that it will continue to focus on security as a top priority for the company.
"Microsoft is aggressively working to provide a comprehensive fix for all supported versions of IE," the statement said. "This will be released once it has been thoroughly tested and found to be effective across the wide variety of supported versions and configurations of IE."
In the meantime, the company added, "we have provided customers with prescriptive guidance to help mitigate these issues at http://www.microsoft.com/security/incident/settings.mspx and do not feel that switching to an alternative browser and giving up the functionality and compatibility of IE is warranted."
Root of Evil
There are those, however, who believe security problems will continue to plague browsers as long as programs are allowed to be downloaded to user computers without their knowledge — through things like ActiveX controls and JavaScript.
"There's a number of really stupid and irresponsible people out there," declared Joseph M. Newcomer, founder of FlounderCraft, a software consulting firm in Pittsburgh.
"I consider Web sites that use that stuff sociopathic," he told TechNewsWorld. "They have the same moral standards as child molesters."