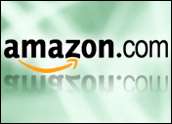 Amazon is poised to reveal its very first smartphone, and the rumor mill is in full swing.
The device isexpected to include a 3D display, and it reportedly will be available exclusively on AT&T with its new sponsored data service bundled in.
The deal would expand Amazon's partnership with AT&T, which provides wireless service for Kindle e-readers and Kindle Fire tablets, The Wall Street Journal reported. The move could prove to be a competitive advantage for AT&T, should consumer interest in the device ride high.
3D Capability
There's a strong expectation that the Amazon smartphone will include 3D functionality. It apparently either will use sensors or retina-tracking technology in four front-facing cameras to detect eye positioning and movement in order to project a 3D image without the need for 3D glasses.
As users move the device around, and closer to or further away from their face, it reportedly will zoom in and adjust text and images automatically.
The 3D functionality could tie into Amazon's e-commerce operations and possibly advance its gaming ambitions.
Target Audience
One burning question is who exactly Amazon is targeting. It stands to reason that those invested in the Amazon ecosystem — such as frequent shoppers, Amazon Prime customers, and owners of other Amazon hardware — may be eager to check it out.
The company has its own app marketplace instead of using the Google Play Store. Its Kindle Fire tablets run on a forked version of the Google Android operating system. Brand loyalty seems likely to play a part in the decision-making process for those interested in purchasing the smartphone.
Sponsored Data
AT&T will offer the smartphone in conjunction with its sponsored data plans, rumors suggest. Specifically, the Amazon phone reportedly will include a service called "Prime Data," according to BGR.
This apparently would cover a certain amount of mobile Internet bandwidth included at no extra cost. There would be the potential for Amazon to include extra data on monthly plans based on whether consumers made purchases from Amazon's store or purchased digital goods such as rentals from Amazon Instant Video.
Amazon has a track record of including free data services to users of its hardware. It gave owners of specific Kindle models access to 3G Internet connections for free.
"Sponsored data helps to ensure that every customer who purchases the phone will get to utilize all of its features," Todd Day, senior mobile and wireless industry analyst at Frost & Sullivan, told TechnewsWorld. "With an expected low price point [for the smartphone], this could have a significant impact on sales."
Amazon is expected to reveal it at a press event in Seattle on Wednesday. It reportedly is planning to start shipping it by the end of September.
Mirroring iPhone Strategy
Amazon's deal with AT&T is similar to the deal Apple made with the release of the first iPhone. Its tentpole product was available exclusively to AT&T customers for three years.
"Typically, sales are better for devices that are on the shelves of all four tier-1 operators," Day said.
"However, there may be collaboration in marketing efforts and content features with AT&T. This could potentially point to long-term partnership of content by Amazon to AT&T, who should own DirecTV within a year or so. For AT&T to go for exclusivity, the phone itself would have to be one of the best products on the market that AT&T believes will drive demand. That would bode well for the Amazon smartphone," he suggested.
"Typically, today, when the big phones come out, they're available from all the carriers," telecom analyst Jeff Kagan told TechNewsWorld. Then again, there has not been a brand new device like this in a while. This could be one of those big moments, like when the iPhone was introduced. This could be that kind of event where if you have a single carrier, it generates a kind of excitement because it creates a more limited availability. Whether or not Amazon was trying to follow Apple's playbook, I think it'll be successful, because we don't see much of this anymore. If it was available from all the carriers, it wouldn't be that special."
Phone Quality
However, the chance of success rests more on the phone than the choice of carrier, said Kagan.
"This is going to be a big event for Amazon. I think this is going to be more successful than the Facebook smartphone. I don't think it'll be as successful as the iPhone or Android — at least for the first year or two," he predicted.
"The reason it went with AT&T, I believe, is that if you look at the performance of AT&T and Verizon over the last decade or two, AT&T wants to be first to the marketplace with devices, and Verizon is much more measured and much more slow to bring things to market," Kagan added.
"They would rather … be late to the market, but they want to get it right the first time. AT&T wants to be the first. They want their customers to have it first," he maintained.
If Apple plans to make a splash in the smartphone market, rather than simply selling the device to consumers as yet another digital storefront for its online store, it faces an uphill battle. Between them, Apple and Samsung accounted for 60 percent of the U.S. smartphone market in the first quarter, according to comScore. In addition to the iPhone line, there are scores of Android smartphones to contend with, not to mention Windows Phone and BlackBerry devices.