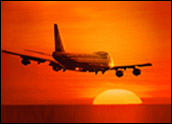 The in-flight entertainment sphere has expanded far beyond showing movies on hard-to-see overhead screens. Passengers want constant availability of media, entertainment and connectedness wherever they happen to be, and in-flight systems are simply trying to keep up with that demand.
"Consumers have become increasingly accustomed to having immediate access to all forms of entertainment at nearly any time of day in every place they go," Chris Colgrove, cabin electronics manager for InFlight Entertainment Products, told TechNewsWorld.
"Airplanes pose unique challenges to this model for obvious reasons, but that doesn't mean that passengers don't want the same experience sitting at 35,000 feet that they might get sitting on their sofa at home," Colgrove said. "So, we try to take what people are used to having on the ground and create it for them in the air. It's not an easy task, but each step we take is one step closer to bridging that 35,000-foot gap."
The new in-flight experience is being shaped by high-tech electronics like HD screens and touchscreens, as well as by low-tech advances like seats that accommodate tablets.
"Software and Internet options are being made to give airlines better control over content flow while allowing passengers to make their own selections," Russell Lemieux, executive director of the Airline Passenger Experience Association (APEX), told TechNewsWorld.
"The idea is that a passenger will turn on his or her tablet and be immediately directed to a specific menu of entertainment and news options," he said. "Another approach is to turn a person's personal device into a sort of remote control for the screen ahead."
Always On
One major in-flight trend is to offer passengers Internet and mobile connectivity while in the air.
"The most significant inflight connectivity trend is the rapid growth in the use of smartphones, BlackBerry and other similar devices, which is driving huge growth in inflight data traffic," Pal Bjordal, president and CEO of AeroMobile, told TechNewsWorld.
"As the use of smartphones, BlackBerry and other similar devices to send emails and browse online has increased on the ground," he said, "so the demand has grown for their use in the air. Being continually connected is now an integral part of most people's everyday lives."
In the future, that in-air connectivity will likely get faster and more ubiquitous.
"The future of inflight connectivity lies in increased satellite communication bandwidths to enable passengers to browse online at speeds they're now used to on the ground," explained Bjordal.
Bring Your Own
Another pervasive new trend is to let passengers use their own devices to connect to the plane's entertainment system.
"The most significant current trend is devising innovative ways to leverage passengers' electronic devices for in-flight entertainment purposes. This most commonly involves streaming content from onboard servers wirelessly to personal devices," said InFlight's Colgrove.
"More entertainment options [are being] delivered through new, innovative technologies," noted APEX's Lemieux. "Built-in entertainment systems remain very popular, but now many airlines are adding new systems that stream content directly to a passenger's personal device."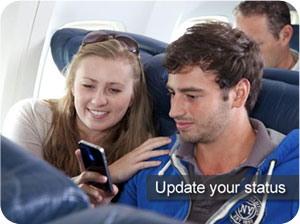 Airlines are combining on-plane equipment with passenger devices to create an overall entertainment experience.
"These two approaches to content delivery can be complementary and are being incorporated in ways that give passengers maximum control over their inflight entertainment," said Lemieux. "In that regard, APEX member companies are exploring options that are incredibly innovative and customizable. They recognize that a single television screen playing a one-size-fits-all movie will no longer meet passenger expectations."
The Sky's the Limit
The name of the contemporary in-flight entertainment game, in other words, is choice.
"More than anything, consumers want options," said Lemieux. "Some want to lean back and watch a movie, some want to conduct business online, and others would rather play a game."
In the future, airlines will likely move even further toward integrating devices consumers already have into the plane's built-in entertainment system.
"When you factor in all built-in options and the exploding trend of personal devices, the possibilities really are endless," explained Lemieux. "APEX members are constantly watching consumer and technology trends, and working with one another to apply those trends to improving the airline passenger experience."