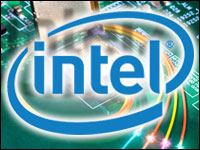 Intel is set to speed up data transmission by providing MXC cables for use in data centers and with supercomputers. The company plans to start selling the high-speed cables later this year.
The cables are take advantage of silicon photonics technology, which uses light to move large volumes of data at high speeds through thin optical fibers.
The MXC cables require less power than copper cables to send electrical signals due at higher speeds. They are lower-costs and more energy-efficient, according to Intel.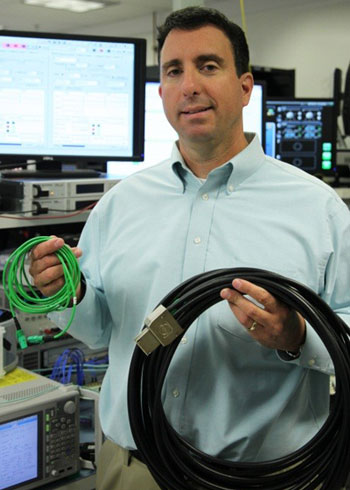 Mario Paniccia with a 1.6Tbps MXC cable (green) next to a 128Gbps PCI Express copper cable. Paniccia is an Intel Fellow and general manager of the Silicon Photonics Operations Organization.
Silicon photonics can enable a variety of different approaches to data center designs, the company said, including rack-scale architectures.
Hopes of Standardizing
Intel worked with Corning to develop an optical connector and the fiber technology required for the cables. The companies are looking into ways to standardize MXC across the industry.
The cables can transmit light over a distance of up to 300 meters at 25 Gbps, three times longer than many current technologies. The fibers have a tenth of the bend radius of traditional fibers, allowing the cables to navigate the sharp bends often seen in and around server racks. Corning will also make the ClearCurve LX Multimode Fiber available to other manufacturers.
The MXC cable packs in up to 64 fibers. That means the cables can transmit up to 1.6 terabits of data per second. At that speed, one would be able to download a two-hour high-definition movie with a 4 GB file size in 2 seconds.
With 2.5 quintillion bytes of data created every day, we need higher bandwidth in modern data centers, Intel suggested.
"There are obvious technological advantages for MXC focusing on the transmission of vaster volumes of data at far greater speeds," Charles King, principal at Pund-IT, told TechNewsWorld.
"Both points resonate in a world that's becoming increasingly Big Data-happy in the sense of creating, storing and using ever-larger volumes of information. In fact, the evolving Internet of Things is likely to expand information growth exponentially, adding to the value of MXC," he observed.
Other Advances Needed
"That said, there are some potential disadvantages, too," King noted.
"For example, processing, reading and writing that data is likely to require additional advances in server, storage and networking technologies — that's one reason the technology is initially aimed at supercomputers and high-end data center applications. Some might also note that utilizing MXC will likely require purchasing new systems capable of supporting advanced data throughput," he explained.
"The advantage is that these cables pass through substantially more data than older fiberoptic cables with the same number of fibers," Rob Enderle, principal at the Enderle Group, told TechNewsWorld.
"This means they can use the same conduits, as they won't be any larger, while pushing far more data. Basically this lowers the facility cost for doing a major data upgrade," he pointed out.
"From what I understand, this is a multivendor effort to develop higher-performance optical cabling," Jim McGregor, principal at Tirias Research, told TechNewsWorld. "For Intel, it means more efficient cables for the silicon photonics efforts that the company has developed. As long as the industry identifies and adopts this as a standard, there is no downside. You get smaller cables with higher performance."
The MXC connector uses lensed connectors to transmit light rather than physical contact with the end faces that one might see in more typical connectors. This means that the immunity to dust is increased tenfold and helps avoid the largest single cause of cable failures in data centers, according to Intel.
Intel has spent more than a decade working on the project to ensure its viability, and Intel Labs is now pushing MXC beyond the research and development stages.
Fiber Conference
Along with Corning, Intel has partnered with US Conec (which is making parts for the connector to sell to cable companies), Molex and TE Connectivity. Intel and US Conec are hosting a forum for companies interested in adopting the technology at the Optical Fiber Conference in San Francisco this week.
Microsoft is among the companies evaluating the cables, while Intel is collaborating with Facebook on a new rack-scale server architecture that uses silicon photonics technology.
"This kind of a performance jump in an area that is currently constrained will have a massive positive impact on computing performance," Enderle said. "Particularly as we move to higher bandwidth videos (Ultra HD) and intelligent systems, this will reduce — if not eliminate — one of the biggest problems the industry faces: constrained networks." Future of Silicon PhotonicsAs for the future of silicon photonics, MXC is "a major shot in the arm," said Pund-IT's King. "Any time vendors with the heft of Intel and Microsoft join in on an endeavor, you realize that the wind is now behind you."
Meanwhile, MXC cables are being developed primarily for data centers, though King expects "to see forms of MXC developed for everyday business and consumer use" over time.