Intel on Tuesday presented its virtual reality vision — a vision that mixes virtual and real worlds into a kind of merged reality — to developers attending a conference in San Francisco.
Mixing reality and unreality sometimes can be a recipe for disaster, but Intel thinks it will be a formula for success. At the center of Intel's vision is its Project Alloy mobile headset and its cutting edge RealSense software.
The Alloy head-mounted device departs from other VR devices in that the headset housese all sensors and computing power. Other headsets either have cords that tether them to a computer or are wirelessly connected to a smartphone.
"This all-in-one form factor is something new for the VR industry," said Brian Blau, a research director at Gartner.
"It's exciting, because you can get everything you need in one place and take it with you," he told TechNewsWorld.
Power Concerns
All-in-one headsets can have disadvantages, though.
"All-in-one devices may not be as powerful as devices that plug into a desktop," Blau said.
Intel's Alloy meets the needs for 90 percent of what people do with virtual reality, Intel CEO Brian Krzanich maintained in an interview with Fast Company.
There might be a tethered version of Alloy for high-end gamers at some point in the future, he also said.
Another issue with a standalone headsets is battery life, as is often the case with mobile devices.
Nevertheless, with Alloy, Intel is taking advantage of virtual and augmented reality trends.
"Over the next few years, VR and AR are going to start to merge functionality," said Gartner's Blau. "These all-in-one VR headsets are going to be important for that."
Open Source Platform
Alloy is an open source platform. That means other companies can use the technology to create their own modified-reality products.
Intel intends to work with some manufacturers to produce its Alloy headsets. What's more, Alloy supports Windows Holographic, a version of Microsoft's ubiquitous operating system that supports VR and AR.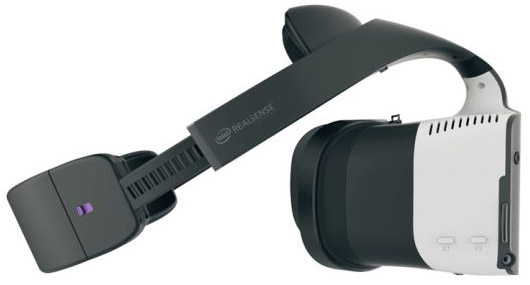 Project Alloy, an All-in-One Virtual Reality Solution
"Going open source is a really good move," said Eric Abbruzzese, a senior analyst at ABI Research.
There is one other open source initiative in the market, but it's very small, he noted.
"Intel, because they're a massive company — they have a lot of reach. When you combine that with Windows, you have a really massive market," he told TechNewsWorld.
"That enables tons of developers, tons of content to flood in," he said, "and that's going to solve the content starvation problem we've seen in VR."
Growing Ecosystem
Attracting developers to an Alloy ecosystem is important to Intel, said Barbara Kraus, director of research at Parks Associates.
"It will broaden the content available to the platform. Intel doesn't have its own content as Sony does," she told TechNewsWorld.
"Intel doesn't have a lot of choice but to go in the open source direction because they're not a consumer products company," Gartner's Blau observed.
Going open source at this point in the development of the market makes sense for Intel, said Michael Goodman, director for digital media at Strategy Analytics.
"This is a nascent marketplace," he told TechNewsWorld. "Picking winners and losers is difficult, at best, so having an open approach allows you to work with everybody in the marketplace and pick the best solutions."
Merged Reality
Unlike VR headsets that offer a totally immersive experience, the Alloy headset uses Intel's RealSense software to provide you with a combination of a virtual and real experience. For example, with RealSense you not only can see objects around you but also bring them into your virtual world.
"It takes away the need for sensors in a room to know where you are, and to use controllers to manipulate the environment that you're in," said Strategy Analytics' Goodman.
"I haven't seen anyone else doing that. Everyone is using some form of controller," he pointed out.
Intel's entrance may boost the VR marketplace, but its impact on the company may be negligible.
"While it's exciting to talk about, VR is still and will likely remain a niche market for the next several years at least," said Roger L. Kay, president of Endpoint Technologies Associates.
"Intel wants to be associated with a cool trend that techies seem to care about right now, but VR, because of its total immersion, is something that only enthusiasts will pay for," he told TechNewsWorld.
"Enthusiasts represent a limited market opportunity, particularly for a company like Intel that depends on selling hundreds of millions of chips," Kay explained. "Intel can get it right in VR technically, but still not manage to develop a sustainable market."