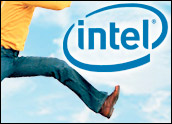 Intel announced its latest processor, code-named "Sandy Bridge," at the Intel Developer Forum (IDF), being held in San Francisco through Wednesday.
This has several new features, with a focus on providing a "rich visual experience," Intel said.
The processor is scheduled to be in production this year, and new laptops and PCs built around it will be available early next year.
Details of the Sandy Bridge Chips
Tech specs for the Sandy Bridge processors were outlined in a presentation at IDF 2010 by Opher Kahn and Rob Valentine, senior principal engineers at Intel.
Sandy Bridge has a high-bandwidth last-level cache and an embedded display port. It supports discrete graphics, has a two-channel DDR3 integrated memory controller and supports Intel hyper-threading technology.
The processor core is built upon the Nehalem microarchitecture processor core first used in the Intel Core i5 and i7 processors. Its architecture has been extended for floating point and throughput, using Intel Advanced Vector Extensions (AVX). This delivers improved performance, rich functionality and the ability to better manage and sort data.
Sandy Bridge processors have a new 256-bit instruction set that accelerates floating point-intensive applications such as digital photo editing and content creation.
For security, the Sandy Bridge processors will have Advanced Encryption Standard instructions which will be sped up.
Operating system and virtual memory management are enhanced through state save/restore optimization.
The decode pipeline in the processor core supports 16 bytes per cycle. There are four decoders which can handle up to four instructions per cycle.
The Sandy Bridge processors increase performance by finding more instruction parallelism. They include a new "ring" architecture that lets the built-in graphics processor engine share resources such as cache or a memory reservoir with the processor's core to increase computing and graphics performance while maintaining energy efficiency.
Sandy Bridge processors will also include an enhanced version of Intel Turbo Boost Technology, which automatically shifts or reallocates processor cores and processor graphics resources around as needed to accelerate performance.
Turbo Boost technology, first used in the Intel Core i5 and i7, automatically lets processor cores run faster than the base operating frequency if the cores are running below power, current and temperature specification limits.
Bridge to Entertainment
With the Sandy Bridge processors, Intel appears to be targeting the entertainment device market.
Intel's using new processor graphics focusing on high-definition video, 3D, mainstream gaming, multitasking and online socializing and multimedia, the company said.
The processors are scheduled to be in production later this year, and new laptops and PCs incorporating them will be available from early next year, Intel said.
Bridge to Tomorrow
"Intel's integrating the graphics processing unit into the Sandy Bridge and has added a lot of multimedia accelerators to the graphics accelerator," Jim McGregor, chief technology strategist at In-Stat, told TechNewsWorld.
The processor has a "very cool" design, McGregor said.
"Intel built it in real scalable fashion, so unlike previous processors, which had two or four cores with the same die but different pinouts, Intel designed a simple layout where the processors can have two, four or eight CPU cores and associated cache memory with each one, and it's easy to change the layout," McGregor explained.
A pinout is a cross-reference between the contacts, or pins, of connectors and their functions.
Sandy Bridge is reportedly Intel's last 32nm processor; the chip giant's next processor will apparetnly be a 22nm chip.