Intel has designed a pair of smart glasses that won't make you look like a hopeless geek.
Called "Vaunt," the peepers, which are still in the prototype phase, look like ordinary glasses, save for a faint, red glimmer that occasionally appears on the right lens.
Information sent to the glasses appear to be displayed on a screen but in reality is beamed to the retina of a wearer's eye.
"The prototypes I wore in December also felt virtually indistinguishable from regular glasses," Dieter Bohn wrote in a hands-on review published Monday in The Verge.
"They come in several styles, work with prescriptions, and can be worn comfortably all day," he added.
Always in Focus
Vaunt uses Bluetooth and is designed to work with a smartphone, much as smartwatches do.
A very low-powered laser (VCSEL) shines a red monochrome image at around 400 x 150 pixels onto a holographic reflector on the right lens of the glasses. That image is sent to the back of the eyeball, directly to the retina.
Because the image is sent directly to the retina, it's always in focus, which is why the system works on both prescription and non-prescription glasses.
---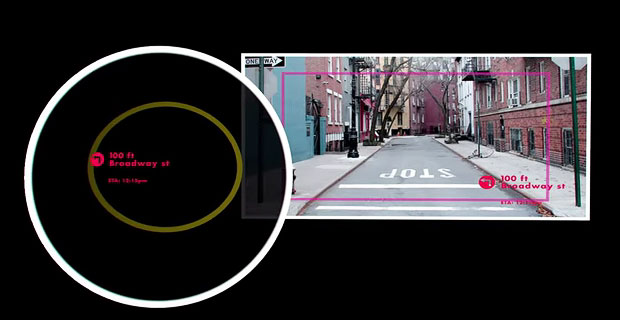 With retinal projection, the image is 'painted' to the back of the wearer's retina.
---
The Intel prototype did not have a microphone, noted Verge's Bohn, but he speculated that future models may have one that would enable them to interact with artificial intelligence software like Amazon's Alexa, Google's Assistant or Apple's Siri.
Intel will be launching an early access program for developers later this year, he noted, so they can start experimenting with things the glasses might be able to do.
Low Geek Factor, Low Power
While you may not stick out in a crowd wearing Vaunt, you're not going to overwhelm anyone with its power, either.
"Vaunt is purposefully stripped down hardware-wise — no camera, touchpad, microphone," said Eric Abbruzzese, a senior analyst at ABI Research.
"That means these are only going to serve the most simple applications, mainly around heads-up notifications — navigation, step-by-step instruction, personal notifications," he told TechNewsWorld.
---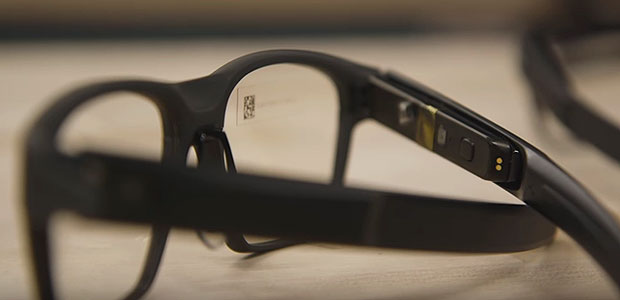 The Vaunt electronics are incredibly compact.
---
"It's a pretty light-touch device," said Kristen Hanich, an analyst at Parks Assocates.
"It mostly allows users to see contextual information such as notifications from phones, map directions, recipes, shopping lists and such," she told TechNewsWorld.
Augmented reality devices like Vaunt have been used in settings such as manufacturing, logistics and healthcare, Hanich noted. However, "a lot of those applications are being driven by more powerful devices — such as Google Glass and Microsoft's HoloLens — that have the ability to see what's directly in front of the user."
Tough Sell for Consumers
Vaunt has some benefits that could attract enterprise interest, said ABI's Abbruzzese.
"Enterprises will be interested in these thanks to the user-friendly form factor — better for worker safety and all-day use cases," he pointed out.
Also, "some of the possible applications — primarily step by step instructions — can be a quick value-add for customers," Abbruzzese said.
Attracting consumer interest may be a harder sell, however.
"Vaunt hasn't solved one of Google Glass' primary downfalls, which was lack of valuable use cases for consumers," Abbruzzese observed.
Consumers will have to be sold on the value of Vaunt, but that sell will be easier if the price is right, said Parks' Hanich. "If it's priced similar to a premium smart watch, then there'll be some potential there."
Not Much for Gamers
Gaming is one area that's attracted consumer interest in virtual reality and augmented reality devices, but Vaunt isn't likely to make much headway in that market.
"The device is too simplistic for any visually intensive applications," Abbruzzese said.
Power is an issue for Vaunt.
"The glasses don't have cameras, or a lot of processing ability, or the ability to display data in any color besides red," noted Hanich.
"Something like Pokmon Go may work on them," she said, "but developers will have to sacrifice graphics and the ability to display an object in sync with the terrain."
There are some advantages of not having a camera, however.
"Part of the backlash against Google Glass was that the glasses were so conspicuous, including a visible camera," Hanich recalled. "Without a camera, Vaunt has few problems in terms of privacy."
Bridge to Realistic Market
Although devices like Vaunt are creating a buzz now, it likely will be a year or two before AR glasses make it to the mass market.
The inflection point for consumer AR headgear likely will be in the late 2019-early 2020 time frame, ABI predicted.
"It really requires strong brands and marketing to push AR glasses to the masses," Abbruzzese said.
Apple has such a brand, and it is rumored to have a pair of AR specs in the works.
When those hit the market, Abbruzzese noted, there will be millions of shipments, which hasn't yet occurred anywhere in the AR space.
"Vaunt isn't likely to have that sort of impact," he explained, "but they can be an important bridge between the consumer-side disappointment of Google Glass to a more realistic consumer AR market."
Vaunt is a clear sign that wearable display technology is quickly advancing, said Brian Blau, a research director at Gartner.
"Vaunt represents a form factor that any technology provider would see as a great next step, as it's one that isn't that different from a typical pair of eyeglasses," he told TechNewsWorld.
"It will be some years before smart glasses like Vaunt arrive in consumers hands," Blau said, "but it's great to see these early prototypes as they get brands and businesses interested in smart glasses, even at this early stage of their development."