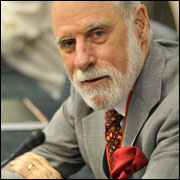 "Privacy may actually be an anomaly," Vinton Cerf, who's hailed as one of the fathers of the Internet, told participants in a workshop on privacy and security in the Internet of Things held by the Federal Trade Commission on Wednesday.
Privacy doesn't really exist in small towns, for instance.
Further, consumers' social behavior is "quite damaging to privacy," Cerf said. For example, a photo of the Great Pyramid at Giza in Egypt posted on Facebook could include a stranger who might be tagged by someone who knows him, which could lead to the discovery that he had claimed to be somewhere else on that day.
"The technology we use today has far outraced our social intuition headlights," Cerf remarked.
We need to develop social conventions that are more respectful of people's need for privacy, but "we're going to live through situations where some people get embarrassed, some go to jail, and out of that may come some social practices that are more respectful of privacy," he said.
The Privacy Dichotomy
People consider personal information as private, but often post highly personal information on social media and other sites on the Web for various reasons.
The online disinhibition effect has been proffered as an explanation for this behavior.
For example, users post highly personal information on the location-based mobile dating site Singlesaroundme.com.
User growth is climbing at the rate of about 100,000 a month, Singlesaroundme spokesperson Hattie Sellick told TechNewsWorld.
The site will have 2 million users by the end of this year, she said, and that figure is expected to increase by another 2-2.5 million users in 2014.
The Smart Fridge and Other Nuisances
Things that currently are — or soon will be — networkable range from mobile devices to picture frames to TV sets to refrigerators to medical instruments, Cerf said.
For example, radio-frequency identification, or RFID, tags could let a fridge search the Internet for recipes based on the food it contains, or warn that a particular item may soon spoil.
That is going to be possible soon. TruTag Technologies has developed microtags made from silica that are durable, edible bar codes that can be applied to foods or medicines, company COO Peter Wong told TechNewsWorld.
However, "people just want to control what they share," Justin Brookman, director of the consumer privacy project at the Center for Democracy & Technology, told TechNewsWorld. "They don't necessarily want their fridge making the decision to share their grocery list with the manufacturer."
Spying Through the IoT
The smart home of the future will send tagged, geolocated data that a spy agency can intercept in real time in order to locate, identify, monitor and remotely control items of interest using RFID, sensors, tiny embedded servers and energy harvesters, former CIA director David Petraeus told Wired.
Some smartphone apps send data to their developers without the knowledge of the device's owners, and some smartphones do the same thing.
Earlier this week, UK-based IT consultant Jason Huntley, aka "DoctorBeet," warned that his LG smart TV was logging USB filenames and sending information about his viewing habits to LG servers.
Microsoft's Xbox One also can watch users as they interact with the system. It can detect skeletal movement, muscle force and heart rates, and it can tell whether people are looking at the device.
"The possibility of illegitimate government access and abuse is one of the main reasons we care about corporate collection and use," said CDT's Brookman.
The United States Government Accountability Office recently issued a report suggesting Congress should consider strengthening the consumer privacy framework in light of changes in technology and the increased market for consumer information.